THE FLEA THEATER presents BLACK MOON THEATRE COMPANY'S
BLISS
based on THE TIBETAN BOOK OF THE DEAD
Director: Rene Migliaccio
Text Adaptation: Alessio Bordoni
Performer: Alessio Bordoni
Dancer: Charlotte Colmant
Music: Amaury Groc
Artwork: Estella Dupree
Lighting Design: Cindy Shumsey
Choreography: Charlotte Colmant and Rene Migliaccio
Consultant Choreographer: Eric Pettigrew
Assistant Director of Production: Isabella Schiller


The Flea Theater
41 White Street in TriBeCa, 3 blocks below Canal Street between Broadway and Church Street
Call 212-352-3101 or visit http://www.theflea.org
Tickets can be found at https://web.ovationtix.com/trs/pr/961264 for $20-$30.
September 8 – 25, 2016
Black Moon Theatre Company presents BLISS based on the Tibetan Book of the Dead at The Flea which embodies adventurous theatre Off-Off Broadway. In this new multi-disciplinary production, Artistic Director Rene Migliaccio staged the story through dance, voice, visual projections, and music.
BLISS follows a man's cycle of life based on the theory of reincarnation performed by Alessio Bordoni. The journey began when he became conscious during the interval between death and rebirth. He was shadowed by a Butoh dancer, Charlotte Colmant, who represented his supra consciousness on the path of liberation from his former body so that he could successfully enter a new body. Between death and rebirth, as the man was striving to awaken to a Higher Consciousness, he experienced a wide spectrum of moods from dark to ethereal. Pictorial screen projections, in front of the performer and dancer, symbolized the various stages of his journey. Music accompanied the actor as he recited his journey. Altogether, this visual and poetic dance odyssey served as an allegorical guide for the living— when all of us will one day cross to the other side of the veil continuing the cycle of reincarnation.
BLISS was written, produced, directed, and performed with the spirit of adventure and is for like-minded audience members and those with open minds.
- Laura Thompson -
http://www.loralia.com @LORALIA
Delirious Dances presents
TO BEGIN THE WORLD OVER AGAIN
Gibney Dance
Anges Varis Performing Arts Center
280 Broadway
NY NY
30 June-2 July 2016

Choreography by Edisa Weeks in collaboration with the dancers
Composed and conducted by: Joseph C. Phillips Jr.
Featuring: Ardella Bang, Angel Chinn, Michael Henry, Johnnie Mercer, EmmaGrace Skove-Epps, Ricarrdo Valentine


TO BEGIN THE WORLD OVER AGAIN is a multi-disciplinary work that features one actor, six dancers, and ten musicians based on the writings of Thomas Paine.

It begins with the actor and dancers passing out noisemakers and fortune cookies. The cookies have Thomas Paine quotes, which the actor asks various audience members to read aloud. Eventually, the music and dance begin. The choreography is strong. Instead of trying to make it look easy, the intention here is to show how hard the dancers are working. They throw themselves into the dance with such energy, that in such close proximity to the audience, one starts to fear getting a foot in the face! As the evening goes on, the dancers do touch audience members. At first just a lean on the knee or a touch of a hand, progressing to dancers holding the hand of an audience member while they dance, and eventually, audience members are pulled up to dance with them in a simple reel.

In the middle of the evening, the actor interrupts the dancing to hold an election. This is where the noisemakers come in. The audience votes for the dancers they want by making as much noise as possible. The actor playing the host is great for the sections of the show that need a carnival barker, but when it comes time for the reels, it would have been better if he had shown a sweeter side that matched the dancers' connection with audience members.

The musicians, the Numinous Ensemble, were excellent, and worked beautifully with the dancers.
-Jean Tait -
RIOULT DANCE NY
Program B
Joyce Theatre
175 Eighth Ave
NY NY
21-26 June 2016

Artistic Director and Choreographer: Pascal Roult
Company: Catherine Cooch, Brian Flynn, Chais Haines, Jere Hunt, Melanie Kimmel, Corinna Lee Nicholson, Michael Spencer Phillips, Sara Elizabeth Seger, Sabatino A. Verlezza, Holt Walborn


Exquisite. That is the word that best describes RIOULT DANCE NY. The dancers are wonderful and expressive with an easy grace in their strength that looks effortless. The choreography is fresh and dazzling.

There are two programs being presented by Rioult Dancy NY this year at the Joyce. I saw Program B which consisted of Dream Suite, Polymorphous, Duets Sacred & Profane, and Bolero.

Dream Suite is "a contemporary take on Romanticism….with a palette inspired by Marc Chagall" according to the program description. Which it is, but it is so much more. Light moves and changes along with the choreography creating not only color, but shaping of the dancers bodies and their configurations. The fluidity of the changing color is in such synchronicity with the choreography it becomes another dancer in the piece. Jim French is the lighting designer who created this masterful integration of design.

Light is also a major component in Rioult Dance NY's debut piece, Polymorphous. This time it is David Finley who uses light, along with Harry Feiner's set design and Brian Clifford Beasley's projected animation, creating additional "dancers" of light and shadow that move with the human dancers. It's an amazing piece.

Dances Sacred & Profane is a selection of duets, all of which are wonderful, but the climax of the evening is definitely Bolero. It is difficult to believe these are human bodies, the movement so fluidly changes from robotic and percussive to legato and sensual. The twirling and flowing becomes almost Busby Berkeley-like in its design pictures, but with far superior dance skills!

All in all, a glorious evening of dance.

- Jean Tait -
SATELLITE COLLECTIVE
presented
DIG DANCE
Performed at 92Y Harkness Dance Center, Home of Dance Education Laboratory, NYC
June 10-12, 2016
Artistic Director Kevin Draper gave a lovely introduction of the various genres of works to be performed by emerging artists from New York City Ballet and Juilliard and more seasoned artists who recently retired from Alvin Ailey. The program opened up with the spoken word, followed by four works of contemporary ballet, modern dance, a short film and a live string quartet. The multidisciplinary approach proved to be an interesting paradigm with some collaboration between the musicians and dancers.
The dancers were beautiful, the musicians talented, although the music was not for everyone's ears. The short film by Lora Robertson with the protagonist dancing around a steeple seemed a bit long. Satellite Collective brought the steeple physically to the space so it would have been more creative to have had the dancers dance around the real steeple as a surprise for the audience after the short film ended or during the short film.
The last dance was about kindred spirits or lovers who portrayed a relationship that was appreciated, then spurned with retreat, to turn back into the embrace of one another resembling a typical sequence to most types of relationships. Or was the story about the beginning, maturation, and death of a relationship, to be reborn again?
Overall, the interdisciplinary program showcased new works but it needs fine tuning.
By
- Laura Thompson -
http://www.loralia.com @LORALIA
Impulses Dance Theatre Arts Presents
MARGARET BEALS FILMS AND STORIES
The Cloud House Studio
104 West 17th St., 2nd Floor
NY NY 10025
21 May 2016


Margaret Beals is an extraordinary dancer. One of the few who has ever made a career of improvisational dance, she not only improvises her dances to music, but to poems as well. Sometimes with a poem, she recites as she dances, and sometimes plays a recording of herself reciting. It sounds strange until you see it. Then you wonder why it isn't done more!

For these two evenings, Margaret Beals shared films of herself dancing, and told stories about how those filmed pieces came to be. The films are a remarkable record of a remarkable career, and while she is still a lovely and eloquent woman, her impulse to improvise doesn't always make for great storytelling in her own words. But that doesn't really matter, since she tells such amazing stories, not just with her body, but with the sounds her body makes on the floor. I have never before seen a person become waves of the sea, but she did it! It was a truly inspiring evening that should be seen by all dancers, musicians, and other creative individuals.

- Jean Tait -
Rockitaerials presents
CIRCO DE LA LUNA
Baruch Performing Arts Center
55 Lexington Ave
NY NY
1 April-5 June

Directed by: Mark Longergan
Choreography by: Sonia Olla, Pedro Ruiz and Valeria Solomonoff
Featuring Ismael Fernandez, Sonia Olla, Mark Gindick, AJ Silver, Amanda Topaz, Sarah Sophie Flicker, Anna Venizelos, Olga Karmansky

Aerialist Amanda Topaz, along with Flamenco Dancer Sonia Olla and Flamenco Vocalist Ismael Fernandez, have combined Spanish and Latin culture with contemporary circus acts to create CIRCO DE LA LUNA.

It begins with adorable clown Mark Gindick receiving a mysterious package which turns out to be a slide show of various cultural highlights from the Spanish/Latin diaspora which in turn sends him on a journey where he encounters magic, music and dance.

The journey is the tricky part. The circus acts are lovely and the flamenco is fabulous, but there does not seem to be any natural connection between them, so the transitions have no flow. There does not seem to be any relationship between any of the characters except the vocalist and dancer, and even that seems more like a call and response than any kind of connection between the two. The only times it all works is with the Boleadoras artist. There is a fun challenge between him and the Flamenco dancer, and another fun bit with him and the clown. It would have been great to see more interaction like that.

It is certainly not an unpleasant way to spend an evening, but it lacks the magic it purports to create.

- Jean Tait -
BALLET HISPANICO
Performed its 45th Anniversary New York Season at The Joyce Theater from April 5-10, 2016
New York Premiere of Flabbergast by Gustavo Ramirez Sansano
Bury Me Standing by Ramon Oller
Club Havana by Pedro Ruiz
The Joyce Theater
175 Eighth Avenue (at 19th Street), New York City
www.joyce.org

Ballet Hispanico is touring the world, please visit their website for more information.
www.ballethispanico.org

Artistic Director and CEO Eduardo Vilaro commented that the program this year reflected the "breadth and range of the company over the past 45 years of artistic reflection" and the works of the choreographers honor BALLET HISPANICO's ballet legacy fused with eclectic contemporary dance that portrays America's diversity.
BALLET HISPANICO, the nation's premier Latino dance organization, presented three programs. It began with Choreographer's Gustavo Ramirez Sansono's Flabbergast, a story about immigrants with preconceived notions concerning a new and foreign land and it was done with humor and fast-moving, stylistic modern dance set to the music of Juan Garcia Esquival.
The second program was Bury Me Standing choreographed by Ramon Oller with traditional gypsy melodies and flamenco music by Lole y Manuel. Oller created this piece based on the culture of the Gypsy or "Roma" people that reflected their strong communal bonds, sensuality, feelings of oppression and longing and strength. The sensual music was felt in the heart and soul of audience members who were moving their bodies rhythmically in their seats. It felt like a Latino counterpart to Alvin Ailey, the dance troupe that celebrates African-American ethnic traditions.
The third and last program was Club Havana choreographed by Pedro Ruiz set to Latino dance music like the Mambo, Cha Cha Cha, Bolero, Rhumba and Conga. It was a fusion of modern dance and ballet with Latin dances. It's a portrait of glamorous Havana of the 1950s during the heyday of Cuban music, dance, and nightlife. It ended with a Latin social dance under confetti which was magical.
Overall, the BALLET HISPANICO dancers are wonderful to watch and they portray their characters so the stories are understood. The dancers can bend in every direction, leap, strut, and engage in inventive partnering moves. At the end of the entire program, one feels real joy.
I would highly recommend to go to BALLET HISPANICO's other performances throughout the year whether in the United States or around the world.

- Laura Thompson -
http://www.loralia.com @LORALIA
NEW YORK THEATRE BALLET
presented
LEGENDS & VISIONARIES
NYTB 2016 Premiere of Jerome Robbins' Antique Epigraphs set to Debussy's "6 Epigraphes Antiques" staged by Krya Nichols
Melissa Payne Bradley's Chemical Bond set to "Serenade Op. 98 Après un Rêve" by Gabriel Fauré
Richard Altson's Such Longing set to "Mazurkas" by Frédéric Chopin, staged by Martin Lawrence
Philip Glass' Song Before Spring, Piano Etudes Nos. 1-10 choreographed by Zhong-Jing Fang and Steven Melendez, featuring NYU Steel Drum Ensemble led by Director Josh Quillen and his colleague, Jonathan Haas, Director Percussion Studies at NYU Steinhardt
New York Live Arts
219 West 19th Street, New York City
Call 212-691-6500 or visit http://newyorklivearts.org/event/nytb_2016
February 24-27, 2016
The New York Theatre Ballet (NYTB) presented four ballets by acclaimed choreographers staged by emerging choreographers. The programming represented revivals of masterworks (Philip Glass and Richard Altson), a new work, Chemical Bond, by Melissa Payne Bradley that originally premiered in San Francisco, and of course, Kyra Nichols who staged NYBT 2016 premiere of Antiques Epigraphs (Jerome Robbins). NYBT's repertory programming maintains fidelity to the original movements, gestures, costumes and props, according to historical documents when it's based on a revival. As for new programming, it's a combination of dynamic movement, storytelling, and wit.
The ballet troupe performed as individuals, duos, trios, quartets, divided into subunits, all with creative costume designs to depict the scenes whether classical or contemporary (Costume Design: Sylvia Taalson Nolan and Florence Klotz). The dancers soared, jumped, pirouetted, fell elegantly to the floor, demonstrated excellent footwork, intertwined with one another in melodious movements sometimes sensual, other times flippant--all in all, it felt like harmony between the music and movement (Dancers: Steven Melendez, Amanda Treiber, Michael Wells, Elena Zahlmann, Joshua Andino-Nieto, Carmella Lauer, Mayu Oguri, Alexis Branagan, Guilia Faria, Chloe Slade, Amanda Smith and the rest of the company).
The four ballets were performed to live music. The musicians were superb (Piano: Michael Scales, Zheng Ma. Cello: Amy Kang. Flute: Mira Magrill). The last piece Song Before Spring with music originally composed by Philip Glass and arranged by Josh Quillen, NYU Steel Drum Director, turned out to be mesmerizing and surreal. I liked all the ballets but this one impressed me the most.
I think it's a pity it had such a short run but I would highly recommend to go to NYBT's other performances throughout the year. They also perform one hour storybook ballets for families which is tailored to the short attention span of children.
For more information, visit www.nytb.org
Founder and Artistic Director: Diana Byer
By
- Laura Thompson -
http://www.loralia.com @LORALIA
Ballet Hispanico and Apollo Theatre
present the World Premiere

IF WALLS COULD SPEAK

Choreography by Fernando Melo
Music by Adriano Santos, Marcus Santos, Fernando Saci, Keita Ogawa
Costume and Set Design by Elle Kunnos De Voss
Lighting Design by Joshua Preston
Artistic Collaborator: Shumpel Nemoto

Featuring: Lauren Alzamora, Christopher Bloom, Martina Calcagno, Shelby Colona, Kassandra Cruz, Mario Ismael Espinoza, Melissa Fernandez, Mark Gieringer, Christopher Hernandez, Johan Rivera, Ella Valls, Kimberly Van Woesik, Lyvan Verdecia, Cole Vernon, Joshua Winzeler

Press Representative: Michelle Tabnick Communications

Apollo Theatre
253 West 125th Street,
November 20th and 21st at 8pm
November 20th at 2pm En Familia at 2pm
www.ballethispanico.org; www.ticketmaster.com; 800.745.3000

For two evenings Ballet Hispanico, in celebration of their 45th anniversary, partnered with the historic Apollo Theatre for their annual holiday performance of IF WALLS COULD SPEAK. This bold attempt at showcasing Latino culture's diversity, per the program notes, is to be a reflection of Mr. Melo's homeland of Brazil. However, his story is a universal one felt by many who live in overly crowded, major cities - life can be lonelier in cities, surrounded by people, than in rural settings.

This 90-minute experimental piece has more of a silent movie feel to it than ballet. For most of the performance, the dancers perform around a table, two chairs and lampshades. As each person's story is told, a different realm unfolds behind the mirrored walls. The reflections often were of souls leaving their bodies; or dispersing then coming back together. Inside their homes, their emptiness and longing were palpable. Love was elusive: under a tablecloth, under the table, behind the mirror. Out in the world, people were manipulative, fearful and aggressive as they rushed aimlessly to and fro colliding into one another.

The simple set is very appealing with actors in front of and behind the two-way mirrored walls. This talented group of dancers must have worked hard to synchronize reality with reflection. The movements were painstakingly slow. The live music was provided by four percussionists, who complemented the drone-like, orchestral soundscapes; it was anything but Brazilian. This seems more like a work in progress, and could benefit from some diversity for a more cultural flavor.

- Gloria Talamas -
General Mischief Dance Theatre
presents

UP AND AWAY

Technical Director of Mischief: Mark Baker
Head Troublemaker: Emily Smyth Vartanian
Creative Consultant: Amanda Friou
Administrative Assistant: Mia Dichiaro
Treasury Department of Good and Evil: Adam Vartanian
Stage Manager: Hollace Jeffords
Sound Engineer: Tony Lepore
Choreographers: Emily Smyth Vartanian, Madeline Hoak, Celine Rosenthal

Featuring: Jane Abbott, Ellen Henry, Andrea Steiner, Wendy Lechuga, Saki Masuda, Emily Smyth Vartanian, Madeline Hoak, Roy Scandela, Celine Rosenthal

Press Representative: Michelle Tabnick Communications
Goldman-Sonnenfeldt Auditorium, JCC
334 Amsterdman Avenue
October 11, 2015

This one hour program of dances is performed by several enthusiastic young women, accompanied on occasion by a young man. Lots of silliness, playfulness, aerial acrobatics and energy define their pieces.
The dancers engage the audience to make this an interactive event.

The show opens with the company dancing in the dark as they flash and use their smartphones that display a blank white screen. Dances include Hardball, The Love Trio, Suite Shel (inspired by the poems of Shel Silverstein) and the world premiere of Recreation, where they create a large mobile with numerous pieces as they dance.

The music includes Dueling Banjos (Bela Fleck and Boyd Tinsley), the theme from the Pink Panther; Dear Old Dad, Tedabadeda; Spider, Dirty Face, Shoes and Undertake (composed for Mischief by Lizzie Hagstedt); Puro Amor and Milo's Ballet (Written by Donna Viscuso), Caballo Nuevo (by Jackeline Rago and Donna Viscuso).

The dances are aimed primarily at children and families.

Gloria Talamas
DANCE FOR DANCE 2014
A Benefit to support and celebrate
MDDF's Dance and Literacy programs
in New York City Public Schools

Honoring Judith Malina

Presented by Olympia Dukakis

Press Representative: Audrey Ross

Flamboyant Theatre at Clemente Soto Velez Cultural Center
107 Suffolk Street
November 14, 2014
www.markdegarmoarts.org

At last night's fundraiser, Ms. Judith Malina, co-founder of the radical, experimental Living Theatre Company, was presented with the Mark DeGarmo & Dancers/Dynamic Forms (MDDF) Lifetime Achievement Award for Educational Vision.

The evening began with Mark DeGarmo welcoming the audience and stating the two reasons for tonight's event: to honor the legendary Judith Malina; and to benefit the arts and dance programs in underserved New York City schools. We were given a sample of Mr. DeGarmo's choreography as students entered the stage and performed an MDDF piece. Mr. DeGarmo then introduced Nicky Paraiso of LaMama, who served as the lively, theatrical master of ceremonies, and broke out into song before introducing Ms. Olympia Dukakis.

Ms. Dukakis, Oscar winner for Moonstruck, praised Ms. Malina for her vision and daring work and read heartfelt letters from Anjelica Huston and Al Pacino. Ms. Malina's passion and political messages on educating young people is as strong at 88 years of age as it was when she first started Living Theatre Company.

Attendees were treated to a tasty buffet table, wine and beer and an array of silent auction items to bid on.
- Gloria Talamas -
RIOULT Dance NY
In association with the Joyce Theater Foundation
presents

RIOULT DANCE NY

Artistic Director & Choreographer PASCAL RIOULT

Featuring
BRIAN FLYNN, JOSIAH GUITIAN, CHARIS HAINES, JERE HUNT,
MICHAEL SPENCER PHILLIPS, JANE SATO, SARA ELIZABETH SEGER,
ANASTASIA SOROCZYNSKI, MARIANNA TSARTOLIA, & HOLT WALBORN

Production Manager: SPENCER ANDERSON
Lighting Design: DAVID FINLEY & JIM FRENCH
Scenic Design: HARRY FEINER
Projection Animation: BRIAN CLIFFORD BEASLEY
Costume Design: RUSS VOGLER & KAREN YOUNG

Joyce Theater
175 8th Avenue
New York, NY 10011
(212) 242-0800 or www.joyce.com
June 17 through June 22, 2014


The Joyce Theater presents two programs featuring Pascal Rioult's powerful choreography and extraordinary dancers. The Rioult dance company is celebrating its 20th anniversary as a world-renowned assembly of creative choreography and dancers with incredible talent.


In Program A, MARTHA, MAY & ME, RIOULT pays homage to his mentors with a performance of May O'Donnell's Suspension, created in 1943, and Martha Graham's El Penitente, created in 1940. Rioult's own Black Diamond (2003) and Views of the Fleeting World (2008) complete the program.

Program B presents a World Premiere, Dream Suite, set to the music of Tchaikovsky, and the powerful Wien (1995). Program B also includes last year's premiere work, Iphigenia.

In Suspension, with music by RAY GREEN, dancers wear varying subtle tones of blue, moving slowly in a state of suspended balance and order, maintaining harmony using independent patterns. Then these patterns join, separate, energize, and create tension points for each other to maintain the order and balance of the whole. Because of the almost slo-mo grace demanded of the dancers, this piece is lovely, graceful, and unbelievable to watch.

El Penitente, with music by LOUIS HORST, has the look of primitive folk art. Born out of Martha Graham's fascination with the American southwest and a religious sect that believed in purification through severe penance, the dance has a simple formalism, episodic structure, and naïve, archaic gestures. A group of strolling players appear on stage and reenact Biblical vignettes, from Original Sin through salvation.

An abstract piece for two female dancers clad in only in black, Black Diamond achieves poetry through an almost cubist interaction. Each movement translates to qualities embodied by a black diamond: strength, beauty, purity, and mystery.

Views of the Fleeting World was inspired by the ancient woodblock prints of the Japanese master Hiroshige and the ingenious structure of Bach's musical score, "The Art of Fugue". Red-skirted dancers move through the sounds of summer wind, a gathering storm, rain, and a flowing river to reflect the depth of human emotions connected to nature. The background and ephemeral red fabric admirably enhance the Asian elements and feel of this most enjoyable dance.

The drama Iphigenia, with music by MICHAEL TORKE, chronicles a young woman's transfiguration from innocent child to transcendental heroine. It focuses on King Agamemnon's decision to sacrifice his daughter, to the horror of his wife and his daughter's betrothed, Achilles. It culminates with Iphigenia's inevitable acceptance of her fate.

Wien cleverly turns the Viennese waltz's image of grace, clarity, and social refinement inside out, using it as a metaphor for the decadence and moral disintegration of society.

RIOULT Dance NY, as always, does not disappoint. Each piece has a unique nature, utilizing an enchanting blend of styles while injecting the contrast necessary to provide a wonderfully well-rounded evening of dance performance. Bravo, indeed.

-Karen D'Onofrio-
BALLET NY
BALLET NY
Presents the 2014 New York City Season
April 15 -17 @ 7:30 PM
The Ailey Citigroup Theater
405 West 55th Street (corner of Ninth Avenue)
(212) 868-4444 or www.smarttix.com

Dancers
MICHAEL EATON, MIRIAM ERNEST, KATIE GIBSON
TAUREEN GREEN, JESSICA LAWRENCE
IBRAHIM PEREZ, AMY SAUNDER, BRENT WHITNEY

Lighting Director: SCOTT BOROWKA
Company Photographer: EDUARDO PATINO
Website Designer: ENDA KEEEGAM
Wardrobe: KRISTI WOOD
Videographer: BRANDON SKOLNIK
Publicist: MICHELLE TABNICK

In BALLET NY's 2014 Season four distinct dances are presented. Kinderszenen ("Childhood Scenes") is both playful and contemplative as six dancers celebrate sisterhood and brotherhood, as well as solo adventures, choreographed by Antonia Franceschi to a simplistic piano (music by Allen Shawn; pianist – Yushiko Sato). In the Garden of Souls choreographed by Medhi Bahiri is a far more forceful piece with ominous and eerie backgrounds, spirited dances, and almost-Gregorian chants and Middle Eastern music. Choreographer Margot Parsons' Dreams is an ethereal reflection where female dancers cavort to the limits of the mind in silvery goddess costumes. Dancers strut their stuff in urban black costumes in Ginger Thatcher's Urban Study-Excerpts. Hip music by Annie Gosfield make this a fun, rollicking street dance and an homage to the frenetic energy of humanity.

BALLET NY 2014 provides a tasty sampler of the diversities of dance and the many talents that bring them to life.

- Laurie Lawson -


New York Theatre Ballet
Diana Byer, Founder & Artistic Director
Present
KEITH MICHAEL'S
THE NUTCRACKER
With

LEXIS BRANAGAN, SETH IVES, MITCHELL KILBY, CARMELLA LAUER
CHOONG HOON LEE, KYREE NAUDEN, STEVEN MELENDEZ
RIE OGURA, MAYU OGURI, BRIANNA STEINFELDT
AMANDA TREIBER, MICHAEL WELLS, ELENA ZAHLMANN and
STUDENTS OF BALLET SCHOOL

Choreography by KEITH MICHAEL
Music by PETER TCHAIKOVSKY
Costume Design by SYLVIA TAALSOHN NOLAN
Scenery Design and Painting by GILLIAN BRADSHAW-SMITH
Lighting Design by TED SULLIVAN
Properties Design and Construction by HERBERT KUHN
Scenery Construction by TIM ZAY

Florence Gould Hall
55 East 59th Street
(212) 355-6160 or www.nytb.org
December 14, 15 & 22, 2013


A little innovation and creativity can go a long way, and this is evident in Keith Michael's THE NUTCRACKER. Presented by New York Theatre Ballet, this story that has been delighting children of all ages for years is full of flight and fantasy. Polka-dotted mice, oversized chopsticks, red exercise balls, imps, owls, sugar plum fairies and of course Marie and her Nutcracker create an aura of excitement and enchantment. Michael's choreography and Tchaikovsky's music are enhanced by beautiful costumes by Sylvia Taalsohn Nolan, imaginative scenery design by Gillian Bradshaw-Smith, and exquisite lighting design by Ted Sullivan. Keith Michael's THE NUTCRACKER is sure to add holiday cheer to your season. Enjoy!

- Laurie Lawson -
Dances Patrelle
presents

THE YORKVILLE NUTCRACKER

Choreography by FRANCIS PATRELLE

Principal Dancers
JENIFER RINGER, JARED ANGLE, MATTHEW DIBBLE, GRANT DETTLING,
KATIE KEITH DETTLING, JASON STOTZ, JULIE VOSHELL, & NADEZHDA VOSTRIKOV

Principal Character Dancers
NANCY BARRETT, ALEXANDER BRADY, COURTNEY CONNER, MAUREEN DUKE,
ANNE KELLY, DON PARADISE, OWEN TAYLOR, BECKA VARGUS, & ERIC VLACH

Soloists
ISABELLA BRAFMAN, HAYLEY CLARK, ANGELINA MASSA, EMILY SOTIROV, ZOE STEIN, ALLISON SUGINO, FAITH STUART WILLIAMS, MATTHEW BERENBAUM,
& MORGAN STINNENT

The Kaye Playhouse at Hunter College
68th Street between Park Avenue & Lexington Avenue
New York, NY
(212) 772-4448
December 5 through December 8, 2013

This absolutely enchanting reinvention of the traditional Nutcracker begins with a party at Gracie Mansion, 1895. The hosts and guests are New York historical figures. The story progresses as usual. Little Mary is gifted with a nutcracker. She falls asleep and, when midnight strikes, she begins to dream. A band of marauding mice threaten her and the Nutcracker's troops engage in battle to vanquish them. Rewarded with a magic sleigh, they travel to Central Park. The Snow King and Queen "skate" on the pond with the Dakota in the background. The sleigh then takes them to the New York Botanical Gardens in the Bronx for more delights, including a pas de deux by the Sugar Plum Fairy and her Cavalier. The night becomes Christmas morning, and Mary awakes to tell of her adventure.

Stellar dancing combines with holiday charm to create a memorable production. Exquisite choreography, sparkling staging, and top-notch performances make this a must-see.

-Karen D'Onofrio-
VON USSAR danceworks
presents

DANCE GALLERY FESTIVAL

Beginnings Forever Lost (excerpt)
danceTactics performance group
Choreographer: KEITH A. THOMPSON (New Jersey)
Dancers: EMILY BERRY, KEVIN FAY, GEORGE HIRSCH, JIN JU SONG-BEGIN, & SARA ROER

Quiver
Choreographer: DAVID JUSTIN (Texas)
Dancers: KELSEY OLIVER, ERICA SAUCEDO, & JOHNNY CHATMAN
Violin: MOLLY EMERMAN

Chalk Boundaries
Dante Brown|Warehouse Dance
Choreographer: DANTE BROWN (New York)
Dancers: MICHAEL ABBATIELLO, DANTE BROWN, QUENTIN BURLEY, CHAFIN SEYMOUR, & RICCARDO VALENTINE

Vers un pays Sage
ELEPHANT IN THE BLACK BOX Company
Choreography: IRATXE ANSA & JEAN PHILIPPE DURY (France)
Dancer: IRATXE ANSA

The Arc between Two Deaths
Choreographer: ERIN CARDINAL (Florida)
Dancers: SHELLEY BOURGEOIS, ERIN CARDINAL, KATIE COLE, ALY COSCIA,
& BRIAN FIDALGO

Flow
Jiwon Lee/Zion Dance
Choreographer: JIWON LEE (New York)
Dancers: PAUL VICKERS, KYUNGJOON LEE, MORGAN HURST, EUNMI YEO,
DIANA AMLFINO, HOYOUNG SHIN, & DANIELLE ALVAREZ

Dust Dreams of Monuments
NobleMotion Dance
Choreographer: ANDY NOBLE (Texas)
Dancers: TRISTIN FERGUSON, BRITTANY THETFORD, JESUS ACOSTA, & TRAVIS PROKOP

A Rib where Her Voice Had Been
MALLORY LYNN + BRENDAN DUGGAN/LoudHoundMovement (New York)
Choreography: MALLORY LYNN & BRENDAN DUGGAN
Dancers: NICK KATEN, SARAH STANLEY, & SHELBY TERRELL

Notice
ARiAS
Choreography: BRYAN ARIAS (New York)
Dancers: BRYAN ARIAS & EMILY OLDAK

The Ailey Citigroup Theater
405 West 55th Street
New York, NY 10019
(212) 868-4444 or www.SmartTix.com
October 11 through October 13, 2013

This year's Dance Gallery Festival presents an intriguing display of works by up-and-coming choreographers from across the U.S. and abroad. Giving them a big stage in the big city, the festival allows them to present their works as intended, making full use of the space to express their dances in all their dimensions. These brief interludes tantalize the appetite for more.

From the barefoot flow of BEGINNINGS FOREVER LOST to the gym shoes of CHALK BOUNDARIES, the choreographers use movement to evoke sweet sadness, challenge, and isolation. CHALK BOUNDARIES stands out for its insightful mix of urban athletes as they sweep and posture through basketball, boxing, track, and football. VERS UN PAYS SAGE focuses on sharp, controlled, angular movement as the lone dancer tries to find her way. The music, or absence of music, combines perfectly with movement to create polished, refined texture in an interweaving of sound, space, and emotion.

Festival founder and director ASTRID VON USSAR has done a masterful job in selecting these works and presenting them in perfect order to complement and enhance one-another. It is inspiring to see the talent of this next generation of choreographers.

-Karen D'Onofrio-
BALLET HISPANICO

Artist Director EDUARDO VILARO

Featuring
LAUREN ALZAMORA, DONALD BORROR, MARTINA CALCAGNO,
JAMAL RASHANN CALLENDER, MARIO ISMAEL ESPINOZA, MELISSA FERNANDEZ,
MIN-TZU LI, MAJOR NESBY, VANESSA VALECILLOS, KIMBERLY VAN WOESIK,
JOSHUA PETER WINZELER, JESSICA ALEJANDRA WYATT,
ALEXANDER DUVAL, & HILLARY RAMOS

Rehearsal Director: MICHELLE MANZANALES
Technical Director: JOSHUA PRESTON
Wardrobe Supervisor: DIANA RUETTIGER
Stage Manager: GWYNDOLYN KAY

Program A: JARDI TANCAT, SORTIJAS, A VUELTAS CON LOS OCHENTA

Program B: NUBE BLANCO, TANGO VITROLA, DANZÓN. Includes a live performance
by PAQUITO D'RIVERA

Program C: JARDI TANCAT, TANGO VITROLA, NUBE BLANCO

Programs are presented on various days. Check www.Joyce.org for details.

The Joyce Theater
175 8th Avenue
New York, NY 10011
(212) 242-0800 or www.Joyce.org
April 16 through April 28, 2013

BALLET HISPANICO celebrates its 25th season in glorious fashion with new works and classics from its repertoire. Spanning a spectrum that includes the Catalonian folktale-based JARDI TANCAT through the flamenco-inspired NUBE BLANCO, the dancers carry the audience on an airy voyage of enjoyment
and fascination.

The company's delightful blend of movement, voice, rhythm, and music is fascinating. Integrating zapateado footwork with a contemporary twist in one work, swirling through barefoot ballet in another, the dancers show their versatility and bring to life evocative images of music incarnate. The costuming is perfect, whether subtle or stunningly surprising.

The fusion of Latin forms with classical and contemporary techniques has something to please everyone who enjoys the beauty of movement and the power of dance.

-Karen D'Onofrio-
Amanda Selwyn Dance Theatre and Notes in Motion Outreach Dance Theatre
Present

WHITE NIGHTS II - A Moveable Performance Soiree
Saturday, February 23, 2013
Greenhouse
150 Varick Street
http://amandaselwyn.notesinmotion.org/


Amanda Selwyn Dance Theatre's third annual benefit gala performance was a showcase for the company's developing oeuvre – It's a Game and a fundraiser for their Notes in Motion program which brings dance into the New York City schools. Guests were asked to come in festive black and white attire.

On entering the basement level, guests were engaged at a blackjack or roulette table, or in a game of Twister, a raffle or a silent auction. Up one flight, guests participated with the dance educators to learn more about the Notes in Motion program. There was a variety of finger food going around, lovely hosts and two bars specializing in vodka drinks.

The dancers slithered from floor to floor amongst the crowds, tables, and stage. Halfway through the evening, Ms. Selwyn introduced a 12-minute video on the Notes in Motion program, then treated us to a 23-minute preview of It's a Game, which will be staged this June. The graceful female dancers wore leopard printed jungle dresses; the sinewy male dancers, bronze lamé shirts and translucent striped pants. Their movements were far-reaching, abstract and expressive. The eclectic music ranged from African tribal sounds to jazz to classical.

Amanda Selwyn Dance Theatre's Thirteenth Annual Performance Season, the World Premiere of It's a Game, will run from June 27-29, 2013 at New York Live Arts.

- Gloria Talamas -

The Joyce Theatre
Presents

BUGLISI DANCE THEATRE

Artistic Director: Jacqulyn Buglisi
Composers: Daniel Bernard Roumain, Steve Margoshes, Arvo Part, Andy Teirstein, Glen Velez, John Zorn
Production Manager: Anne Posluszny
Lighting Design: Jack Mehler, Clifton Taylor
Costume Designer: A. Christina Giannini, Jacqulyn Buglisi, Reid Bartelme
Press Representative: Audrey Ross Publicity

Joyce Theatre
175 Eighth Avenue at 19th Street
www.buglisidance.org
www.joyce.org, 212.242.0800

BUGLISI DANCE THEATRE celebrated its 20th anniversary at the Joyce Theater this past week with two programs in repertoire. We attended Program B: Caravaggio Meets Hopper, Threshold, Butterflies and Demons, Zjawa and Suspended Women. Butterflies and Demons and Zjawa premiered at the Joyce.
The dancers, the choreography and the music were rich, elegant, emotional and moving. The stories behind each piece had meaning and evoked feelings of joy, sadness, passion, dependence and independence. The director, Jacqulyn Buglisi, is a gifted choreographer whose technique is drawn from her years as a principal dancer with Martha Graham.
The costumes were gorgeous, complementing the respective dances. In Suspended Women, you are caught up in the flow of elegance, with long, frilly dresses to match. In Threshold, a beautiful woman breaks through her cocoon momentarily, to be united in rapture with a wild man. In Butterflies and Demons, which is inspired by a tragic loss, the battle between good and evil is palpable. Each dance number is theatrical, imaginative, unusual, and saturates the senses.
If you get a chance to see this company, don't think twice about it.
- Gloria Talamas -
ALONZO KING'S LINES BALLET
www.linesballet.org

Artistic Director: ALONZO KING
Associate Artistic Director: ROBERT ROSENWASSER
Executive Director: ANN MARIE NEMANICH

Dancers

BRETT CONWAY, DAVID HARVEY, ASHLEY JACKSON
LAUREL KEEN, CAROLINE ROCHER, COREY SCOTT-GILBERT
MEREDITH WEBSTER, KEELAN WHITMORE, RICARDO ZAYAS

Ballet Master: ARTURO FERNANDEZ
Technical Director/Stage Manager: C. CHRIS GRIFFIN
Development Director: ALEXIS WEISS
Marketing Director: GAYLE OKUMURA SULLIVAN
Operations Manager: MONICAL REID

The Joyce Theater
175 Eighth Avenue (between 18th & 19th Streets)
(212) 242-0800 or www.joyce.org.
May 5 – 10, 2009; Opening Night: May 5th, 2009


Pick any "…ating" word – exhilarating, pulsating, captivating, undulating, fascinating, innovating – and that's going to help describe ALONZO KING'S LINES BALLET. In the two works now being performed at The Joyce Theater, Dust and Light (with music by Arcangelo Corelli and Francis Poulene) and Rasa (with music by Zakir Hussain) you are going to see bodies at the peak of perfection moving in a constantly mesmerizing and contradictory fashion. They cavort with abandon and then become co-dependent in an amazingly uniform manner. King's co-mingling of bodies in Dust and Light is brilliant, a beautiful display of domination and submission by one and/or many dancers. In Rasa bodies are dribbled, swung, and bounced to the rhythm of Indian/Asian music, bells, and chants. Creativity and originality run rampant through both pieces.

ALONZO KING'S LINES BALLET is a dazzling dance experience that should not be missed!

- Laurie Lawson -
Shanghai City Dance, Ltd. With
Shanghai international Cultural & Communication Association
Eastern Shanghai International Cultural Film & Television Group
In association with
Nederlander Worldwide Entertainment, LLC
And supported by
The Consulate General of the People's Republic of China in New York
Present

THE DREAM OF THE RED CHAMBER
THE DANCE

As a Cultural Gift to America and
The Broadway & Dance Audiences of New York

Performed by the Award-winning
BEIJING FRIENDSHIP DANCE COMPANY
In celebration of the CHINESE NEW YEAR

Story Adapted by ZHAO MING, WANG XIAOLING, LI FUXIANG, ZHANG WEIDONG
Directed and choreographed by ZHAO MING
Music Composed by SU CONG
Artistic Director: LIU BIN
Stage Art Designer: LI WENXIN
Lighting Design by ZHAO ZHONGCHENG & WENG CHUNPU
Costumes by SONG LI
Press Representatives: THE JACKSINA COMPANY, INC. and
RUBINSTEIN PUBLIC RELATIONS, INC.

Rose Theater in Frederick P. Rose Hall
60th Street and Broadway
February 8th & 9th, 2008 @ 8 PM


In a profusion of swirling vibrant colors, the Beijing Friendship Dance Company performs THE DREAM OF THE RED CHAMBER, The Dance. Adapted from what is often considered the greatest book in the canon of Chinese literature, this dance was presented to the American audience as a cultural gift in celebration of the Chinese New Year.

And what a gift it was! Amidst awe-inspiring sets, graceful dancers in breathtakingly beautiful costumes told the ancient story of a son's rebellion against societal requirements for a noble family and his doomed love affair. With a combination of traditional and modern dance choreographed by Award-winning Director Zhao Ming to the score composed by Academy Award-winning Su Cong, the tragedy unfolds. The multi-faceted THE DREAM OF THE RED CHAMBER mesmerizes from start to finish with its sheer beauty and richly vivid presentation – a stunning beginning to a New Year and a deeply appreciated gift.

- Laurie Lawson -
New Tang Dynasty TV presents
shows.ntdtv.com

CHINESE NEW YEAR SPECTACULAR
February 14-16, 2007 @ 8 PM
February 17, 2007 @ 2 PM & 8 PM
Special 90-minute performances February 15 & 16 @ 11 AM

Radio City Music Hall
1260 Avenue of the Americas (50th Street)
(212) 307-7171 or www.ticketmaster.com


Amidst a profusion of swirling colors and sparkling sequins, New Tang Dynasty TV's CHINESE NEW YEAR SPECTACULAR opens with a lavish production of "Creation" where heavenly and earthly beings join to bring goodness to the planet. In celebration of The Year of the Pig, over 150 dancers, vocalists and instrumentalists take a mesmerized audience back to the golden age of culture with candlelight vigils, big musical numbers, ballet-like folk stories, soprano arias, victory drumming, and dances of ribbons, flowers, Mongolian herders and Dai traditions. Against breath-taking backgrounds graceful bodies in traditional costumes reveal the rich history of the Chinese culture through music provided by a 50-member pit orchestra led by Rutang Chen (formerly with China's Central Philharmonic Society Orchestra). Spectacular is the only word that could be used for this elaborate presentation of a multi-faceted country and its history. CHINESE NEW YEAR SPECTACULAR serves not only to showcase the diversity of the culture but also emphasizes the underlying universality of all mankind - a search for truth, a striving for compassion, and yearning for goodness. This show is truly spectacular in all senses of the word!

- Laurie Lawson -
SOKOLOW THEATRE/DANCE ENSEMBLE
www.sokolowtheatredance.org
with
le concert impromptu
www.le-concert-impromptu.com
in
"SHIP OF FOOLS"
"la nef des fous"

Thursday - Saturday, July 6-8, 2006, @ 7:30 PM
Dance Theater Workshop
219 West 19th Street (between Seventh & Eighth Avenues)
(212) 924-0077 or www.dtw.org

Sokolow theatre/dance ensemble
Artistic Director: JIM MAY
The Company
DAVEY BELLEROSE, MELISSA BIRNBAUM, ELEANOR BUNKER, BENJAMIN CORTES,
ALAN FORBES, SAMANTHA GERACHT, LAUREN NASLUND, JOSHUA SCHULTELS,
FRANCESCA TODESCO, LUIS GABRIEL ZARAGOZA

le concert impromptu
Artistic Director: YVES CHARPENTIER
General Manager: ANNE TORRENT
The Wind Quintet
YVES CHARPENTIER (flute/G flute)
ANNE CHAMUSSY (oboe/english horn)
JEAN-CHRISTOPHE MURER (clarinet/bass clarinet)
HELENE BURLE (bassoon/recorder)
PIERRE ROUGERIE (horn)

Lighting Design: PHILIPPE ANDRIEUX
Photos by ROBIN MEEMS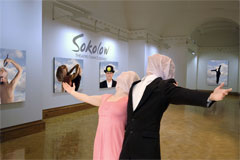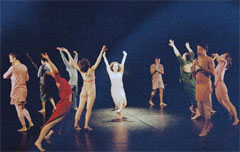 The coupling of the Sokolow Theatre/Dance Ensemble and le concert impromptu in "Ship of Fools" may be one of the best things to happen to Franco-American relations in a long, long time. The dance and music give birth to an eclectic night of entertainment, enhancement, and celebration. Eight pieces choreographed by Anna Sokolow based on the pictures of Magritte ("Magritte, Magritte") provide the perfect blend of theatre and dance, rhythm and poetry, and music and fantasy. From thesauruses gone awry ("Ago!") to the escapism of Luis Gabriel Zaragoza's grace in "The Restless Sleeper" and the theatre of "The Threatened Assassin" delightfully enhanced by the agility and antics of Benjamin Cortes, Director Jim May's light-handed approach breathes life into Sokolow's choreography and Magritte's images. And in full appreciation of the sound, the musicians are brought on stage, magnificently choreographed by May in "Starburst," while the Sokolow Theatre/Dance Ensemble and le concert impromptu cavort in a grand finale choreographed by David Parker that does the title of "La Nef Des Fous" proud. Tomfoolery and talent - now there's a winning combination!

- Laurie Lawson -
Sokolow Theatre/Dance Ensemble presents
www.sokolowtheatredance.org

THE SOUL OF JAZZ
A celebration of the 50th Anniversary of Rooms
Works of Anna Sokolow with Jazz Music

Choreography by ANNA SOKOLOW
Artistic Director: JIM MAY
Lighting Design: PHILIPPE ANDRIEUX
Music: KENYON HOPKINS, JELLY ROLL MORTON, WILLIAM CATANZARO

Performers
DAVEY BELLEROSE
ELEANOR BUNKER
BENJAMIN CORTES
ALAN FORBES
SAMANTHA GERACHT
LAUREN NASLUND
FRANCESCA TODESCO
LUIS GABRIEL ZARAGOZA

Danspace Project at St. Mark's Church in-the-Bowery
www.danspaceproject.org
10th Street & Second Avenue
(212) 674-8194
Thursday-Sunday, October 28-31 @ 8:30 PM



World-renown choreographer Anna Sokolow felt that combining the arts
to express the complexity of humanity was a natural process. In THE
SOUL OF JAZZ, A Celebration of the 50th Anniversary of Anna Sokolow's
Rooms, the dancers seem driven, obsessed and rejuvenated by complexity.
From the awe-inspiring slow-motion cartwheels of Benjamin Cortes to
the stone-faced ragtime patter of Davey Bellerose, the emotions defy
the actions. Both are executed perfectly with only occasional glimpses
of the joy that usually incites and accompanies the activity. Nowhere
is this more evident than in Sokolow's masterpiece Rooms. Dancers
express what we do within the confines of our rooms, real or imagined,
against the backdrop of soulful music by Kenyon Hopkins. A few notes
take you from despair to hope while managing to remind us of the
universality of the human condition. William Catanzaro's diverse
music allows the dancers to loosen up as they eventually become "cool
cats" in Session for Six. In melodrama and exaggerated moves, the
words and music of Jelly Roll Morton depict how the waltz evolved into
ragtime in A Short Lecture and Demonstration on the Evolution of
Ragtime.

In THE SOUL OF JAZZ multi-faceted emotions, high-spirited and focused
dancers, passionate music, and impressive costumes reach far beyond
the conventional borders of dance, making this a fitting tribute to
Anna Sokolow and an evening of powerful entertainment.

- Laurie Lawson -
                      APOCRYPHA Presents
                       Jehan's GODDESSDANCE
                       www.goddessdance.org

      An ecstatic celebration of the divine mystery of life
                featuring a cast of 25 performers,
    with sacred bellydancers, singers, musicians, and drummers
                      from around the world
                       with BALLET MYSTERE
                 featuring Vocalist ALICE RIDLEY

                            Theatre 3
 311 West 43rd Street (between Eighth & Ninth Avenues), 3rd Floor
                (212) 868-4444 or www.smarttix.com
                       July 11 - August 16
Monday @ 8 PM; Friday @ 7:30 and 9:30 PM; Saturday @ 3 PM and 8 PM

Jehan's GODDESSDANCE is a mesmerizing celebration of the
female body and of life itself.  Bellydancing, one of the oldest
recorded dances, is featured because it transcends its Middle Eastern
origin to bring delight to Westerners.  In swirls of colors and
costumes of silk and sequins, undulating bodies perform dances of
rituals, folklore, birth, death, and worship to ancient music updated
with saucy rhythms and sassy lyrics and chants.  Bellydancers are
accompanied by singers, musicians, and drummers from around the
world.  Throw in a few veils, swords, and snakes, and
GODDESSDANCE becomes magical, mystical, and mind-blowing! 
It's a fantasy history lesson that you won't want to miss and you
won't easily forget.  Put this one on your list, and go early.  You just
might want to see it more than once.
                       - Laurie Lawson - 
                   BOOTS, BACK TALK AND BEYOND
            Conceived & Choreographed by JOAN MILLER 
       in collaboration with guest artists and the company

           Artistic Director/Choreographer: JOAN MILLER
               Assistant Director: MARTIAL ROUMAIN
                       Guest Choreographers
              SHEILA KAMINSKY    MARTIAL ROUMAIN    
               GUS SOLOMONS, JR.    MARLIES YEARBY
                             Dancers
   KRYSTAL BREAKLEY      DAVID BROWNE      CHRISTIAN CLEARY    
   DINA DENNIS      DELANO JEAN PIERRE     THOMAS KREVER    
              TYRONE MONROE      NANAKO TSUKIYAMA
                Composer/Coordinator: COOPER MOORE
                   Poet/Narrator: NADINE MOZON
                 Lighting Designer: ROMA FLOWERS
                      Musician: COOPER MOORE
                 Costume Designer:   JESSICA JAHN

                     The Duke on 42nd Street
     229 West 42nd Street (between Broadway & Eighth Avenue)
                          (212) 239-6200
                May 17th @ 8 PM & May 18th @ 3 PM

Communication is the name of the game in JOAN MILLER'S
"Boots, Back Talk and Beyond."  In the tradition of South African
slave laborers, forbidden to speak and forced to use their bodies,
boots and chains, as well as develop a special language in order to
communicate, her dancers burst forth on the stage in a profusion and
sometimes confusion of movements, sounds, thoughts, and antics. 
Diverse works include silent screams, unbridled joy, sounds of
technology, African chants/beats, Jimi Hendrix music, and
Constitutional decrees.  She and her dancers celebrate and bemoan
national, international, and personal triumphs and traumas.  And
some dances are downright genius - "Slap Dance," "Dangling
Participles," and "Dear Family," which I believe includes a poem
entitled "Say When" ("If we must wage war, let it be a war on
poverty, disease...").  All in all there are 14 dances, and it would have
been helpful to identify the pieces so that the audience can keep track
of and follow up on their favorites.  And one more suggestion - since
9/11, hopefully we have all become more aware of our universality. 
So inspiring were some of these performances that less emphasis on
race and more on humankind would have made "Boots, Back Talk
and Beyond" even more spectacular.  We would look forward to
such a satisfying quest; not to worry, JOAN MILLER and her
dancers have enough talent to take on both heaven and earth.
          
                     - Laurie Lawson -                       
                    ANDREW JANNETTI & DANCERS
                20th Anniversary: A Retrospective
                 Choreography by ANDREW JANNETTI

              Guest Choreographer: CHRISTALYN WRIGHT
 Original Music by MARTY BELLER, RONNIE CUSMANO, MELINDA LEVOKOVE
    Lighting Design: JUDITH DAITSMAN, PAT DIGNAN, BARRY STEEL
   Costumes by JENNIFER BRIGHTBILL, SUZANNE GALLO, ELLEN MALHKE
          Stage Manager, Sound Engineer: BETH CHERVENAK
          Stage Hands: KENNETH FREEMAN & JEANINE GALVIN

                           THE COMPANY
    JULIE BETTS, BETH DISHAROON, ANDREW JANNETTI, RACHEL LANE
     ADAM MacLEAN, JENNY MENDEZ, LAUREN NASHLUND, JULIA POND
                  Guest Performer: ANDREAS WIRZ
    Special Guest Performers, Past and Future Company Members
JOANNE CAREY, SUSAN CLINE LUCEY, RACHEL ALEXANDRA COHEN, JEAN MORGAN COMPTON
LORETTA DiBIANCA FOIS, HANNAH ENSLER-RIVEL, HALLIE GLICKMAN-HOCH, STEPHANIE KUNG
JESSICA LEWIS, KATE J.F. LIEBERMAN, ANA POE-KEST, RENEE SKUBA, NADIA TYKULSKER
                         KRIOTA WILLBERG

                     The Duke on 42nd Street
     229 West 42nd Street (between Broadway & Eighth Avenue)
                          (212) 239-6200
                       April 30th - May 4th


Andrew Jannetti's "Much Ado," a intergenerational work
celebrating the past, present, and future company members, sets the
pace for his 20th Anniversary: A Retrospective.  Dancers burst
forth in a profusion of ages, sizes, colors, energy and movements to
the tune of a playful trumpet.  A respect for dance, as well as dancers,
is apparent in each dance.  African chants enhance the gracefulness
and frivolity of "Nightshades," while silliness dominates the
audience-pleaser, "Puddle Bumps."  Jannetti and Andrew Wirz
perform agonized dances of need and desire in "Isolation," and
Bach's "Cello Suite In E Flat Major" is brought to profound life in
"Water Cello Dreams."  ANDREW JANNETTI & DANCERS 20th Anniversary: 
A Retrospective is an impressive and diversified  homage to a master 
of dance and his talented company.
          
                        - Laurie Lawson -
                           SCOTT RINK'S

                            DANCE RINK
                       in two one-act plays

            "Seductions of the Desert" (World Premier)
       adapted from "Nogales," a short story by Tim O'Brien

               Direction/Choreography by SCOTT RINK
                 Audio Collage by SCOTT MARSHALL
                    Set Design by DAVID NEWELL
                     Lighting by JASON LYONS

                             Dancers

STEVE ANDERSON     ERICA EIGENBERG     CHARLES MARTIN     LENNA PARR    
        SCOTT RINK      KEVIN SCARPIN     SERAIDA VASQUEZ
                       Narrator: ELIZA FOSS

           "On His Deathbed, Holding Your Hand" (2001)
            based on the play by David Foster Wallace

               Direction/Choreography by SCOTT RINK
                 Audio Collage by SCOTT MARSHALL
                   Installation by MIKE CARSON
                     Costumes by TOMOKO NAKA
                     Lighting by JASON LYONS

                             Dancers

   STEVE ANDERSON     LENNA PARR     SCOTT RINK    ALICE STOCK
                      Narrator: VICTOR TRURO

                 ATA (American Theater of Actors)
      314 West 54th Street (between Eighth & Ninth Avenues)
                          (212) 620-7474
                      November 12-16 at 8 PM


Scott Rink presents two captivating dance plays in DANCE RINK. 
In the World Premier of "Seductions of the Desert" a lonely woman
(Lenna Parr) feverishly performs a love dance, driven by
desperation, spurred on by fantasy, and invaded by reality.  The
subject of her illusion is a bus driver (Rink) with devious plans and
deadly results.  Narrated by Eliza Foss and punctuated by Doris Day
songs, "Seductions" is a dance on the dark side of love.  "On His
Deathbed, Holding Your Hand" is a brutally honest confession of
a dying father (Steve Anderson) concerning his feelings for his son
(Rink).  A fetus performing a crouched dance on a stool, shadow
dancing, and a symbiotic coupling of Rink and Parr as mother and
son highlight this piece.  Victor Truro narrates.  Somber subjects
with just the right amount of music, dance, and narration make
DANCE RINK an interesting evening of entertainment.
          
                         - Laurie Lawson -                             
The MANHATTAN PRAIRIE DOGS, celebrating their 5th year of performances at the Atlantic
Stampede Rodeo in Washington DC have come home with the gold.  Each year the Rodeo
sponsors the ATLANTIC COAST OPEN, a team dance competition and 1998 found the
MANHATTAN PRAIRIE DOGS on top with first place honors.

The PRAIRIE DOGS are not new to the DC Rodeo having placed third in the very first 
ATLANTIC COAST OPEN in 1995.  PRAIRIE DOG sightings are usually reported in
neighboring states, but they have been spotted performing as far away as Harrisburg, PA and
Boston, MA. In the metropolitan area the PRAIRIE DOGS pop up most often on Saturday
nights at New York City's premiere gay & lesbian dance club The Big Apple Ranch.  New in
1998, the PRAIRIE PUPPIES,  a smaller, streamlined group had their premiere at The Big
Apple Ranch and received at standing ovation at the Rodeo.  The award winning MANHATTAN
PRAIRIE DOGS are directed and choreographed by Jon Lee, with outrageous and stunning
costumes designed and constructed by Michael Shaw.  

The MANHATTAN PRAIRIE DOGS, a country/western dance team can be booked for parties,
benefits and dances.  Line dance and two-step instruction is also available.  For up coming
performances please check www.bigappleranch.com.
---