BALLET HISPANICO

Artist Director EDUARDO VILARO

Featuring
LAUREN ALZAMORA, DONALD BORROR, MARTINA CALCAGNO,
JAMAL RASHANN CALLENDER, MARIO ISMAEL ESPINOZA, MELISSA FERNANDEZ,
MIN-TZU LI, MAJOR NESBY, VANESSA VALECILLOS, KIMBERLY VAN WOESIK,
JOSHUA PETER WINZELER, JESSICA ALEJANDRA WYATT,
ALEXANDER DUVAL, & HILLARY RAMOS

Rehearsal Director: MICHELLE MANZANALES
Technical Director: JOSHUA PRESTON
Wardrobe Supervisor: DIANA RUETTIGER
Stage Manager: GWYNDOLYN KAY

Program A: JARDI TANCAT, SORTIJAS, A VUELTAS CON LOS OCHENTA

Program B: NUBE BLANCO, TANGO VITROLA, DANZ"N. Includes a live performance
by PAQUITO D'RIVERA

Program C: JARDI TANCAT, TANGO VITROLA, NUBE BLANCO

Programs are presented on various days. Check www.Joyce.org for details.

The Joyce Theater
175 8th Avenue
New York, NY 10011
(212) 242-0800 or www.Joyce.org
April 16 through April 28, 2013

BALLET HISPANICO celebrates its 25th season in glorious fashion with new works and classics from its repertoire. Spanning a spectrum that includes the Catalonian folktale-based JARDI TANCAT through the flamenco-inspired NUBE BLANCO, the dancers carry the audience on an airy voyage of enjoyment
and fascination.

The company's delightful blend of movement, voice, rhythm, and music is fascinating. Integrating zapateado footwork with a contemporary twist in one work, swirling through barefoot ballet in another, the dancers show their versatility and bring to life evocative images of music incarnate. The costuming is perfect, whether subtle or stunningly surprising.

The fusion of Latin forms with classical and contemporary techniques has something to please everyone who enjoys the beauty of movement and the power of dance.

-Karen D'Onofrio-
Amanda Selwyn Dance Theatre and Notes in Motion Outreach Dance Theatre
Present

WHITE NIGHTS II - A Moveable Performance Soiree
Saturday, February 23, 2013
Greenhouse
150 Varick Street
http://amandaselwyn.notesinmotion.org/


Amanda Selwyn Dance Theatre's third annual benefit gala performance was a showcase for the company's developing oeuvre – It's a Game and a fundraiser for their Notes in Motion program which brings dance into the New York City schools. Guests were asked to come in festive black and white attire.

On entering the basement level, guests were engaged at a blackjack or roulette table, or in a game of Twister, a raffle or a silent auction. Up one flight, guests participated with the dance educators to learn more about the Notes in Motion program. There was a variety of finger food going around, lovely hosts and two bars specializing in vodka drinks.

The dancers slithered from floor to floor amongst the crowds, tables, and stage. Halfway through the evening, Ms. Selwyn introduced a 12-minute video on the Notes in Motion program, then treated us to a 23-minute preview of It's a Game, which will be staged this June. The graceful female dancers wore leopard printed jungle dresses; the sinewy male dancers, bronze lamť shirts and translucent striped pants. Their movements were far-reaching, abstract and expressive. The eclectic music ranged from African tribal sounds to jazz to classical.

Amanda Selwyn Dance Theatre's Thirteenth Annual Performance Season, the World Premiere of It's a Game, will run from June 27-29, 2013 at New York Live Arts.

- Gloria Talamas -

The Joyce Theatre
Presents

BUGLISI DANCE THEATRE

Artistic Director: Jacqulyn Buglisi
Composers: Daniel Bernard Roumain, Steve Margoshes, Arvo Part, Andy Teirstein, Glen Velez, John Zorn
Production Manager: Anne Posluszny
Lighting Design: Jack Mehler, Clifton Taylor
Costume Designer: A. Christina Giannini, Jacqulyn Buglisi, Reid Bartelme
Press Representative: Audrey Ross Publicity

Joyce Theatre
175 Eighth Avenue at 19th Street
www.buglisidance.org
www.joyce.org, 212.242.0800

BUGLISI DANCE THEATRE celebrated its 20th anniversary at the Joyce Theater this past week with two programs in repertoire. We attended Program B: Caravaggio Meets Hopper, Threshold, Butterflies and Demons, Zjawa and Suspended Women. Butterflies and Demons and Zjawa premiered at the Joyce.
The dancers, the choreography and the music were rich, elegant, emotional and moving. The stories behind each piece had meaning and evoked feelings of joy, sadness, passion, dependence and independence. The director, Jacqulyn Buglisi, is a gifted choreographer whose technique is drawn from her years as a principal dancer with Martha Graham.
The costumes were gorgeous, complementing the respective dances. In Suspended Women, you are caught up in the flow of elegance, with long, frilly dresses to match. In Threshold, a beautiful woman breaks through her cocoon momentarily, to be united in rapture with a wild man. In Butterflies and Demons, which is inspired by a tragic loss, the battle between good and evil is palpable. Each dance number is theatrical, imaginative, unusual, and saturates the senses.
If you get a chance to see this company, don't think twice about it.
- Gloria Talamas -
ALONZO KING'S LINES BALLET
www.linesballet.org

Artistic Director: ALONZO KING
Associate Artistic Director: ROBERT ROSENWASSER
Executive Director: ANN MARIE NEMANICH

Dancers

BRETT CONWAY, DAVID HARVEY, ASHLEY JACKSON
LAUREL KEEN, CAROLINE ROCHER, COREY SCOTT-GILBERT
MEREDITH WEBSTER, KEELAN WHITMORE, RICARDO ZAYAS

Ballet Master: ARTURO FERNANDEZ
Technical Director/Stage Manager: C. CHRIS GRIFFIN
Development Director: ALEXIS WEISS
Marketing Director: GAYLE OKUMURA SULLIVAN
Operations Manager: MONICAL REID

The Joyce Theater
175 Eighth Avenue (between 18th & 19th Streets)
(212) 242-0800 or www.joyce.org.
May 5 – 10, 2009; Opening Night: May 5th, 2009


Pick any "…ating" word – exhilarating, pulsating, captivating, undulating, fascinating, innovating – and that's going to help describe ALONZO KING'S LINES BALLET. In the two works now being performed at The Joyce Theater, Dust and Light (with music by Arcangelo Corelli and Francis Poulene) and Rasa (with music by Zakir Hussain) you are going to see bodies at the peak of perfection moving in a constantly mesmerizing and contradictory fashion. They cavort with abandon and then become co-dependent in an amazingly uniform manner. King's co-mingling of bodies in Dust and Light is brilliant, a beautiful display of domination and submission by one and/or many dancers. In Rasa bodies are dribbled, swung, and bounced to the rhythm of Indian/Asian music, bells, and chants. Creativity and originality run rampant through both pieces.

ALONZO KING'S LINES BALLET is a dazzling dance experience that should not be missed!

- Laurie Lawson -
Shanghai City Dance, Ltd. With
Shanghai international Cultural & Communication Association
Eastern Shanghai International Cultural Film & Television Group
In association with
Nederlander Worldwide Entertainment, LLC
And supported by
The Consulate General of the People's Republic of China in New York
Present

THE DREAM OF THE RED CHAMBER
THE DANCE

As a Cultural Gift to America and
The Broadway & Dance Audiences of New York

Performed by the Award-winning
BEIJING FRIENDSHIP DANCE COMPANY
In celebration of the CHINESE NEW YEAR

Story Adapted by ZHAO MING, WANG XIAOLING, LI FUXIANG, ZHANG WEIDONG
Directed and choreographed by ZHAO MING
Music Composed by SU CONG
Artistic Director: LIU BIN
Stage Art Designer: LI WENXIN
Lighting Design by ZHAO ZHONGCHENG & WENG CHUNPU
Costumes by SONG LI
Press Representatives: THE JACKSINA COMPANY, INC. and
RUBINSTEIN PUBLIC RELATIONS, INC.

Rose Theater in Frederick P. Rose Hall
60th Street and Broadway
February 8th & 9th, 2008 @ 8 PM


In a profusion of swirling vibrant colors, the Beijing Friendship Dance Company performs THE DREAM OF THE RED CHAMBER, The Dance. Adapted from what is often considered the greatest book in the canon of Chinese literature, this dance was presented to the American audience as a cultural gift in celebration of the Chinese New Year.

And what a gift it was! Amidst awe-inspiring sets, graceful dancers in breathtakingly beautiful costumes told the ancient story of a son's rebellion against societal requirements for a noble family and his doomed love affair. With a combination of traditional and modern dance choreographed by Award-winning Director Zhao Ming to the score composed by Academy Award-winning Su Cong, the tragedy unfolds. The multi-faceted THE DREAM OF THE RED CHAMBER mesmerizes from start to finish with its sheer beauty and richly vivid presentation – a stunning beginning to a New Year and a deeply appreciated gift.

- Laurie Lawson -
New Tang Dynasty TV presents
shows.ntdtv.com

CHINESE NEW YEAR SPECTACULAR
February 14-16, 2007 @ 8 PM
February 17, 2007 @ 2 PM & 8 PM
Special 90-minute performances February 15 & 16 @ 11 AM

Radio City Music Hall
1260 Avenue of the Americas (50th Street)
(212) 307-7171 or www.ticketmaster.com


Amidst a profusion of swirling colors and sparkling sequins, New Tang Dynasty TV's CHINESE NEW YEAR SPECTACULAR opens with a lavish production of "Creation" where heavenly and earthly beings join to bring goodness to the planet. In celebration of The Year of the Pig, over 150 dancers, vocalists and instrumentalists take a mesmerized audience back to the golden age of culture with candlelight vigils, big musical numbers, ballet-like folk stories, soprano arias, victory drumming, and dances of ribbons, flowers, Mongolian herders and Dai traditions. Against breath-taking backgrounds graceful bodies in traditional costumes reveal the rich history of the Chinese culture through music provided by a 50-member pit orchestra led by Rutang Chen (formerly with China's Central Philharmonic Society Orchestra). Spectacular is the only word that could be used for this elaborate presentation of a multi-faceted country and its history. CHINESE NEW YEAR SPECTACULAR serves not only to showcase the diversity of the culture but also emphasizes the underlying universality of all mankind - a search for truth, a striving for compassion, and yearning for goodness. This show is truly spectacular in all senses of the word!

- Laurie Lawson -
SOKOLOW THEATRE/DANCE ENSEMBLE
www.sokolowtheatredance.org
with
le concert impromptu
www.le-concert-impromptu.com
in
"SHIP OF FOOLS"
"la nef des fous"

Thursday - Saturday, July 6-8, 2006, @ 7:30 PM
Dance Theater Workshop
219 West 19th Street (between Seventh & Eighth Avenues)
(212) 924-0077 or www.dtw.org

Sokolow theatre/dance ensemble
Artistic Director: JIM MAY
The Company
DAVEY BELLEROSE, MELISSA BIRNBAUM, ELEANOR BUNKER, BENJAMIN CORTES,
ALAN FORBES, SAMANTHA GERACHT, LAUREN NASLUND, JOSHUA SCHULTELS,
FRANCESCA TODESCO, LUIS GABRIEL ZARAGOZA

le concert impromptu
Artistic Director: YVES CHARPENTIER
General Manager: ANNE TORRENT
The Wind Quintet
YVES CHARPENTIER (flute/G flute)
ANNE CHAMUSSY (oboe/english horn)
JEAN-CHRISTOPHE MURER (clarinet/bass clarinet)
HELENE BURLE (bassoon/recorder)
PIERRE ROUGERIE (horn)

Lighting Design: PHILIPPE ANDRIEUX
Photos by ROBIN MEEMS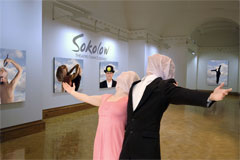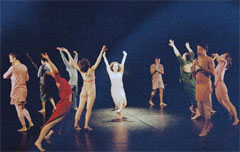 The coupling of the Sokolow Theatre/Dance Ensemble and le concert impromptu in "Ship of Fools" may be one of the best things to happen to Franco-American relations in a long, long time. The dance and music give birth to an eclectic night of entertainment, enhancement, and celebration. Eight pieces choreographed by Anna Sokolow based on the pictures of Magritte ("Magritte, Magritte") provide the perfect blend of theatre and dance, rhythm and poetry, and music and fantasy. From thesauruses gone awry ("Ago!") to the escapism of Luis Gabriel Zaragoza's grace in "The Restless Sleeper" and the theatre of "The Threatened Assassin" delightfully enhanced by the agility and antics of Benjamin Cortes, Director Jim May's light-handed approach breathes life into Sokolow's choreography and Magritte's images. And in full appreciation of the sound, the musicians are brought on stage, magnificently choreographed by May in "Starburst," while the Sokolow Theatre/Dance Ensemble and le concert impromptu cavort in a grand finale choreographed by David Parker that does the title of "La Nef Des Fous" proud. Tomfoolery and talent - now there's a winning combination!

- Laurie Lawson -
Sokolow Theatre/Dance Ensemble presents
www.sokolowtheatredance.org

THE SOUL OF JAZZ
A celebration of the 50th Anniversary of Rooms
Works of Anna Sokolow with Jazz Music

Choreography by ANNA SOKOLOW
Artistic Director: JIM MAY
Lighting Design: PHILIPPE ANDRIEUX
Music: KENYON HOPKINS, JELLY ROLL MORTON, WILLIAM CATANZARO

Performers
DAVEY BELLEROSE
ELEANOR BUNKER
BENJAMIN CORTES
ALAN FORBES
SAMANTHA GERACHT
LAUREN NASLUND
FRANCESCA TODESCO
LUIS GABRIEL ZARAGOZA

Danspace Project at St. Mark'€™s Church in-the-Bowery
www.danspaceproject.org
10th Street & Second Avenue
(212) 674-8194
Thursday-Sunday, October 28-31 @ 8:30 PM



World-renown choreographer Anna Sokolow felt that combining the arts
to express the complexity of humanity was a natural process. In THE
SOUL OF JAZZ, A Celebration of the 50th Anniversary of Anna Sokolow'€™s
Rooms, the dancers seem driven, obsessed and rejuvenated by complexity.
From the awe-inspiring slow-motion cartwheels of Benjamin Cortes to
the stone-faced ragtime patter of Davey Bellerose, the emotions defy
the actions. Both are executed perfectly with only occasional glimpses
of the joy that usually incites and accompanies the activity. Nowhere
is this more evident than in Sokolow'€™s masterpiece Rooms. Dancers
express what we do within the confines of our rooms, real or imagined,
against the backdrop of soulful music by Kenyon Hopkins. A few notes
take you from despair to hope while managing to remind us of the
universality of the human condition. William Catanzaro'€™s diverse
music allows the dancers to loosen up as they eventually become '€œcool
cats'€Ě in Session for Six. In melodrama and exaggerated moves, the
words and music of Jelly Roll Morton depict how the waltz evolved into
ragtime in A Short Lecture and Demonstration on the Evolution of
Ragtime.

In THE SOUL OF JAZZ multi-faceted emotions, high-spirited and focused
dancers, passionate music, and impressive costumes reach far beyond
the conventional borders of dance, making this a fitting tribute to
Anna Sokolow and an evening of powerful entertainment.

- Laurie Lawson -
                      APOCRYPHA Presents
                       Jehan's GODDESSDANCE
                       www.goddessdance.org

      An ecstatic celebration of the divine mystery of life
                featuring a cast of 25 performers,
    with sacred bellydancers, singers, musicians, and drummers
                      from around the world
                       with BALLET MYSTERE
                 featuring Vocalist ALICE RIDLEY

                            Theatre 3
 311 West 43rd Street (between Eighth & Ninth Avenues), 3rd Floor
                (212) 868-4444 or www.smarttix.com
                       July 11 - August 16
Monday @ 8 PM; Friday @ 7:30 and 9:30 PM; Saturday @ 3 PM and 8 PM

Jehan's GODDESSDANCE is a mesmerizing celebration of the
female body and of life itself.  Bellydancing, one of the oldest
recorded dances, is featured because it transcends its Middle Eastern
origin to bring delight to Westerners.  In swirls of colors and
costumes of silk and sequins, undulating bodies perform dances of
rituals, folklore, birth, death, and worship to ancient music updated
with saucy rhythms and sassy lyrics and chants.  Bellydancers are
accompanied by singers, musicians, and drummers from around the
world.  Throw in a few veils, swords, and snakes, and
GODDESSDANCE becomes magical, mystical, and mind-blowing! 
It's a fantasy history lesson that you won't want to miss and you
won't easily forget.  Put this one on your list, and go early.  You just
might want to see it more than once.
                       - Laurie Lawson - 
                   BOOTS, BACK TALK AND BEYOND
            Conceived & Choreographed by JOAN MILLER 
       in collaboration with guest artists and the company

           Artistic Director/Choreographer: JOAN MILLER
               Assistant Director: MARTIAL ROUMAIN
                       Guest Choreographers
              SHEILA KAMINSKY    MARTIAL ROUMAIN    
               GUS SOLOMONS, JR.    MARLIES YEARBY
                             Dancers
   KRYSTAL BREAKLEY      DAVID BROWNE      CHRISTIAN CLEARY    
   DINA DENNIS      DELANO JEAN PIERRE     THOMAS KREVER    
              TYRONE MONROE      NANAKO TSUKIYAMA
                Composer/Coordinator: COOPER MOORE
                   Poet/Narrator: NADINE MOZON
                 Lighting Designer: ROMA FLOWERS
                      Musician: COOPER MOORE
                 Costume Designer:   JESSICA JAHN

                     The Duke on 42nd Street
     229 West 42nd Street (between Broadway & Eighth Avenue)
                          (212) 239-6200
                May 17th @ 8 PM & May 18th @ 3 PM

Communication is the name of the game in JOAN MILLER'S
"Boots, Back Talk and Beyond."  In the tradition of South African
slave laborers, forbidden to speak and forced to use their bodies,
boots and chains, as well as develop a special language in order to
communicate, her dancers burst forth on the stage in a profusion and
sometimes confusion of movements, sounds, thoughts, and antics. 
Diverse works include silent screams, unbridled joy, sounds of
technology, African chants/beats, Jimi Hendrix music, and
Constitutional decrees.  She and her dancers celebrate and bemoan
national, international, and personal triumphs and traumas.  And
some dances are downright genius - "Slap Dance," "Dangling
Participles," and "Dear Family," which I believe includes a poem
entitled "Say When" ("If we must wage war, let it be a war on
poverty, disease...").  All in all there are 14 dances, and it would have
been helpful to identify the pieces so that the audience can keep track
of and follow up on their favorites.  And one more suggestion - since
9/11, hopefully we have all become more aware of our universality. 
So inspiring were some of these performances that less emphasis on
race and more on humankind would have made "Boots, Back Talk
and Beyond" even more spectacular.  We would look forward to
such a satisfying quest; not to worry, JOAN MILLER and her
dancers have enough talent to take on both heaven and earth.
          
                     - Laurie Lawson -                       
                    ANDREW JANNETTI & DANCERS
                20th Anniversary: A Retrospective
                 Choreography by ANDREW JANNETTI

              Guest Choreographer: CHRISTALYN WRIGHT
 Original Music by MARTY BELLER, RONNIE CUSMANO, MELINDA LEVOKOVE
    Lighting Design: JUDITH DAITSMAN, PAT DIGNAN, BARRY STEEL
   Costumes by JENNIFER BRIGHTBILL, SUZANNE GALLO, ELLEN MALHKE
          Stage Manager, Sound Engineer: BETH CHERVENAK
          Stage Hands: KENNETH FREEMAN & JEANINE GALVIN

                           THE COMPANY
    JULIE BETTS, BETH DISHAROON, ANDREW JANNETTI, RACHEL LANE
     ADAM MacLEAN, JENNY MENDEZ, LAUREN NASHLUND, JULIA POND
                  Guest Performer: ANDREAS WIRZ
    Special Guest Performers, Past and Future Company Members
JOANNE CAREY, SUSAN CLINE LUCEY, RACHEL ALEXANDRA COHEN, JEAN MORGAN COMPTON
LORETTA DiBIANCA FOIS, HANNAH ENSLER-RIVEL, HALLIE GLICKMAN-HOCH, STEPHANIE KUNG
JESSICA LEWIS, KATE J.F. LIEBERMAN, ANA POE-KEST, RENEE SKUBA, NADIA TYKULSKER
                         KRIOTA WILLBERG

                     The Duke on 42nd Street
     229 West 42nd Street (between Broadway & Eighth Avenue)
                          (212) 239-6200
                       April 30th - May 4th


Andrew Jannetti's "Much Ado," a intergenerational work
celebrating the past, present, and future company members, sets the
pace for his 20th Anniversary: A Retrospective.  Dancers burst
forth in a profusion of ages, sizes, colors, energy and movements to
the tune of a playful trumpet.  A respect for dance, as well as dancers,
is apparent in each dance.  African chants enhance the gracefulness
and frivolity of "Nightshades," while silliness dominates the
audience-pleaser, "Puddle Bumps."  Jannetti and Andrew Wirz
perform agonized dances of need and desire in "Isolation," and
Bach's "Cello Suite In E Flat Major" is brought to profound life in
"Water Cello Dreams."  ANDREW JANNETTI & DANCERS 20th Anniversary: 
A Retrospective is an impressive and diversified  homage to a master 
of dance and his talented company.
          
                        - Laurie Lawson -
                           SCOTT RINK'S

                            DANCE RINK
                       in two one-act plays

            "Seductions of the Desert" (World Premier)
       adapted from "Nogales," a short story by Tim O'Brien

               Direction/Choreography by SCOTT RINK
                 Audio Collage by SCOTT MARSHALL
                    Set Design by DAVID NEWELL
                     Lighting by JASON LYONS

                             Dancers

STEVE ANDERSON     ERICA EIGENBERG     CHARLES MARTIN     LENNA PARR    
        SCOTT RINK      KEVIN SCARPIN     SERAIDA VASQUEZ
                       Narrator: ELIZA FOSS

           "On His Deathbed, Holding Your Hand" (2001)
            based on the play by David Foster Wallace

               Direction/Choreography by SCOTT RINK
                 Audio Collage by SCOTT MARSHALL
                   Installation by MIKE CARSON
                     Costumes by TOMOKO NAKA
                     Lighting by JASON LYONS

                             Dancers

   STEVE ANDERSON     LENNA PARR     SCOTT RINK    ALICE STOCK
                      Narrator: VICTOR TRURO

                 ATA (American Theater of Actors)
      314 West 54th Street (between Eighth & Ninth Avenues)
                          (212) 620-7474
                      November 12-16 at 8 PM


Scott Rink presents two captivating dance plays in DANCE RINK. 
In the World Premier of "Seductions of the Desert" a lonely woman
(Lenna Parr) feverishly performs a love dance, driven by
desperation, spurred on by fantasy, and invaded by reality.  The
subject of her illusion is a bus driver (Rink) with devious plans and
deadly results.  Narrated by Eliza Foss and punctuated by Doris Day
songs, "Seductions" is a dance on the dark side of love.  "On His
Deathbed, Holding Your Hand" is a brutally honest confession of
a dying father (Steve Anderson) concerning his feelings for his son
(Rink).  A fetus performing a crouched dance on a stool, shadow
dancing, and a symbiotic coupling of Rink and Parr as mother and
son highlight this piece.  Victor Truro narrates.  Somber subjects
with just the right amount of music, dance, and narration make
DANCE RINK an interesting evening of entertainment.
          
                         - Laurie Lawson -                             
The MANHATTAN PRAIRIE DOGS, celebrating their 5th year of performances at the Atlantic
Stampede Rodeo in Washington DC have come home with the gold.  Each year the Rodeo
sponsors the ATLANTIC COAST OPEN, a team dance competition and 1998 found the
MANHATTAN PRAIRIE DOGS on top with first place honors.

The PRAIRIE DOGS are not new to the DC Rodeo having placed third in the very first 
ATLANTIC COAST OPEN in 1995.  PRAIRIE DOG sightings are usually reported in
neighboring states, but they have been spotted performing as far away as Harrisburg, PA and
Boston, MA. In the metropolitan area the PRAIRIE DOGS pop up most often on Saturday
nights at New York City's premiere gay & lesbian dance club The Big Apple Ranch.  New in
1998, the PRAIRIE PUPPIES,  a smaller, streamlined group had their premiere at The Big
Apple Ranch and received at standing ovation at the Rodeo.  The award winning MANHATTAN
PRAIRIE DOGS are directed and choreographed by Jon Lee, with outrageous and stunning
costumes designed and constructed by Michael Shaw.  

The MANHATTAN PRAIRIE DOGS, a country/western dance team can be booked for parties,
benefits and dances.  Line dance and two-step instruction is also available.  For up coming
performances please check www.bigappleranch.com.