PURLIE VICTORIOUS – A Non-Confederate Romp Through the Cotton Patch
By OSSIE DAVIS
Starring
LESLIE ODOM, JR. and KARA YOUNG
BILLY EUGENEJONES, JAY O. SANDERS, HEATHER ALICIIA SIMMS
VANESSA BELL CALLOWAU, NOAH ROBGINS, NOAH PYZIK, and BILL TIMONEY
MELVIN ABSTON, WILLA BOST, BRANDI PORTER, DONALD WEBBER, JR.
Directed by KENNY LEON
The Music Box
239 West 45th Street (between Broadway & Eighth Avenue)
https://purlievictorious.com/tickets
If Ossie Davis is not too busy, you would like to request that he return to Earth for a few minutes so that we can pour accolades onto his worthy head for the brilliance and courageous masterpiece that is PURLIE VICTORIOUS. Whether you celebrate or mourn (or a combination of both) that this show has stood the test of time, it cannot be denied that the writing was above and beyond. And since it was first produced in 1961 and pokes fun at racism, sexism, and classism, the daring and foresight of Mr. Davis must be acknowledged.
Add an unbelievably talented cast to the whole shebang, and you have a winner. Celebrate that the affable (even when he was playing the outrageous Aaron Burr in Hamilton) Leslie Odom, Jr., is back on Broadway as Purlie. He is delightful as the preacher with large sleeves to hold all his tricks. And Kara Young will have you falling in love with Luttiebell Gussie Mae Jenkins the moment she hits the stage. Jay O. Sanders is quite odious as Ol' Cap'n Cotchipee while the rest of the cast hold their own with these rambunctious characters. PURLIE VICTORIOUS is an exquisite night of entertainment that should not be missed.
- Laurie Lawson -
David Stone, Atlantic Theater Company, James L. Nederlander, Lachanze, John Gore, Patrick Catullo, Aaron Glick Present
KIMBERLY AKIMBO
Book & Lyric s by DAVID LINDSAY-ABAIRE
Music by JEANINE TESORI
Based on a play by DAVID LINDSAY-ABAIRE
Starring
VICTORIA CLARK
STEVEN BOYER, ALLI MAUZEY, BONNIE MILLIGAN
OLIVIA ELEASE HARDY, FERNELL HOGAN, MICHAEL ISKANDER, NINE WHITE and JUSTIN COOLEY
COLLEEN IFTZPATRICK, SKYE ALYSSA FRIEDMAN, MIGUEL GIL, JIM HOGAN, BETSY MORGAN,& ALEX VINH
Directed by JESSICA STONE
Choreography by DANNY HEFFORD
Music Director: CHRIS FENWICK
Booth Theatre
222 West 45th Street (between Broadway & Eighth Avenue)
www.telecharge.com
KIMBERLY AKIMBO is a fine musical production that addresses the value of every moment. And that's a pretty impressive topic to tackle. A bit sophomoric in its approach but there are some noteworthy moments. I won't spoil it by telling you the moments, but I am willing to reveal that Victoria Clark holds her own as Kimberly, and Justin Cooley is delightful as her wise-beyond-his-years sidekick Seth. And Bonnie Milligan manages to steal every scene that she is in as the wayward Aunt Debra. The music is adequate, the choreography is fun, and you will be entertained. Just don't expect too much. I did and I was disappointed.
- Laurie Lawson -
Steppenwolf's Production of
THE MINUTES
By TRACY LETTS
With
IAN BARFORD, BLAIR BROWN, CLIFF CHAMBERLAIN, K. TODD FREEMAN, ARMIE HAMMER,
TRACY LETTS, DANNY McCARTHY, JESSIE MUELLER, SALLY MURPHY, AUSTIN PENDLETON and
JEFF STILL
Directed by ANNA D. SHAPIRO
Cort Theatrre
138 West 48th Street (between Broadway & Sixth Avenue)
www.telecharge.com or 212-239-6200
Tonight is the Town Council meeting for Big Cherry, and you're invited. Tracy Lett's THE MINUTES gives you an inside look at the operations of a small town full of eccentric characters as they strive (fight?) to maintain the history they hold so dear. Mayor Superba (Letts) attempts to enforce Robert's Rules as newcomer Mr. Peel (Armie Hammer) refuses to fall in line so easily.
THE MINUTES is a powerful play that unfortunately mimics today's political climate. Reality is often subject to interpretation, and alternative facts sometimes rule. In addition to accommodating all the various personalities, the Council, whose main concern is preserving and executing the Big Cherry Heritage Festival (www.BigCherryHeritageFestival.com), those in attendance are determined to not discuss their missing member, Mr. Carp (Ian Barford). Amidst a marvelous setting created by David Zinn, the humor of THE MINUTES unfolds into a story with a surprise dramatic, and perhaps frightening, climax.
- Laurie Lawson -
TINA
The Tina Turner Musical
Book by KATORI HALL with FRANK KETELAAR and KEYS PRINS
Starring
ADRIENNE WARREN
DANIELLE J. WATTS, DAWNN LEWIS, NKEKIOBI-MELEKWE NYRA LUCRETIA TAYLOR
Director: PHYLLIDA LLOYD
Choreographer: ANTHONY VAN LAAST
Set and Costume Designer: MARK THOMPSON
Musical Supervision, Arrangements, Additional Music and Conductor: NICHOLAS SKILBECK
Lunt-Fontanne Theatre
205 West 46th Street (between Broadway and Eighth Avenue)
www.ticketmaster.com
A story of survival and triumph amidst sparkly costumes, high-energy choreography, and songs that have now become classics is what you will get with TINA, The Tina Turner Musical. From humble beginnings in Brownsville, Tennessee, through the Ike & Tina Turner Revue and an astounding comeback solo career, Ms. Turner has been known and revered for her energetic stage presence, powerful vocals, and career longevity. It is challenging to pay tribute to an individual who has won 12 Grammy awards, been inducting into the Rock & Roll Hall of Fame, and received a Kennedy Center Award, but this production gives it an admirable try. Adrienne Warren and the cast light up the stage, and everyone leaves TINA is an elevated state, perhaps due to the indomitable spirit of the musical's subject.
- Laurie Lawson -
THE SOUND INSIDE
By ADAM RAPP
Starring
MARY-LOUISE PARKER
With WILL HOCHMAN
Directed by DAVID CROMER
Studio 54
254 West 54th Street
www.thesoundinside.com
I can't remember when I have experienced a theatre where the audience is totally silence. Mary-Louise Parker weaves a mighty spell that mesmerizes in Adam Rapp's THE SOUND INSIDE. On a barely-lit stage with minimum props and scenery, Bella (Parker) uniquely tells her story using a combination of reading, writing, and present-day performance. This professor creates a liaison with errant student Christopher (Will Hochman) that encourages her to ask for an unusual favor. Although a quirky story, you don't want to miss a single word. Parker is her brilliant self; her performance alone is worth the price of admission.
- Laurie Lawson -
SLAVA'S SNOWSHOW
By Arrangement with SLAVE and GWENAEL ALLAN
Created and Staged by SLAVA POLUNIN
Cast
SLAVA POLUNIN, FRANCESCO BIFANO, SPENCER CHANDLER, GEORGIY DELIYEV
ALEXANDRE FRISH, VANYA POLUNIN, REOBERT SARALP, NIKOLAI TERENTIEV
ELENA USHAKOVA, AELITA WEST, BRADFORD WEST, ARTEM ZHIMO
Stephen Sondheim Theatre
124 W. 43rd Street, NYC
www.telecharge.com
Do you hate clowns and mime? Me too, BUT SLAVA'S SNOWSHOW has made me rethink my prejudices. This show is innovative, fun, and captivating. Yes, there are clowns but somehow they are endearing. The costumes are inventive and designed to win your heart. And then there are the surprises that occur throughout. The audience was reluctant to leave as snow fell, balls bounced, and the clowns kept the excitement going. Definitely a great way to get in the holiday spirit.
- Laurie Lawson -
Manhattan Theatre Club Presents
THE HEIGHT OF THE STORM
By FLORIAN ZETTER
Translated by CHRISTOPHER HAMPTON
With
JONATHAN PRYCE and EILEEN ATKINS
LUCY COHU, AMANDA DREW, JAMES HILLIER, LISA O'HARE
Directed by JONATHAN KENT
General Manager: FLORIE SEERY
Samuel J. Friedman Theatre
261 West 47th Street
www.telecharge.com
Amidst a glorious country home setting (by Anthony Ward), we meet Andre (Jonathan Pryce) and Madeline (Eileen Atkins), a couple who has been married for many, many years. Right from the start you can sense that something is off. Florian Zetter's THE HEIGHT OF THE STORM challenges what is real and what isn't, who lives and who doesn't, and in what context. The supporting cast (Lucy Cohu, Amanda Drew, James Hillier, and Lisa O'Hare) who portray family members offers no clues. This is a play about death, dementia, and dedication. Superb acting and sharp writing make this a play worth checking out.
- Laurie Lawson -
HARPER LEE'S TO KILL A MOCKINGBIRD
A New Play by AARON SORKIN
Starring
JEFF DANIELS
CELIA KEENAN-BOLGER, WILL PULLEN, GIDEON GLICK, FREDERICK WELLER, GBENGA AKINNAGBE and LaTANYA RICHARDSON JACKSON
Directed by BARTLETT SHER
Original Music by ADAM GUETTEL
Shubert Theatre
225 West 44th Street
www.telecharge.com
Gregory Peck forever won our hearts as Atticus Finch in the movie production of TO KILL A MOCKINGBIRD. Jeff Daniels may do the same in the stage production. In the classic story narrated by Scout (Celia Keenan-Bolger) and Jem (Will Pullen), children of Atticus, and their summer friend Dill (Gideon Glick), a black man (Gbenga Akinnagbe) is on trial for the rape of a white woman in 1934 Maycomb, Alabama. As the story evolves, issues of racism, incest, and fear of those who are different are interwoven into the plot. Unfortunately they also serve as awareness and warnings that we are still dealing with these issues in modern-day society. Sorkin's play is a first-rate rendition executed excellently by a talented cast. This is about as good as it gets on Broadway. Put TO KILL A MOCKINGBIRD on your Must-See list.
- Laurie Lawson -
TOOTSIE
Music and Lyrics by DAVID YAZBEK
Book by ROBERT HORN
Based on the story by don McGuire and Larry Gelbart and the Columbia Pictures motion picture produced by Punch Productions and starring Dustin Hoffman
Starring
SANTINO FONTANA
LILLI COOPER, SARAH STILES, ANDY GROTELUESCHEN, MICHAEL McGRATH, and JOHN BEHLMANN
Directed by SCOTT ELLIS
Choreographed by DENIS JONES
Music Director: ANDREA GRODY
Marquis Theatre
210 West 46th Street
www.ticketmaster.com
It's always difficult to transition a movie production to a Broadway stage and not disappoint audiences. But TOOTSIE is one musical that delivers. Besides the extremely talented cast, starring Santino Fontana as Tootsie, there are musical extravaganzas galore, fabulous costumes, creative choreography, and sarcasm-innuendo-laden dialogue that keeps you chuckling throughout the production. This is the show that will at the top of everyone's Recommend List once they have seen it. A great time is had by all.
- Laurie Lawson -
AIN'T TOO PROUD
The Life and Times of The Temptations
Book by DOMINIQUE MORISSEAU
Music and Lyrics from THE LEGENDARY MOTOWN CATALOG
Based on the Book Entitles THE TEMPTATIONS by OTIS WILLIAMS
Music by Arrangement with SONY/ATV MUSIC PUBLISHING
Starring
DERRICK BASKIN, JAMES HARKNESS, JAWAN M. JACKSON, JEREMY POPE, and EPHRAIM SYKES
Directed by DES McANUFF
Choreographed by SERGIO TRUJILLO
Music Direction and Arrangements by KENNY SEYMOUR
Orchestrations by HAROLD WHEELER
Imperial Theatre
249 West 45th Street (between Broadway & Eighth Avenue)
www.telecharge.com or 212-239-6200
The Temptations have been a major music force for the majority of my life. Their music has endured in a multi-culture world, and many of their songs have become classics. AIN'T TOO PROUD, The Life and Times of The Temptations, attempts to explain the phenomenon of a group who crossed over, stayed there, and became legendary. It's all there – the ups and downs, the tragedies and triumphs, the lucky stars and the misfortunes, and the multi-faceted personalities of its members. And the fascinating story is told through their songs, non-stop dancing, and the camaraderie of men forging a new path in the musical world. AIN'T TOO PROUD is a feel-good, nostalgic, and thoroughly delight production. Don't miss it.
- Laurie Lawson -
HILLARY AND CLINTON
A New Play by LUCAS HNATH
Starring
LAURIE METCALF and JOHN LITHGOW
With
ZAK ORTH and PETER FRANCIS JAMES
Directed by JOE MANTELLO
The John Golden Theatre
252 West 52nd Street (between Broadway & Eighth Avenue)
www.telecharge.com or 212-239-6200
I have never seen Laurie Metcalf on stage where she doesn't steal the show. In Lucas Hnath's HILLARY AND CLINTON it doesn't hurt that she has the title role but I suspect she would shine under any conditions. Set in an alternative world on the eve of an election (no, not that one; instead 2008), Hillary discusses and strategizes her bid for United States President while in New Hampshire. Her partner in the discussion is her husband Bill (John Lithgow). Neither Metcalf nor Lithgow attempt to sound like the infamous political couple, and that may be part of this show's charm. It frees you up to listen to the impactful dialogue and feel the frustration and pain of a woman who has worked so hard to become President. And with such a powerful performance, one cannot help but wonder What If?

- Laurie Lawson -
Neil Simon Theatre Under the Direction of James L. Nederlander
Flody Suarez, Jeffery Seller and Cher Present
THE CHER SHOW
A New Musical
Book by RICK ELICE
Starring
STEPHANIE J. BLOCK, TEAL WICKS, MICAELA DIAMOND
MICHAEL BERRESSE, MICHAEL CAMPAYNO, MATTHEW HYDZIK, EMILY SKINNER and JARROD SPECTOR
Directed by JASON MOORE
Choreography by CHRISTOPHER GATTELLI
Musical Supervision, Orchestrations & Arrangements by DARYL WATERS
Neil Simon Theatre
250 West 52nd Street (between Broadway and Eighth Avenue)
www.Ticketmaster.com or 877-250-2329
Bellbottoms, sequins, and feathers, oh my! How on earth could you tell a story about Cher without them? In THE CHER SHOW you will not be disappointed. Fabulous over-the-top costumes designed by the renowned Bob Mackie amidst settings of sparkle and pizazz meet the songs that made Cher an enduring international one-name phenomenon, and a great time is had by all. Loosely based on the life and times of Cher, the three Cher's (wise beyond her years Micaela Diamond, wiser lady Teal Wicks, and wisest legend Stephanie J. Block) portray the making of a star, along with the ups and downs, marriages, awards, disappointments, and triumphs, each complete with their own special song. It's a magnificent production worthy of Cher and an impressive attempt to portray the undefinable symbol of our past, present, and hopefully future culture. Go see THE CHER SHOW – you know what to expect and you'll get it. Bonus: you get to dance at the end!
- Laurie Lawson -
GARY: A SEQUEL TO TITUS ANDRONICUS
A New Comedy by TAYLOR MAC
Starring NATHAN LANE
With
KRISTINE NIELSEN and JULIE WHITE
Directed by GEORGE C. WOLFE
Movement by BILL IRWIN
Original Music by DANNY ELFMAN
Booth Theatre
222 West 45th Street (between Broadway and Eighth Avenue)
www.telecharge.com

Taylor Mac's GARY: A SEQUEL TO TITUS ANDRONICUS is a madcap romp through piles of corpses and the aftermath of carnage. The always loveable Nathan Lane is a trainee learning how to efficiently dispose of bodies under the tutelage of Julie White and often distracted by the semi-insane Kristine Nielsen who rants on about a baby she could have saved. There are some genuinely funny, full-out-laughter moments in this off-kilter production delivered by three extremely talented actors, and yet my advice would be "Don't bother." It is rare that the audience knows what is going on, and after a while the blood and guts and sexual innuendos become tedious and boring. Unfortunately the confusion outweighs the comedy.
- Laurie Lawson -
THE WAVERLY GALLERY
By KENNETH LONERGAN
Starring
ELAINE MAY, LUCAS HEDGES, JOAN ALLEN, MICHAEL CERA and DAVID CROMER
Directed by LILA NEUGEBAUER
The John Golden Theatre
252 West 45th Street (between Broadway & Eighth Avenue)
www.telecharge.com or (212) 239-6200
Matriarch Gladys Green (Elaine May) is beginning to show the signs of aging/Alzheimer's. She's repeating herself, forgetting names and people, and becoming generally confused with diminished hearing. But the one thing she remembers is that she belongs in THE WAVERY GALLERY. Kenneth Lonergan has given us a touching story with moments of hilarity and immense sadness. In addition to sharp writing and tight direction, what puts this production over the top is the excellent cast. May is a marvel, constantly on stage and constantly talking. A total delight! Joan Allen is her daughter struggling to do her duty and David Cromer her patient son-in-law. Lucas Hedges is the narrator and often the voice of reason despite his age, and Michael Cera is the stranger who becomes enmeshed in this family crisis. Together these actors make THE WAVERLY GALLERY a place/play you will not soon forget.
- Laurie Lawson -
TORCH SONG
By HARVEY FIERSTEIN
Starring MICHAEL URIE and MERCEDES RUEHL
With
WARD HORTON, JACK DIFALCO, ROXANNA HOPE RADJA and MICHAEL HSU ROSEN
Directed by MOISES KAUFMAN
The Hayes Theater
240 West 44th Street (between Broadway & Eighth Avenue)
www.telecharge.com or (212) 239-6200

Being green isn't easy; neither is being gay. Harvey Fierstein captures this perfectly in TORCH SONG. Arnold (Michael Urie) is an optimist whose needs are simple – he wants a husband, a child, and a pair of comfortable stilettos. Hope springs eternal for this transgender performer as he attempts relationships of meaning with his on-again/off-again partner Ed (Ward Horton) who in between "offs" has gained a wife (Roxanna Hope Radja) and his young nubile interest Alan (Michael Hsu Rosen). Jack DiFalco is the son Arnold hopes to adopt. And then comes Mama (Mercedes Ruehl) who visits Arnold's New York City apartment and challenges almost every belief and hope Arnold has managed to garner. As the two strong personalities clash and come together, the laughter and tears co-mingle. The writing in TORCH SONG is superb, and it holds up after all these years, making this production one of the most enjoyable on Broadway.
- Laurie Lawson -
RUBEN & CLAY'S CHRISTMAS SHOW
Starring RUBEN STUDDARD & CLAY AIKEN
Featuring
FARAH ALVIN, KEN ARPINO, JULIAN DIAZ-GRANADOS, LA'NETTE WALLACE, and KHAILA WILCOXON
Directed by JONATHAN TESSERO
Music Director: BEN COHN
Written by KEN ARPINO & JESSE JOYCE
Imperial Theatre/ 249 West 45th Street/ www.telecharge.com or (212) 239-6299
Fifteen years ago (has it really been that long?) American Idol was beloved reality television show, and two of the most beloved contestants were Ruben Studdard and Clay Aiken. Each week a voting frenzy took place, and these guys ended up the last two men standing. It was a talent battle to be remembered, and everyone was forced to take a side. Well, much to the delight of fans everywhere they are back in RUBEN & CLAY'S (First Annual) CHRISMAS (Carol Family Fun Pageant Spectacular Reunion) SHOW, RUBEN & CLAY'S CHRISTMAS SHOW for short. It's a fun show with goofy skits, personal videos, friendly rivalry, and of course glorious singing. It's wonderful reminder of just how talented these two really are, and it reconfirms why you voted for whichever person you did. And if you have no memories, go anyway. RUBEN & CLAY'S CHRISTMAS SHOW will make you become quick and lasting fans.
- Laurie Lawson -
MIKE BIRBIGLIA'S THE NEW ONE
Written and Performed by MIKE BIRBIGLIA
Directed by SETH BARRISH
Cort Theatre
138 West 48th Street (between Broadway & Sixth Avenue)
www.telecharge.com or (212) 239-6200
Who the heck is MIKE BIRBIGLIA and why on earth would you want to go see him? Easy answer – because he is funny as hell. Even if the subject matter doesn't interest you (his journey to becoming a father), you will find yourself all-out guffawing and snorting, with a couple of belly laughs in between. Birbiglia's presentation of ordinary and not-so-ordinary events is bemused and sarcastic. It's a deadly combination – sharp humor that seems to surprise him as well. THE NEW ONE is a guaranteed Laugh Fest, and you shouldn't miss it. He's on Broadway until January 20.
- Laurie Lawson -
David Stone, Scott Rudin, Patrick Catullo, Aaron Glick, and Ryan Murphy Present
THE BOYS IN THE BAND
By MART CROWLEY
Starring
JIM PARSONS, ZACHARY QUINTO, MATT BOMER, ANDREW RANNELLS, CHARLIE CARVER
ROBIN DE JESUS, BRIAN HUTCHISON, MICHAEL BENJAMIN WASHINGTON, TUC WATKINS
Directed by JOE MANTELLO
Booth Theatre
222 West 45th Street (between Broadway and Eighth Avenue)
212-239-6200 or www.telecharge.com
April 30 – August 11; Opening Night – 05/31/18
In 1968 when THE BOYS IN THE BAND appeared Off-Broadway, it was revolutionary. The gay lifestyle was both celebrated and castigated when seven gay guys gather in a NYC apartment for a friend's birthday party. The wit was razor sharp, the repartee was fast and furious, and the camaraderie was palpable and vicious. And never before had the gay lifestyle been made so honest on a public stage. And the courage it took for everyone involved in the endeavor was beyond question.
It is great to report that the writing holds up. The humor, innuendos, and rawness are fast-paced and at times absolutely hilarious. Delivered by an all-star cast, you find yourself wishing you were a part of the party. But then you remember that the AIDS crisis is right around the corner for these gentlemen. And the lights dim slightly. But 50 years ago THE BOYS IN THE BAND was a marvelous introduction into the gay culture. Realizing that there are still many people in today's climate who are totally unaware that sexual preference is a human trait, let us celebrate that this groundbreaking play has returned to Broadway.
- Laurie Lawson -
EDWARD ALBEE'S
THREE TALL WOMEN
Starring
GLENDA JACKSON LAURIE METCALF ALISON PILL
Directed JOE MANTELLO
Scenic Design: MIRIAM BUETHER
Costume Design: ANN ROTH
Lighting Design: PAUL GALLO
Sound Design: FITZ PATTON
Hair & Makeup Design: CAMPBELL YOUNG ASSOCIATES
Casting: CAPARELLIOTIS CASTING
Production Stage Manager: WILLIAM JOSEPH BARNES
Production Manager: AURORA PRODUCTIONS
Company Manager: MIKE McLINDEN
Press Representative: SAM RUDY MEDIA RELATIONS, JIM BYK
The John Golden Theatre
252 West 45th Street (between Broadway & Eighth Avenue)
www.telecharge.com or 212-239-6200
What's the perfect recipe for an impactful Broadway play? Take one accomplished award-winning playwright (Edward Albee); mix with a legendary actress (Glenda Jackson), a beloved performer (Laurie Metcalf), and a young artist (Alison Pill) who can hold her own with the other two, all peppered with awards and accolades from stage, screen, and television. Put a chef's hat on one of America's most celebrated directors (Joe Montello), and let him mold these ingredients into a 105-minute confection. Sprinkle this whole creation with mind-boggling scenic design by Miriam Buether and stunning costumes by Ann Roth. And voila! You have THREE TALL WOMEN.
Albee's Pulitzer-Prize winning play is an exquisite examination of a life filled with regrets, rewards, and reflections. The three women co-mingle and merge into one identity while maintaining their own individual traits – no easy feat. To see this production with these actresses is an once-in-a-lifetime event. THREE TALL WOMEN is what Broadway theatre is all about. Believe the hype and go see it.
- Laurie Lawson -

ESCAPE TO MARGARITAVILLE

Book by Greg Garcia & Mike O'Malley Music & Lyrics by Jimmy Buffett
Starring:
Paul Alexander Nolan - Alison Luff
Lisa Howard - Eric Petersen - Rema Webb - Don Sparks - Andre Ward
Matt Allen - Tessa Alves - Sara Andreas -Tiffany Adeline Cole - Marjorie Failoni - Samantha Farrow
Steven Good - Angela Grovey - Albert Guerzon - Keely Hutton - Justin Keats - Mike Millan
Justin Mortelliti - Ryann Redmond - Jennifer Rias - Julius Anthony Rubio - Nick Sanchez
Ian Michael Stuart - Brett Thiele

Directed By Christopher Ashley Choreographed by Kelly Devine

Music Supervision, Vocal & Incidental Arrangements & Additional Orchestrations by Christopher Jahnke
Orchestrations: Michael Utley Music Consultant: Mac McAnally
Music Coordinators: Michael Keller, Michael Aarons Dance Music Arrangements: Gary Adler

Scenic Design: Walt Spangler Costume Design: Paul Tazewell Lighting Design: Howell Binkley
Sound Design: Brian Ronan
Marquis Theatre, 210 West 46th Street, www.ticketmaster.com

Parrot Heads Rejoice! Jimmy Buffett Brings His Music to Broadway and Does Not Disappoint!!
Jimmy Buffett's music arrives on Broadway in the new, original "juke-box" musical "ESCAPE TO MARGARITAVILLE." This 21st century rom-com story is built around a female environmental scientist who visits a Caribbean island for her best friend's pre-nuptial bachelorette vacation. She encounters a laid-back lounge singer who takes HER to a new latitude/attitude while a tattooed bartender tempts the bride-to-be with humor, empathy and song. A volcano erupts. Flashbacks abound. Geriatric love finds a way. Happiness is everywhere, just like the libations in "5' O'clock Somewhere" and beach balls eventually drop from the heavens.
Jimmy Buffett fans will find many of his major hits, but with a few lyric changes to fit the story which only make it more exciting. It is enlightening to hear his stories sung with different voices, and "He Went to Paris" can bring on the tears. Singing along is still possible, especially in the first act when crusty, old character JD picks up his ukulele and asks "those folks on the beach" to speak up and "Let's Get Drunk….".
The ensemble cast stars Paul Alexander Nolan, Alison Luff, Lisa Howard, Eric Petersen, Rema Webb, Don Sparks, Andre Ward, who all bring their talent and expertise to create this thoroughly enjoyable evening of fun, fun, fun. Although Buffet himself does not appear in the show, he may show up at the curtain call to add a little more tequila to that last Margarita!
So Go! Go! Go! Get your ticket to "ESCAPE TO MARGARITAVILLE" at the Marquis Theatre, 46th St. NYC, and remember as Jimmy sings, "If we can't laugh then we'd all go insane."

- Faye Argentine -
COME FROM AWAY
A New Musical
Book, Music and Lyrics by IRENE SANKOFF and DAVID HEIN
Featuring
PETRINA BROMLEY, GENO CARR JENN COLELLA, JOEL HATCH, RODNEY HICKS
KENDRA KASSERBAUM, CHAD KIMBALL, LEE MacDOUGALL, CAESAR SAMAYOA, Q. SMITH
ASTRID VAN WIEREN, SHARON WHEATLEY, JOSH BRICKENRIDGE, SUSAN DUNSTAN
JOHN JELLISON, TAMIKA LAWRENCE, TONY LaPAGE, and JULIE REIBER
Directed by CHRISTOPHER ASHLEY
Musical Staging: KELLY DEVINE
Music Supervision: IAN EISENDRATH
Schoenfeld Theatre
236 West 45th Street (between Broadway & Eighth Avenue)
www.telecharge.com or (212) 239-6200
The brilliance of Irene Sankoff's and David Hein's COME FROM AWAY cannot be denied. To take an international disaster with everlasting repercussions and create an inspiring uplifting play is no easy feat, but that is what they have done. On September 11, 2001, the World Trade Center was attacked by two planes flying into the buildings. Immediately air space around the world was frozen. And while we were dealing with the largest attack on American soil, it never occurred to us to wonder where all the planes went when they couldn't land in the United States. Well 38 of them ended up in Gander, Newfoundland, and this small town opened its doors and welcomed the 7,000 passengers that suddenly showed up on their doorsteps.
COME FROM AWAY is a story of the goodness in humans coming to the forefront in an emergency, told with snappy dialogue put to music. There are poignant moments of course but the underlying message is that we are all connected. This is the play you cannot miss. You will laugh, you will cry, you will remember, and you will restore your faith in humankind. Everyone living in the United States should have the opportunity to experience this amazing production.
- Laurie Lawson -

David Stong, Marc Platt, James L. Nederlander, Barbara Whitman, Patrick Catullo
Marcia Goldberg, Universal Stage Productions, Independent Presenters Network and Goodman Theatre
Present
WAR PAINT
Book by DOUG WRIGHT
Music by SCOTT FRANKEL
Lyrics by MICHAEL KORIE
Starring
PATTI LUPONE, CHRISTINE EBERSOL, JOHN DOSSETT and DOUGLAS SILLS
Directed by MICHAEL GREIF
Choreography: CHRISTOPHER GATTELLI
Music Direction: LAWRENCE YURMAN
Orchestration: BRUCE COUGHLIN
WAR PAINT is the story of the ongoing competition between Makeup Queens Helena Rubinstein (Patti Lupone) and Elizabeth Arden (Christine Ebersole). Set in New York City, it chronicles the rise of the ladies' empires, their challenges and triumphs, and their personal dramas.
Can Lupone and Ebersole belt out a song? You bet! Even though Lupone chooses to use an accent that is occasionally undecipherable, you can't deny her vocal power. Is this a story worth telling? Affirmative. Is this a play that can't be missed? Uh, no. There is nothing outstanding about WAR PAINT. It has all the elements of success and yet it misses the mark. The music is not memorable; the performances lack luster; even the costumes are not that impressive. The sets are interesting but not worth the cost of a ticket. Too bad, definitely an opportunity missed.
- Laurie Lawson -
IN TRANSIT
Book, Music and Lyrics by KRISTEN ANDERSON-LOPEZ, JAMES-ALLEN FORD, RUSS KAPLAN
and SARA WORSWORTH
Based on an original concept by
KIRSTEN ANDERSON-LOPEX, GREGORY T. CHRISTOPHER, JAMES-ALLEN FORD
RUSS KAPLAN, KARLA LANT, SARA WORDSWORTH
Featuring
DAVID ABELES, MOYA NAGELA, STEVEN "HeaveN" CANTOR, JUSTIN GUARINI
TELLY LEUNG, ERIN MACKEY, GERIANNE PEREZ, MARGO SIEBERT
CHESNEY SNOW, JAMES SNYDER, MARIAND TORRES, NICHOLAS WARD
ADAM BASHIAN, LAUREL HARRIS, AMY JUSTMAN, ARBENDER ROBINSON
BRAD STANDLEY, AURELIA WILLIAMS, CHELSEA WILLIAMS
Directed and Choreographed by KATHLEEN MARSHALL
Music Supervision: RICK HIP-FLORES
A Capella Arrangements by DEKE SHARON
Scenic Design: DONYALE WERLE
Costume Design: CLINT RAMOS
Lighting Design: DONALD HOLDER
Sound Design: KEN TRAVIS
Projection Design: CAITE HEVNER
Circle in the Square
50th Street (between Broadway and Eighth Avenue)
www.telecharge.com or (212) 239-6200
IN TRANSIT is a delightful celebration about where you've been, where you're going, and most importantly where you are right now. A variety of scenarios take place in a subway, realistically designed by Donyale Werle. Trains transform into offices and churches; turnstiles and MetroCards malfunction on a regular basis; rats drag pizza slices; and unintelligible announcements occur as life goes on underground.
All sounds made in the production come from the human voice, and that includes screeching train tracks, machines that take money, and the aforementioned announcements. All songs are a cappella complete with rhythm and beat – a lovely blend of voices that move the story along. Choreography is creative, and the cast is multi-talented. Don't miss the train on this one – IN TRANSIT is a journey you will be glad you took.
- Laurie Lawson -
Roundabout Theatre Company Presents
Arthur Miller's
THE PRICE
Starring MARK RUFFALO, TONY SHALHOUB, JESSICA HECHT and DANNY DeVITO
Directed by TERRY KINNEY
Set Design: DEREK McLANE
Costume Design: SARAH J. HOLDEN
Lighting Design: DVAID WEINER
Sound Design: ROB MILBURN & MICHAEL BODEEN
American Airlines Theatre
227 West 42nd Street (between 7th & 8th Avenues)
www.roundabouttheatre.org
In THE PRICE Arthur Miller examines not only the relationships between family members but also the essence of the relationship we create with ourselves. Victor (Mark Ruffalo) is in the process of disposing of his deceased father's property. As he and his wife (Jessica Hecht) wait for Victor's estranged brother Walter (Tony Shalhoub) to perhaps show up, they begin negotiations with furniture dealer Gregory Solomon (Danny DeVito). When Walter finally shows up, old wounds are opened, and everyone is left questioning whether the price we pay for choices made is far too high.
This is a brilliant play with a power-packed cast. DeVito is both a scene stealer and a bit of comic relief who occasionally spouts profound wisdom. Ruffalo is poignant and relatable as the long-suffering brother, and Shaloub is the brother you want to hate but just can't justify the enmity. Hecht's conflict as she struggles between loyalty and a way out of current circumstances is on target. Together these actors make THE PRICE well worth the cost of a ticket.
- Laurie Lawson -
HAMILTON…The Gift That Keeps on Giving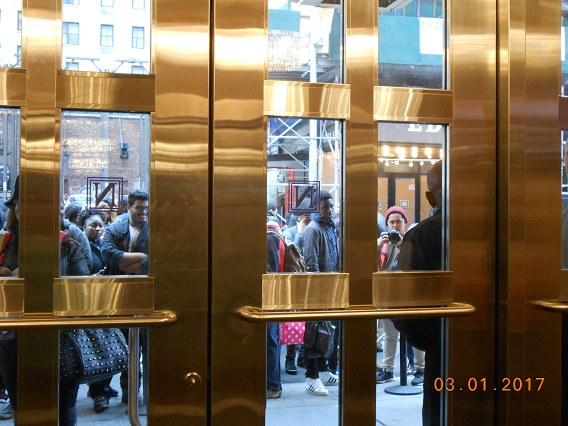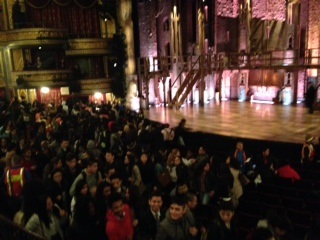 When HAMILTON debuted on Broadway in 2015, theatregoers everywhere knew something extraordinary had arrived. Thousands of adults caught HAMILTON fever; teenagers soon followed and American Revolutionary War history became a major interest.
Now a partnership of HAMILTON, The Rockefeller Foundation, the NYC Department of Education and the Gilder Lehrman Institution of American History annually provides 20,000 NYC public school high school students with tickets to see this innovative musical at select Wednesday matinees as part of its on-going "HAMILTON Education Program".
Seeing the production is the grand finale of the program which provides an in-class curriculum designed around the musical. It features a study guide plus an online "HAMILTON" portal for students and teachers to help students develop and produce their own original performances of poetry, rap, songs, scenes, some of which are performed at the theatre in front of a full-house of 1300 students and teachers prior to the afternoon matinee. Students also have a Q&A session with cast members. In addition to NYC, Chicago has its own program, and another is planned for San Francisco after the show opens.
On a recent Wednesday morning in NYC, 20 students from 11 local schools performed original material. One young man performed a solo rap (a la "Alexander Hamilton") about Benjamin Franklin which brought cheers from the audience -- look for this young man to be in the professional cast in a few years. Two young women performed an insightful, rousing "imagined" conversation between Thomas Jefferson and Angelica Schuyler in Europe as they reacted to events in America. More cheers!
And of course, HAMILTON 2017, with its mostly new cast, still sparkles, excites, mesmerizes and entertains. Watching it with 1300 excited teenagers was such a thrill and you could feel the electricity in the air. "How lucky we are to be alive now in New York City".
- Faye Argentine -
DARREN BAGERT, MICHAEL GRANDAGE COMPANY, ADAM ZOTOVICH, JOAN RAFFE & JHETT TOLENTINO,
ARIELLE TEPPER MADOVER, MARTIN McCALLUM, DEBBIE BISNO, CJ E&M, JEFFREY FINN,
HAGEMANN ROSENTHAL ASSOCIATES, STACEY MINDICH, BOB BOYETT, SEAVIDE PRODUCTIONS,
TAYLOR WEINSTEIN THEATRICALS, JULIE BOARDMAN, FALDENSTEIN SIMONS LTD, MICHAEL WATT,
THE SHUBERT ORGANIZATION Present
FOREST WHITAKER in
EUGENE O'NEILL'S HUGHIE
With FRANK WOOD
Directed by MICHAEL GRANDAGE
Set & Costume Design by CHRISTOPHER ORAM
Lighting Design: NEIL AUSTIN
Composer & Sound Design: ADAM CORK
Casting: CALLERI CASTING
Press: POLK & CO
Advertising: AKA
Associate Director: TIMOTHY KOCH
Production Management: AURORA PRODUCTIONS
Company Manager: LIZBETH CONE
Production Stage Manager: PETER WOLF
Executive Producer: 101 PRODUCTIONS, LTD.
Booth Theatre
222 West 45th Street (between Broadway and Eighth Avenue)
www.telecharge.com or (212) 239-6200
February 8 – June 12; Opening Night – 02/25/16
Eugene O'Neill's HUGHIE is about affable gambler and drinker Erie Smith (perfectly portrayed by Forest Whitaker). Erie returns to the hotel that he calls home (a fantastic set created by Christopher Oram) and greets the new desk clerk (Frank Wood). Watching Whitaker break down and win over the stoic and silent Wood is fine theatre, and we should all go home happy, right?
Well not necessarily. Upon purchasing tickets I was forewarned three times that latecomers would not be seated so I should be punctual. I was and almost felt like a part of an elite group – those people who show up on time. After all the warnings of penalties for lateness, the show began five minutes late. And ten minutes into the production, latecomers were being seated. Touting itself as a 65-minute production, in actuality HUGHIE was 55 minutes. In this case, timing is everything. And when it doesn't work, you leave unsatisfied. Yes, this was a preview performance, but if you are going to charge full price for a preview, then you owe the audience a full-price performance. These are all technicalities that can be easily corrected but they interfered with the overall experience making HUGHIE is an experience that could be missed.
- Laurie Lawson -
ON YOUR FEET!
The Story of Emilio & Gloria Estefan
www.onyourfeetmusical.com
Book by ALEXANDER DINELARIS
Featuring Music Produced and Recorded by Emilio & Gloria Estefan & Miami Sound Machine
Starring
ANA VILLAFANE and JOSH SEGARRA
ALMA CUERVO, ALEXANDRIA SUAREZ, EDUARDO HERNANDEZ and ANDREA BURNS
FABI AQUIRRE, KARMINE ALERS, DAVID BAIDA, NATALIE CRUNCHO, HENRY GAINZA, LINEDY GENAO
CARLOS E. GONZALEZ, NINA LAFARGA, OMAR LOPEZ-CEPERO, HECTOR MAISONET, MARIELYS MOLINA
DOREEN MONTALVO, GENNY LIS PADILLA, LIZ RAMOS, ELISEO ROMAN, LUIS SALGADO
JENNIFER SANCHEZ, MARCOS SANTANA, MARTIN SOLA, BRETT STSURGIS, KEVIN TELLEZ
ERIC ULIOA, TANAIRI SADE VAZQUEZ, LEE ZARRETT
Directed by JERRY MITCHELL
Choreographed by SERGIO TRUJILLO
Scenic Design: DAVID ROCKWELL
Costume Design: ESOSA
Lighting Design: KENNETH POSNER
Sound Design: SCK SOUND DESIGN
Projection Design: DARREL MALONEY
Casting by TELSEY + COMPANY, JUSTIN HUFF, CSA
Wig and Hair Design: CHARLES G. LAPOINTE
Music Coordinator: PATRICK VACCARIELLO
Music Direction and Arrangements: LON HOYT
Orchestrations: GLORIA ESTEFAN, EMILIO ESTEFAN
Additional Orchestrations: JORGE CASAS, CLAY OSTWALD
Dance Music Arrangements and Dance Orchestrations: OSCAR HERNANDEZ
Associate Director: ANDY SENOR, JR.
Associate Choreographer: MARIA TORRES, MARCOS SANTANA
Press Representative: VIVACITY MEDIA GROUP
Production Supervisor: THEATERSMITH ASSOCIATES, LLC
Production Stage Manager: THOMAS RECKTENWALD
Company Manager: BOBBY DRIGGERS
General Manager: THE CHARLOTTE WILCOX COMPANY
Marquis Theatre
46th Street (between Broadway and Eighth Avenue)
www.ticketmaster.com
Opening Night: 11/05/15
Once upon a time in Miami a Cuban-born singer met a Cuban-born band leader. Together they changed the face of Latin music. Academy and Golden Award winner (Birdman) Alexander Dinelaris' ON YOUR FEET! is the story of Emilio and Gloria Estefan and their meteoric rise as one of the most successful crossover teams in music. Seven Grammy Awards and over 100 million records sold and still counting. With direction by Tony Award winner Jerry Mitchell and choreography by Award winner Sergio Trujillo, it would be difficult to not have a winner on their hands. And they definitely do.
Not only does Ana Villafane look like Gloria but she also sounds like her. Josh Segarra is an endearing Emilio, the man behind the magic. Andrea Burns is Gloria's strong-willed mother, Alma Cuervo is the grandmother who believed in Gloria before she believed in herself, Alexandrea Suarez is a young Gloria, and scene stealer Eduardo Hernandez takes on the roles of several young men. Throw in hit songs like "123," "Rhythm Is Gonna Get You," "Turn The Beat Around," "Don't Wanna Lose You," "Anything For You," and the title song, and the audience finds it difficult to stay in their seats. Amidst the rhythm and the music, there is a compelling story of undisputed talent, overcoming obstacles, inspiration, love, and belief in oneself. Amazing lighting design by Kenneth Posner and projection design by Darrel Maloney provide the background for this mesmerizing musical. So GET ON YOUR FEET! and buy a ticket to an exhilarating theatrical event.
- Laurie Lawson -
Jeffrey Seller, Sander Jacobs, Jill Furman and The Public Theater Present
HAMILTON
Book, Music and Lyrics by LIN-MANUEL MIRANDA
Inspired by the book Alexander Hamilton by Ron Chernow
With
DVEED DIGGS, RENEE ELISE GOLDSBERRY, JONATHAN GROFF, CHRISTOPHER JACKSON
JASMINE CEPHAS JONES, LIN-MANUEL MIRANDA, JAVIER MUNOZ, LESLIE ODOM, JR.
OKIERIETE ONAODOWAN, ANTHONY FAMOS, PHILLIPA SOO
And
CARLEIGH BETTIOL, ANDREW CHAPPELLE, ARIANA DeBOSE, ALYSHA DESLORIEUX
SYDNEY JAMES HARCOURT, NEIL HASKELL, SASHA HUTCHINGS, THAYNE JASPERSON
STEPHANIE KLEMONS, MORGAN MARCELL, EMMY RAVER-LAMPMAN
JON RUA, AUSTIN SMITH, SETH STEWART, BETSY STRUXNESS
EPHRAIM SYKES, VOLTAIRE WADE-GREEN
Directed by THOMAS KAIL
Choreography by ANDY BLANKENBUEHLER
Music Direction and Orchestrations by ALEX LACAMOIRE
Scenic Design: DAVID KORINS
Costume Design: PAUL TAZEWELL
Lighting Design: HOWELL BINKLEY
Sound Design: NEVIN STEINBERG
Hair and Wig Design: CHARLES G. LaPOINTE
Music Coordinator: MICHAAEL KELLER, MICHAEL AARONS
Press Representative: SAM RUDY MEDIA RELATIONS
Technical Supervision: HUDSON THEATRICAL ASSOCIATES
Production Stage Manager: J. PHILIP BASSETT
Company Manager: BRIG BERNEY
Casting: TELSEY + COMPANY, BETHANY KNOX, CSA
Arrangements: ALEX LaCAMOIR, LIN-MANUEL MIRANDA
General Management: BASELINE THEATRICAL, ANDY JONES
Richard Rodgers Theatre
226 West 46th Street (between Broadway & Eighth Avenue)
www.ticketmaster.com
Opening Night: 08/06/15
I've never really understood all the remakes that end up on Broadway, especially when there is talent like Lin-Manuel Miranda out there waiting to be heard from. His HAMILTON is nothing short of brilliant. Based on the book Alexander Hamilton by Ron Chernow, Miranda presents the story of this fascinating American personality in Hip Hop format. Yep, rhyming words, snappy beats, innovative choreography, and current colloquialisms reveal the evolution of one of our country's founding fathers. And this gentleman led a life driven by both ambition and morality, a distinctively unusual combination.
In addition to creating lyrics that are clever, music that is upbeat, and a story that is captivating, Miranda plays Hamilton himself. He is joined by a multitude of talented folks. Jonathan Groff is a scene stealer as King George, and Daveed Diggs shines as both Marquis de Lafayette and Thomas Jefferson. In fact you would be hard-pressed to find someone not impressive on the stage at any time. History comes alive in a most unique manner in HAMILTON, a play that is making history on Broadway. Treat yourself to the experience.
- Laurie Lawson -
The National Theatre Production of
THE CURIOUS INCIDENT OF THE DOG IN THE NIGHT-TIME
A New Play by SIMON STEPHENS
Based on the novel by MARK HADDON
Starring

TYLER LEA, BENJAMIN WHEELWRIGHT, ROSIE BENTON, ANDREW LONG, ENID GRAHAM
NANCY ROBINETTE, MERCEDES HERRERO, RICHARD HOLLIS, BEN HORNER, KEREN DUKES, DAVID MANIS
STEPHANIE ROTH HABERLE, TOM PATRICK STEPHENS, TIFFANY RACHELLE STEWART, TIM WRIGHT
Directed by MARIANNE ELLIOTT
Scenic & Costume Design: BUNNY CHRISTIE
Lighting Design: PAULE CONSTABLE
Video Design: FINN ROSS
Choreography: SCOTT GRAHAM & STEVEN HOGGETT for FRANTIC ASSEMBLY
Music: ADRIAN SUTTON
Sound Design: JAN DICKINSON for AUTOGRAPH
Hair & Wig Design: DAVID BRAIN BROWN
Casting: DANIEL SWEE, C.S.A, CINDY TOLAN, C.S.A.
NT Productions: STEPHEN REBBECK, ROS BROOKE-TAYLOR
Associate Directors: BENJAMIN E. DLEIN (US), KATY RUDD (UK)
Production Stage Manager: KRISTEN HARRIS
Associate Producers: FRANKI de la VEGA, KEVEN EMRICK
Advertising & Marketing: SPOTCO
Press Representative: BONEAU/BRYAN-BROWN
Production Management: AURORA PRODUCTIONS
General Manager: BESPOKE THEATRICALS
Barrymore Theatre
243 West 47th Street (between Broadway & Eighth Avenue)
(212) 239-6200 or www.telecharge.com
Simon Stephens' THE CURIOUS INCIDENT OF THE DOG IN THE NIGHT-TIME begins with the death of a neighborhood dog, a disturbing event for anyone. More of an obsession for autistic Christopher (Tyler Lea), he set outs to unearth the murderer. What he discovers is not only the culprit, but also how far he can push himself and those who love him, what challenges he can overcome, and a flexibility rarely exhibited in his black-and-white world.
Inside the head of a 15-year-old autistic boy is disconcerting and sometimes uncomfortable. There are plenty of flashing lights and cacophonous loud music throughout this production. What makes the journey of Christopher tolerable and often amusing is a fascinating story, marvelous writing, characters that survive with a sense of humor, clever scenic design, and some kick-ass video projections. You can even overlook the fact that the second act is 20 minutes too long because THE CURIOUS INCIDENT OF THE DOG IN THE NIGHT-TIME is that good.
- Laurie Lawson -
Kevin McCollum, Broadway Global Ventures, CMC, Mastro/Goodman, Jerry & Ronald Frankel,Morris Berchard, Kyodo Tokyo Inc., Wendy Federman, Barbara Freitag, Lams Production, Winkler/DeSimone, Timothy Caczynski, Dan Markley, Harris/Karmazin, Jam Theatricals, Robert Greenblatt, and Jujamcyn Theaters Present
SOMETHING ROTTEN!
Book by KAREY KIRKPATRICK and JOHN O'FARRELL
Conception/Music & Lyrics by WAYNE KIRKPATRICK and KAREY KIRKPATRICK
Starring
BRIAN d'ARCY JAMES, JOHN CARIANA, HEIDI BLICKENSTAFF, BRAD OSCAR, KATE REINDERS
BROOKS ASHMANSKAS, PETER BARTLETT, GERRY VICHI, MICHAEL JAMES SCOTT
ELIZABETH EARLEY, ERIC GIANCOLA, LINDS GRIFFIN, DAVID HUBBARD, JENNY HILL, STACEY TODD HOLT, COURTNEY IVENTOSCH, AARON KABURICK, AUSTIN LESCH, BETH JOHNSON NICELY, ALEXS PEVEC,ERIC SCOTTO, BRIAN SHEPARD, CHELSEA MORGANG STOCK, ANGIE SCHWORER, RYAN VANDENBOOM, MATT WALL, MARISHA WALLACE, BUD WEBER
And CHRISTIAN BORLE
Directed and Choreographed by CASEY NICHOLAW
Scenic Design: SCOTT PASK
Costume Design: GREGG BARNES
Lighting Design: JEFF CROITER
Sound Design: PETER HYLENSKI
Casting: TELSEY + COMPANY, BETHANY KNOX, CSA
Production Stage Manager: CHARLES UNDERHILL
Associate Director: STEVE BEBOUT
Associate Choreographer: JOHN MACINNIS
Associate Producer: LUCAS McMAHON
Press Representative: BONEAU/BRYAN-BROWN
General Management: BESPOKE THEATRICALS
Music Direction & Vocal Arrangements: PHIL RENO
Musical Arrangements: GLEN KELLY
Orchestrations: LARRY HOCHMAN
Music Coordinator: JOHN MILLER
St. James Theatre
246 West 44th Street (between Broadway & Eighth Avenue)
www.telecharge.com
Shakespeare was a pretty cool dude. Although not a rabid fan of his plays, he is most definitely the King of Quotable Quotes. And now there's a play for those of us who are both the aforementioned rabid fans and for those of us who don't find it that difficult to turn down a play by William S. SOMETHING ROTTEN! has taken the best of the Bard, set it to music, added some very clever choreography, and turned Shakespeare's words into a rollicking farce. Throw in some sexual innuendos, memorable songs like "It's Hard To Be The Bard" and "God, I Hate Shakespeare," a few big-time production numbers like "Make An Omelette," and tons of sophisticated sarcasm that tell a convoluted story, and you have a delightful romp through many of the classics. A fabulous ensemble, magnificent costumes, fun props and scenery, and before you know it, you've just had an awe-inspiring evening of Shakespeare. SOMETHING ROTTEN! should not be missed! It's nothing but fun.
- Laurie Lawson -
AN AMERICAN IN PARIS
Music and Lyrics by GEORGE GERSHWIN and IRA GERSHWIN
Book by CRAIG LUCAS
Inspired by the Motion Picture
With
ROBERT FAIRCHILD, LEANNE COPE, VEANNE COX, JILL PAICE, BRANDON URANOWITZ, MAX von ESSEN
GAREN SCHRIBNER, SARA ESTY, CAITLIN ABRAHAM, WILL BURTON, ATTIA JOEY CSIKI, MICHAEL CUSUMANO
TAETER CYRUS, MEGAN DICKINSON, ASHLEE DUPRE, REBECCA EICHENBERGER, LAURA FEIG
LESLIE DONNA FLESNER, JENNIE FORD, DURT FROMAN, HEATEHR LANG, DUSTON LAYTON, NATHAN MADDEN
GIA MONGELL, CANDY OLSEN, REBECCA RIKER, ADAM ROGERS, SAM ROGERS, SHANNON RUGANI
JEFFREY C. SOUSA, SAM STRASFELD, SARRAH STRIMEL, CHARLIE SUTTON, ALLISON WALSH, SCOTT WILLIS,
VICTOR J. WISEHART
Directed and Choreographed by CHRISTOPHER WEELDON
Musical Score adapted, arranged and supervised by ROB FISHER
Associate Producers: GLORIA GRACIA ALANIS, AMUSE, INC., LUN-YUN CHANG, IVY ZHONG/SEAN HSU
Set and Costume Design: BOB CROWLEY
Lighting design by NATASHA KATZ
Sound Design by JON WESTON
Projection Design by 59 PRODUCTIONS
Press Representative: BONEAU/BRYAN-BROWN
Advertising: SERINO/COYNE
Company Manager: RINA L. SALTZMAN
Production Stage Manager: RICK STEIGER
Production Supervisor: JAKE BELL
Music Director: BRAD HAAK
Music Supervisor: TODD ELLISON
Orchestrations: CHRISTOPHER AUSTIN
Dance Arrangements: SAM DAVIS
Music Coordinator: SEYMOUR RED PRESS
Casting: TELSEY + COMPANY, RACHEL HOFFMAN, C.S.A.
Additional Orchestrations: DON SEBESKY, BILL ILLIOTT
Associate Directors: JACQUELIN BARRETT, DONTEE KIEHN
Associate Choreographer: DONTEE KIEHN
General Manager: 101 PRODUCTIONS, LTD.
The Palace Theatre
1564 Broadway (between 46th & 47th Streets)
www.ticketmaster.com
Based on the motion picture of the same title, AN AMERICAN IN PARIS tells the story of a young GI (Robert Fairchild) who decides to stay in Paris after World War II. As he is discovering love with a beautiful young French girl (Leanne Cope), his paintings are being discovered by a city seeking beauty to eradicate the aftermath of war. Lise (Cope) has also caught the eyes of her almost-fiancé Henri (Max von Essen) and musician Adam (Brandon Uranowitz). Jill Paice is a wealthy American who becomes interested in both Jerry's (Fairchild) art and his emotions, and Veanne Cox is a marvelously droll and straight-laced mother of Henri.
There are so many "can't lose" elements to this production. Songs by George and Ira Gershwin like "I Got Rhythm," "The Man I Love," "S Wonderful," "But Not For Me," "I'll Build A Stairway To Heaven," and "They Can't Take That Away From Me" along with breath-taking choreography, costumes, and sets definitely are on the plus side. And yet, against all odds, the production is a bit lackluster. You leave feeling a bit unfulfilled. The passion and romance that are the backbone of the story are rushed and incomplete. Characters are partially developed, as is the chemistry between them. With so much going for it, you would hope that AN AMERICAN IN PARIS would be spectacular. Instead it's simply good.
- Laurie Lawson -
Studio 54
Jeffrey Finn, The Shubert Organization, Carl Moellenberg, Arielle Tepper Madover, Stacey Mindich, Bob Boyett, FG Productions, John Frost, Corinne Hayoun, Jamie Kaye-Phillips, Scott Landis, Larry Magid, Stephanie P. McClelland, David Mirvish, Daryl Roth
Present
JIM PARSONS
AN ACT OF GOD
By DAVID JAVERBAUM
Also Starring
CHRISTOPHER FITZGERALD and TIM KAZURINSKY
Directed by JOE MANTELLO
Scenic Design: SCOTT PASK
Costume Design: DAVID ZINN
Lighting Design: HUGH VANSTONE
Sound Design: FITZ PATTON
Music: ADAM SCHLESINGER
Projection Design: PETER NIGRINI
Illusion Consultant: PAUL KIEVE
Special Effects: GREGORY MEEH
Casting: CAPARELLIOTIS CASTING
Technical Supervisor: STEVE BEERS
Press Representative: POLK & CO.
Advertising: SERINO/COYNE
Production Stage Manager: ARTHUR GAFFIN
Company Manager: ROSEANNA SHARROW
Executive Producer: 101 PRODUCTIONS, LTD.
Studio 54
254 West 54th Street (between Broadway & Eighth Avenue)
212-239-6200 or www.telecharge.com
Brilliant! That's the only word that comes to mind with David Javerbaum's AN ACT OF GOD. The writing is brilliant, the casting is brilliant, the set design is brilliant, and Jim Parsons is Jim Parsons, which is to say Brilliant! And it's no mistake that God decided to visit Earth – Broadway to be specific – in the form of the beloved comedian because it seems the Heavenly Father has a droll sense of humor and is full of one-liners. Flanked by his two archangels, Gabriel (Tim Kazurinsky) and Michael (Christopher Fitzgerald), he issues a hilariously updated form of the Ten Commandments. Michael delivers the new rules as Gabriel roams the audience seeking questions for edgy deity. God gives his reasoning for the adjustments, reveals never-before-known spiritual secrets, and implores us to stop calling him during sex. AN ACT OF GOD is indeed a blessed event and you shouldn't miss it!
- Laurie Lawson -
Gerald Goehring, Roy Miller, Michael F. Mitri, Pat Flicker Addiss, Peter Billingsley
Timothy Laczynski, Mariano Tolentino, Jr., Lousie H. Beard, Michael filerman, Scott Hart
Alison Eckert, Bob Bartner, Michael Jenkins, Angela Milonas, Bradford W. Smith
Present

A CHRISTMAS STORY
The Musical

Book by JOSEPH ROBINETTE
Music and Lyrics by BENJ PASEK and JUSTIN PAUL
Based on the motion picture "A Christmas Story"

Starring DAN LAURIA, JOHN BOLTON, JAKE LUCAS, NOAH BAIRD, ERIN DILLY

With
Charlie Babbo, Gabriella Baldacchino, Hannah Isabel Bautista, Charissa Bertels, Tanya Birl, Beada Briglin, Judae'a Brown, Michael Crispi, Andrew Cristpi, Matthew deGuzman, Thay Floyd,
Nick Gaswirth, Lizzie Klemperer, Jose Luaces, Mara Newbery, Alexa Niziak, Lindsay O'Nell,
David Scott Purdy, Keven Quillon, Lucas Schultz, Mitchell Sink, Luke Spring, Jenny Lee Stern,
Eli Tokash, Nicky Torchia and
Caroline O'Connor as Miss Shields

Directed by JOHN RANDO
Choreographed by WARREN CARLYLE
Orchestration: LARRY BLANK
Music Supervision: IAN EISENDRATH
Dance Music Arrangements: GLEN KELLY
Set Design: WALT SPANGLER
Costume Design: ELIZABETH HOPE CLANCY
Lighting Design: HOWELL BINKLEY
Sound Design: KEN TRAVIS

The Theater at
MADISON SQUARE GARDEN
NYC
www.ticketmaster.com

If you've never seen the film "A Christmas Story," you are in for a treat. And if you have seen the film, surprise – you are still in for a treat when you see A CHRISTMAS STORY The Musical! This production is so well done that you will be delighted from the very first song to the grand finale. The well-known story of Ralphie (Jake Lucas) and his quest for a BB gun at Christmas is enhanced by creative choreography (Warren Carlyle), spirited songs ( Benj Pasek , Justin Paul), and Joseph Robineete's book which is narrated by Dan Lauria. John Bolton, Noah Baird, and Erin Dilly make up Ralphie's family, and Caroline O'Connor is his tap dancing teacher. And a delightful time is had by all. A CHRISTMAS STORY The Musical should be on everyone's list of holiday traditions.

- Laurie Lawson -
Bob Boyett, Harriet Newman Leve
Jane Dubin, Jack Thomas/Mark Johannes and Amy Danis
Sarabeth Grossman, Jon Cryer/Lisa Joyner, Minerva Productions, Lary Brandt/Brian Dorsey
Kate Hataway/Allison Thomas, Jennifer Isaacson, Kevin Bailey
In association with
Lincoln Center Theater
Present

HOLLAND TAYLOR
In
ANN

Written by HOLLAND TAYLOR
Directed by BENJAMIN ENDSLEY KLEIN
Scenic Design: MICHALE FAGIN
Costume Design: JULIE WEISS
Lighting Designer: MATTHEW RICHARDS
Sound Designer: KEN HUNCOVSKY
Projection Designer: ZACHARY BOROVAY
Wig Designer: PAUL HUNTLEY
Press Representative: THE HARTMAN GROUP
Production Manager: PETER FULBRIGHT
Production Stage Manager: J.P. ELINS
Marketing: LEANNE SCHANZER PROMOTIONS, INC.
Advertising: SPOTCO
General Management: 101 PRODUCTIONS, LTD.
Associate Producers
COLLEEN BARRETT, NANCY T. BEREN, FRANCESCA ZAMBELLO AND FAITH GAY
PATRICK TERRY/RICH AFFANNATO, MARCH ADELMAN/PAULA KAMINSKY DAVIS
CAMPBELL SPENCER/SUISMAN GASPARIAN, BONNIE LEVINSON/EMILY CONNER

Vivian Beaumont Theater at Lincoln Center
150 West 65th Street
(212) 362-7600 or www.telecharge.com
February 18 – September 1, 2013; Opening Night – 03/07/13


The first thing you want to do after seeing ANN is to write Holland Taylor a thank-you note. Not only is she the playwright of this delightful piece of work, but she has also managed to somehow channel the indomitable spirit of the former Governor of Texas. Not to say that Ann Richards did not provide a wealth of material from which to draw, and Taylor has taken full advantage of the colorful anecdotes and historical renderings left behind. Touching on all aspects of the rare occasion of a female governor in the State of Texas, racism, sexism, good ole boy clubs, and Republicans are just a few of the adversaries she takes on with Southern humor and charm. Ann Richards left an indelible stamp on the legislature of Texas, the hearts of her supporters, and the future of politics. Thank you, Holland Taylor, for bringing this inspirational character back to us with the wonderful production of ANN.

- Laurie Lawson -
Roundabout Theatre Company
Todd Haimes, Artistic Director/Harold Wolpert, Managing Director/Julia C. Levy, Executive Director
Present

THE BIG KNIFE
By CLIFFORD ODETS

With

RACHEL BROSNAHAN, BOBBY CANNAVALE, MARIN IRELAND
BILLY EUGENE JONES, RICHARD KIND, ANA REEDER, REG ROGERS
JOEY SLOTNICK, BRENDA WEHLE, C.J. WILSON, CHIP ZIEN

Directed by DOUG HUGHES
Set Design: JOHN LEE BEATTY
Costume Design: CATHERINE ZUBER
Lighting Design: JAMES F. INGALLS
Original Music & Sound Design: DAVID VAN TIEGHEM
Hair & Wig Design: TOM WATSON
Production Stage Manager: WINNI Y. LOK
Production Manager: AURORA PRODUCTIONS
Casting: JIM CARNAHAN, C.S.A.
The Big Knife General Manager: DENISE COOPER
Press Representative: POLK & CO
Associate Managing Director: GREG BACKSTROM
Director of Marketing & Audience Development: TOM O'CONNOR
Director of Development: LYNNE GUGENHEIM GREGORY
General Manager: SYDNEY BEERS
Founding Director: GENE FEIST
Adams Associate Artistic Director: SCOTT ELLIS

American Airlines Theatre
227 West 42nd Street (between 7th & 8th Avenues)
(212) 719-1300 or www.roundabouttheatre.com
Opening Night: April 16, 2013


I'm sure Clifford Odets' THE BIG KNIFE was a scandalous exposé in 1948 revealing the lengths to which Hollywood studios would go in order to control and manipulate the lives of their stars. Today it seems a bit blasé until you consider the plethora of reality shows with ridiculous and sometimes dangerous situations created for entertainment. And there is never a shortage of people willing to be mentally and physically abused in order to get their 15 minutes of fame. So the plot is not as far-fetched as you would think. Nonetheless, THE BIG KNIFE is like watching an old-time black-and-white television show, enjoyable but slightly dated. That's not to say that there is no sparkle in the production.

In a setting for which you quite possibly would sell your soul (designed by John Lee Beatty), Bobby Cannavale holds his own as the suave movie star weighing the cost of fame and fortune. Scene stealer Richard Kind is magnificent as the manipulative studio mogul Marcus Hoff, and Chip Zien is adept as both the smarmy agent and the good friend of Charlie Castle (Cannavale). Billy Eugene Jones manages to shine in his secondary role as the house servant, and the rest of the actors are given colorful personas to keep the story line interesting. Being torn by his wife (Marin Ireland) and a past that has returned to haunt him, Castle struggles to find the existence that will deliver peace and absolution to his jaded character. As lines are drawn in the sand, blurred and then redrawn, THE BIG KNIFE explores how far individuals will go to obtain "the good life."

- Laurie Lawson -
Scott Rudin, Stuart Thompson
Jon B. Platt, Roger Berlilnd, Broadway Across America, Scott M. Delman
Jean Doumanian, Roy Furman, Stephanie P. McClelland
Sonia Friedman Productions/Tulchin Bartner Productions
The Arcada Group, Heni Koenigsberg, Daryl Roth, Eli Bush
Present

FIONA SHAW
In

THE TESTAMENT OF MARY
www.testamentonbroadway.com

By COLM TORBIN
Directed by DEBORAH WARNER
Scenery Designed by TOM PYE
Costume Designed by ANN ROTH
Lighting Designed by JENNIFER TIPTON
Original Music and Sound Design by MEL MERCIER
Production Stage Manager: MICHAEL J. PASSARO
Press Representative: PHILIP RINALDI
Production Management: AURORA PRODUCTIONS
General Management: STP/MARSHALL B. PURDY

Walter Kerr Theatre
219 West 48th Street (between Broadway & Eighth Avenue)
(212) 239-6200 or www.telecharge.com
Opening Night: April 22, 3013


Although she barely makes an appearance in the New Testament, Mary is one of the most well-known figures in religion. The beloved mother of Jesus is portrayed as a sinless virgin who brought the son of God to earth and then quietly fades into the background. This is not the view that Colm Torbin took when he wrote THE TESTAMENT OF MARY. His Mary is of flesh and bone, suffering the angst of a mother watching her son die, the guilt of wondering if she could have done more to stop the event, and the conflict of truth vs. gospel. Fiona Shaw in this role is breathtaking with raw emotions and physical force weaved into one captivating narrative. With a touch of a sense of humor, director Deborah Warner keeps the tension tight while revealing an entirely different type of Madonna. Brilliant scenery design by Tom Pye maintains the atmosphere while taking us on a biblical journey as Mary speaks.

Go see THE TESTAMENT OF MARY because "the truth should be spoken at least once in the world." Word of warning: Late comers will not be seated. You don't want to be late because you don't want to miss a moment of this powerful play.

- Laurie Lawson -
ROBIN GOODMAN, JILL FURMAN, STEPHEN KOCIS
EDWARD WALSON, VENETIAN GLASS PRODUCTIONS, THE ARACA GROUP
LUIGI CAIOLA & ROSE CAIOLA, ROY FURMAN, WALT GROSSMAN
PETERMAY/SANFORD ROBERTSON, GLASS SLIPPER PRODUCTIONS, LLC/ERIC SCHMIDT
TED LIEBOWTIZ/JAMES SPRY, BLANKET FORT PRODUCTIONS
In association with
CENTER THEATRE GROUP Presents

RODGERS + HAMMERSTEIN'S

CINDERELLA

Music by RICHARD RODGERS
Lyrics by OSCAR HAMMERSTEIN
New Book by DOUGLAS CARTER BEANE
Original Book by OSCAR HAMMERSTEIN

Starring

LAURA OSNES, SANTINO FONTANA
PETER BARTLETT, ANN HARADA, GREG HILDRETH
MARLA MINDELLE, PHUMZILE SOJOLA
With
HARRIET HARRIS and VICTORIA CLARK

JILL ABRAMOVITZ, KRISTINE BENDUL, DREW FRANKLIN, HEIDI GIBERSON
STEPHANIE GIBSON, SHOONICA GOODEN, KENDAL HARTSE, ROBERT HARTWELL
LAURA IRION, ADAM JEPSEN, ANDY JONES, ANDY MILLS, LINDA MUGLESTON
ALESSA NEECK, PETER NELSON, NICK SPANGLER, KIRSTIN TUCKER
CODY WILLIAMS, BRANCH WOODMAN, KEVIN WORLEY

Directed by MARK BROKAW
Choreographed by JOSH RHODES
Music Adaptation Supervised by DAVID CHASE
Orchestrations: DANNY TROOB
Scenic Design: ANNA LOUIZOS
Costume Design: WILLIAM IVEY LONG
Lighting Design: KENNETH POSNER
Sound Design: NEVIN STEINBERG
Hair and Wig Design: PAUL HUNTLEY
Music Director and Conductor: ANDY EINHORN
Music Coordinator: HOWARD JONES
Production Stage Manager: IRA ONT
Casting: CINDY TOLAN, ADAM CALDWELL
Technical Supervision: HUDSON THEATRICAL ASSOCIATES
Fight Director: THOMAS SCHALL
Associate Director: GINA RATTAN
Associate Choreographer: LEE WILKINS
Associate Producer: CHARLES SALAMENO
Press Representative: SAM RUDY MEDIA RELATIONS
Company Manager: BRIG BERNEY
General Management: RICHARDS/CLIMAN, INC.

Broadway Theatre
1681 Broadway (between 52nd & 53rd Streets)
(212) 239-4200 or www.telecharge.com
Opening Night: March 03, 2013


Rodgers & Hammerstein's CINDERELLA has brought romance back to Broadway in swirls of pastel organza and tulle that float across the stage in graceful choreography. The classic elements of this story are still around – abused stepdaughter who finds her true love at the enchanted ball and of course those gorgeous glass slippers. But this version has been modernized to include a few life lessons along the glorious path to redemption. Characters are created to celebrate their differences and the lines between groups are blurred; kindness is touted as the higher road to reward; the well-being of humanity, as well as animals, of all kinds is revered; and there's even a bit of forgiveness for evil stepmothers and stepsisters. Does it work? You bet! Audience members of all ages were captivated throughout the 2 ½ hour production.

Make no mistake – this is a Big Broadway Production. The scenic design is both clever and innovative, and if William Ivey Long doesn't win an award for his costume design, there is no justice. Watching the lovely Laura Osnes transform from Cinderella to a potential princess is worth the price of admission itself. Santino Fontana is the charming prince, and Peter Bartlett and Ann Harada are the scene-stealing comedic sidekick and stepsister. The rest of cast is on target to bring this classic to the stage. Suspend your reality and spend an evening of magic with CINDERELLA.

- Laurie Lawson -
Broadway Across America – Beth Williams
Barbara Whitman/Latitude Link, Dede Harris/Sharon Karmzazin, Howard & Janet Kagan and
John & Claire Caudwell, Rough Edged Souls, Joyce Primm Schweickert
Paula Black/Bruce Long, Off the Aisle Productions/Freitag-Mishkin Present

The La Jolla Playhouse production of

HANDS ON A HARDBODY

Book by DOUG WRIGHT
Lyrics by AMANDA GREEN
Music by TREY ANASTASIO and AMANDA GREEN
Based on a Film by S.R. Bindler

Starring

KEITH CARRADINE, ALLISON CASE, HUNTER FOSTER, JAY ARMSTRONG JOHNSON
DAVID LARSEN, JACOB MING-TRENT, KATHLEEN ELIZABETH MONTELEONE
MARY GORDON MURRAY, HIM NEWMAN, CONNIE RAY, JON RUA, KEALA SETTLE
DALE SOULES, SCOTT WAKEFIELD, WILLIAM YOUMANS

Directed by NEIL PEPE
Musical Staging by SERGIO TRUJILLO
Musical Direction and Vocal Arrangements by CARMEL DEAN
Scenic Design by CHRISTINE JONES
Costume Design by SUSAN HILFERTY
Lighting Design by KEVIN ADAMS
Sound Design by STEVE CANYON KENNEDY
Orchestrations by TREY ANASTASIO/DON HART
Music Coordination: MICHAEL KELLER
Casting by TELSEY + CO/RACHEL HOFFMAN, CSA
Associate Choreographer: LORIN LATARRO
Press Representative: THE HARTMAN GROUP
Marketing: TYPE A MARKETING
Production Stage Manager: LINDA MARVEL
Production Management: JUNIPER STREET PRODUCTIONS
Associate Producer: DAVID CARPENTER
General Management: FORESIGHT THEATRICAL/ ALLAN WILLIAMS
Executive Producer: JENNIFER COSTELLO

Brooks Atkinson Theatre
256 West 47th Street (between Broadway & Eighth Avenue)
(877) 250-2929 or www.ticketmaster.com
Opening Night: March 21, 2013


It has been a long time since I have enjoyed a musical as much as this one. HANDS ON A HARDBODY, with lyrics by Amanda Green, music by Green and Trey Anastasio from the renowned band Phish, and book by Doug Wright, is based on the 1997 documentary by S.H. Bindler that tells of an endurance competition in Longview, Texas. With hands placed on a bright shiny truck, the last man or woman standing becomes the proud owner.

In a poignant and highly entertaining combination of They Shoot Horses, Don't They? and A Chorus Line, you learn the history, the motivations and the aspirations of each character as the competition drags on. This is all revealed through magnificent songs complete with heart-wrenching lyrics, foot-stomping music, and innovative choreography that often involves a truck. And each member of the cast is a sublime winner in their own right.

HANDS ON A HARDBODY is a brilliant example of theatre when all elements are working together and is worthy of a long Broadway run. Hopefully there will soon be a sound track available so that audience members can keep the memories and life lessons fresh in their minds. Until then, go as often as you can. The experience is truly exhilarating!

- Laurie Lawson -
Betsy & Dick DeVos, Foursquare Foundation, Cantinas Ranch Foundation, The Stand Up Group
In association with
The 5th Avenue Theatre
Present

SCANDALOUS
The Life and Trials of Aimee Semple McPherson
www.scandalousonbroadway.com

Book, Lyrics & Additional Music by KATHIE LEE GIFFORD
Music by DAVID POMERANZ and DAVID FRIEDMAN

Starring
CAROLEE CARMELLO
CANDY BUCKLEY, EDWARD WATTS, ROZ RYAN, ANDREW SAMONSKY
NICK CARTELL, JOSEPH DELLGER, ERICA DORFLER, CAROLD L. ENCINIAS
HANNAH FLORENCE, COREY GREENAN, BENJAMIN HOWES, KAREN HYLAND
ELIZABETH WARD LAND, ALISON LUFF, JESSE NAGER, SAM STRASFELD
BETSY STURXNESS, BILLIE WILDRICK, DAN'YELLE WILLIAMSON, MATT WOLFE and
GEORGE HEARN

Directed by DAVID ARMSTRONG
Choreography by LORIN LATARRO
Music Direction & Vocal Arrangements by JOEL FRAM
Scenic Design by WALT SPANGLER
Costume Design: GREGORY A. POPLYK
Lighting Design: NATASHA KATZ
Sound Design: KEN TRAVIS
Hair Design: PAUL HUNTLEY ENTERPRISES, INC.
Orchestrations: BRUCE COUGHLIN
Dance & Incidental Music Arrangements: SAM DAVIS
Additional Vocal Arrangements: PAUL RAIMAN
Music Coordinator: HOWARD JOINES
Production Stage Manager: AMBER WHITE
Associate Director: STEPHEN SPOSITO
Advertising: SERINO-COYNE
Marketing: TYPE A MARKETING, ANNE RIPPEY
Press Representative: JEREMY SHAFFER, THE PUBLICITY OFFICE
Casting by TARA RUBIN CASTING
Production Manager: JUNIPER STREET PRODUCTIONS
General Management: ALAN WASSER – ALLAN WILLIAMS, MARK SHACKET

Neil Simon Theatre
250 West 52nd Street (between Broadway & Eighth Avenue)
877-250-2929 or www.ticketmaster.com


In the 20's and 30's Aimee Semple McPherson was a healer who brought her charisma and talents to Hollywood. As a result she became the first superstar evangelist who welded a great deal of influence and quite likely she was the first to be toppled from fame by scandal and media betrayal. Kathie Lee Gifford (Books, Lyrics & Additional Music) has decided to immortalize this amazing lady in Broadway style with SCANDALOUS The Musical, The Life and Trials of Aimee Semple McPherson.

The brilliant selection of Carolee Carmello in the title role could not be more perfect. Carmello is a presence on stage with the voice of an angel. The costumes by Gregory A. Poplyk and the sets by Walt Spangler are impressive, and the biography of McPherson is certainly rife with subject matter. What misses is the music. While the songs serve well to move the plot along, there are no standout productions. You don't leave the theatre humming the theme song, and you are only mildly interested in pursuing the mystery and rumor surrounding this one-of-a-kind preacher. So what you have with SCANDALOUS The Musical is an acceptable production with the unmet potential of being a great production.

- Laurie Lawson -
A Broadway Concert Event * Live Nation Entertainment
Robert Ahrens, Eva Price, Manny Kladitis, Jason Stone
Present

FRANKIE VALLI & The Four Seasons

Music Direction: ROBBY ROBINSON

With
LANDON BEARD, BRANDON BRIGHAM, BRIAN BRIGHAM, TODD FOURNIER

ROBERTO ANGELUCCI, RICHIE GAJATE CARCIA, RICK KELLER
JOHN MENZANO, CRAIG PILO, JOHN SCHROEDER

Team Management & Design: DEAN EGNATER
Sound: JIM SANDERS, MICK O'MALLEY
Associate Tour Manager: ANDY TYLER
Movement: RAYMOND DEL BARRIO
Technical Supervisor: HILLARY BLANKEN, GUY KWAN
Press Representative: THE HARTMAN GROUP
Advertising: SPOTCO
General Management: NIKO COMPANIES

Broadway Theatre
1681 Broadway (between 52nd & 53rd Streets)
(212)239-6200 or www.telecharge.com
October 19 – October 27, 2012


The real FRANKIE VALLI is on Broadway for the very first time, and if you are fortunate enough to get to one of these seven shows, you will not be disappointed. In addition to classic favorites like "Sherry," "Walk Like A Man," "Big Girls Don't Cry", "Can't Take My Eyes Off Of You," "My Eyes Adored You," "Rag Doll," and so many more, you will be treated to fantastic background vocals by The Four Seasons (Landon Beard, Brandon Brigham, Brian Brigham, and Todd Fournier) and a band that can't be beat led by Robby Robinson. There are two amazing aspects to this show. One is that fact that Valli can still maintain his falsetto voice and pull off songs that he has been doing for the last half century. The second amazing aspect is how many songs were made popular by this group and how you can remember all the words. This is a fun night, and you leave the theatre rejoicing in the fact that FRANKIE VALLI & The Four Seasons were a part of your fondest musical memories. A legend is on Broadway – don't miss him!

- Laurie Lawson -
Stephen C Byrd, Alia M. Jones, Anthony LaCavera
BET Networks, Henry G. Jarecki, Simon Says Entertainment, Dancap Productions
In association with
Linda Dvila, Patricia & Thomas Bransford, Theatre Venture, Inc., Present

TENNESSEE WILLIAMS'
STREETCAR NAMED DESIRE
www.StreetcarOnBroadway.com

Starring
BLAIR UNDERWOOD, NICOLD ARI PARKER
DAPHNE RUBIN-VEGA, WOOD HARRIS

With
AMELIA CAMPBELL, MATTHEW SALDIVAR
ROSE EVANGELINA ARREDONDO, CARMENT de LAVALLADE, ARRON CLIFTON MOTEN
JACINTO TARA RIDDICK, COUNT STOVAL

Directed by EMILY MANN
Music Composed by TERENCE BLANCHARD
Set Design: EUGENE LEE
Costume Design: PAUL TAZEWELL
Lighting Design: EDWARD PIERCE
Sound Design: MARK BENNETT
Casting: TELSEY-COMPANY, WILL CANTLER, CSA
Fight Direction: RICK SORDELET
Vocal and Dialect Coach: BETH McGUIRE
Hair and Wig Design: CHARLES G. LaPOINTE
Press Representative: SPRINGER ASSOCIATES PR
Advertising and Marketing: AKA
Group Sales and Marketing: WICG, INC., DONNA WALKER-KUHNE
Technical Supervision: JAKE BELL, PRODUCTIONS SERVICES, LTD.
Production Stage Manager: LLOYD DAVIS, JR.
General Manager: ROY GABAY
Company Manager: BRUCE KAGEL
Associate Producers:
DARYL ROTH, PAULETTE MARTIN-CARTER, KEISHA & TROY DIXON,
SOCRATES MARQUEZ, RANDOLPH STURRUP, ELLEN KRASS, RENEE HUNTER,
STEPHEN VALENTINE, WALTER WHITE, JACQUIE LEE, STEPHEN JOHNSON, GEORGE WILLIAMS,
LINDEN RHOADS, ANTONY DETRE, CONSORTIUM VENTURES, JESSICA ISAACS, WILLIAM NETTLES

Broadhurst Theatre
235 West 44th Street (between Broadway & Eighth Avenue)
(212) 239-6200 or www.telecharge.com
Opening Night: April 22, 2012


We should all celebrate Tennessee Williams on a regular basis. Now is a particularly good time because his STREETCAR NAMED DESIRE is alive and well at the Broadhurst Theatre. Williams' story of the cultured Blanche being forced to move in with her sister and her "common" husband in their squalid 1950's New Orleans dwelling is full of conflict and clashes between cultures, genders, generations, and realities.

With Blair Underwood as the raw, sexy Stanley, the underlying current of passion is relentless and exhilarating. Nicole Ari Parker is exquisite as the delicate poison known as sister Blanche. As irritating as she is pathetic, her fragility tugs at your heartstrings. Torn between husband and sister, Daphne Rubin-Vega is poignant as the expectant Stella who is forced to question her beliefs about both. And Wood Harris as the sensitive Mitch rounds out this fantastic cast.

This ethnic version of a classic makes the transition beautifully. The life lessons remain the same. Each person must concoct their own formula of reality and fantasy. And that formula can be forever altered by the smallest aspect – a secret, a revelation, a flare of temper, a moment of passion. Rich and resonant, go see STREETCAR NAMED DESIRE. You will walk away transformed by its genius.

- Laurie Lawson -
Kathleen K. Johnson presents
The Vineyard Theatre Production of

THE LYONS
By NICKY SILVER

With
MICHAEL ESPER, KATE JENNINGS GRANT,
DICK LATESSA, LINDA LAVIN
BRENDA PRESSLEY, GREGORY WOODDELL

Directed by MARK BROKAW
Scenic Design: ALLEN MOYER
Costume Designer: MICHAEL KRASS
Lighting Designer: DAVID LANDER
Original Music & Sound Design: DAVIE VAN TIEGHEM
Production Management: AURORA PRODUCTIONS
Fight Director: THOMAS SCHALL
Production Stage Manager: ROBERT BENNETT
Casting: HENRY RUSSELL BERGSTEIN, CSA
Advertising & Marketing: AKA
General Manager: NIKO COMPANIES, LTD.
Press Representative: SAM RUDY

Cort Theatre
138 West 48th Street (between Broadway & Sixth Avenue)
(212) 239-6200 or www.telecharge.com
Opening Night: April 23, 2012

After a successful run at the Vineyard Theatre, Nicky Silver's THE LYONS makes a smooth transition to Broadway with its entire original cast of four distinct and often hilarious characters who attempt to function as a family. And all the fun is in the failure. The frank and foul-mouthed Dick Latessa is the dying patriarch who delivers his lines with the beyond-caring abandon of a man who realizes his life is about to end. The lovely Linda Lavin is perhaps the most sardonic and salty matriarch ever to grace a stage. You have no choice but to love her. The offspring of these two (Kate Jennings Grant, Michael Esper) quite naturally come with their own sets of bizarre behavior. Under the sharp direction of Mark Brokaw, this family keeps you laughing throughout and at times even manages to inspire and provide a glimpse of hope.

Silver is a master at combining the quirks, the insanity, the flaws, and the humanity that hides beneath our public personas and often gets us through the difficult times. THE LYONS is a family you won't soon forget.

- Laurie Lawson -
Manhattan Theatre Club
New York City Center Stage 1
Artistic Director: Lynne Meadow Executive Producer: Barry Grove
Present

CLOSE UP SPACE
By MOLLY SMITH METZLER

With

MICHAEL CHERNUS, JESSICA DiGIOVANNI, COLBY MINIFIE
ROSIE PEREZ, DAVID HYDE PIERCE

Directed by LEIGH SILVERMAN
Artistic Production: MANDY GREENFIELD
General Manager: FLORIE SEERY
Scenic Design: TODD ROSENTHAL
Costume Design: EMILY REBHOLZ
Lighting Design: MATT FREY
Sound Design: JILL BC DuBOFF
Hair Design: PAUL HUNTLEY
Production Stage Manager: MARTHA DONALDSON

Manhattan Theatre Club at
New York City Center
55TH Street between 6th & 7th Avenues
(212) 581-1212 or www.NYCityCenter.org
Opening Night: December 19, 2011


Molly Smith Metzler's CLOSE UP SPACE takes place in the Manhattan office of Tandem Books, which serves as the workspace for Editor Paul (David Hyde Pierce), the new place of employment for intern Bailey (Jessica DiGiovanni), the temporary lodging of employee Steve (Michael Chernus), the mating arena for author Vanessa (Rosie Perez), and the battleground for daughter Harper (Colby Minifie). The impressive scenic design by Todd Rosenthal actually accommodates all of the above.

A quirky tale of communication and miscommunication, the talented cast handles both comedy and tragedy with dexterity, making an eclectic cast believable and lovable. Familial., professional and romantic relationships clash and meld under the precision of director Leigh Silverman and in conjunction with the undeniable genius of David Hyde Pierce. CLOSE UP SPACE is a 90-minute romp that will tickle your funny bone and tug at your heartstrings simultaneously.

- Laurie Lawson -
Lincoln Center Theater under the direction of
Andre Bishop and Bernard Gersten in association with Bob Boyett
Present

OTHER DESERT CITIES
A new play by JON ROBIN BAITZ

With

STOCKARD CHANNING, RACHEL GRIFFITHS
STACY KEACH, JUDITH LIGHT, THOMAS SADOSKI

Directed by JOE MANTELLO
Sets: JOHN LEE BEATTY
Costumes: DAVID ZINN
Lighting: KENNETH POSNER
Production Stage Manager: JAMES FITZSIMMONS
Casting: DANIEL SWEE
General Press Agent: PHILIP RINALDI
Executive Director of Development & Planning: HATTIE K. JUTAGIR
Director of Marketing: LINDA MASON ROSS
Managing Director: ADAM SIEGEL
Production Manager: JEFF HAMLIN

Booth Theatre
222 West 45th Street (between Broadway & Eighth Avenue)
(212) 239-6200 or www.telecharge.com
10/12/11 – 01/08/12; Opening Night – November 3


It is difficult to determine what is most impressive about Jon Robin Baitz's OTHER DESERT CITIES – the acting by an all-star cast, the superb writing, the captivating storyline, or the tight direction by Joe Mantello. Even the sets by John Lee Beatty are awesome. Whatever it is, this is one ticket you are going to want to have in your hand.

Set in Palm Springs, California, the Wyeth family appears like any other family – rebellious children (Rachel Griffiths, Thomas Sadoski), conservative parents (Stockard Channing, Stacy Keach), and an eccentric aunt (Judith Light). This character-driven story eventually reveals a family tragedy and the secrets that surround it, as well as how each individual has been affected and their methods of coping. Generously sprinkled with both humor and pathos, OTHER DESERT CITIES is one of the most insightful and entertaining offerings on Broadway today.

- Laurie Lawson -
Julian Schlossbert, Letty Aronson
Edward Watson, LeRoy Schnecter, Tom Sherak, Daveed D. Frazier and Roy Furman
Present

RELATIVELY SPEAKING
3 ONE-ACT COMEDIES

Talking Cure by Ethan Cohen
George is Dead by Elaine May
Honeymoon Motel by Woody Allen
with

CAROLINE AARON, BILL ARMY, KATHERINE BOROWITZ, LISA EMERY
ARI GRAYNOR, STEVE GUTTENBERG, DANNY HOCH, JULIE KAVNER
JASON DRAVITS, RICHARD LIBERTINI, MARK LINN-BAKER
FRED MELAMED, PATRICIA O'CONNELL, GRANT SHAUD, MARLO THOMAS

Directed by JOHN TURTURRO
Scenic Design: SANTO LOQUASATO
Costume Design: DONNA ZAKOWSKA
Lighting Design: KENNETH POSNER
Sound Design: CARL CASELLA
Casting: CINDY TOLAN
Production Stage Manager: IRA MONT
Production Management: AURORA PRODUCTIONS
Press Representative: FONEAU/BRYAN BROWN
Associate Producer: THE WEINSTEIN COMPANY
Company Manager: BRUCE KLINGER
General Management: RICHARADS/CLIMAN, INC.

Brooks Atkinson Theatre
256 West 47th Street (between Broadway & Eighth Avenue)
(877) 250-2929 or www.ticketmaster.com
Opening Night: October 20, 2011


Well, if you are looking for a night of laughs, you are definitely going to find some at RELATIVELY SPEAKING, 3 One-Act Comedies. Maybe it's the playwrights – Ethan Cohen, Elaine May, and Woody Allen. Or maybe it's the star-studded casts – Marlo Thomas, Mark Linn-Baker, Steve Guttenberg, Julie Kavner, Caroline Aaron, and many, many more. Or it could be director John Turturro. Whatever it is, it's a winning combination.

In Cohen's TALKING CURE the dialogue between the Doctor (Jason Kravits) and the Patient (Danny Hoch) is sharp and on-the-edge gritty. May's GEORGE IS DEAD is the winner of the three with its hilarity brought to new heights by Thomas as the wealthy widow. Allen's HONEYMOOM MOTEL relies on his standard formula and veteran comedic cast.

RELATIVELY SPEAKING, there's a play here that will tickle your funny bone.

- Laurie Lawson-
Warner Bros. Theatre Ventures & American pop Anthology
In association with
Universal Music Group & Pasadena Playhouse present

BABY IT'S YOU!

Book by FLOYD MUTRUX & COLIN ESCOTT
Conceived by FLOYD MUTURUX

Starring
BETH LEAVEL, ALLAN LOUIS, GENO HENDERSON
Featuring
ERICA ASH, KELLI BARRETT, KYRA DaCOSTA
ERICA DORFLER, JANI A KEARSE, BARRY PEARL
CHRISTINA SAJOUS, CRYSTAL STAFF, BRANDON URANOWITZ

Directed by FLOYD MUTRUX & SHELDON EPPS
Choreographed by BIRGITTE MUTRUX
Scenic Design: ANNA LOUIZOS
Costume Design: LIZZ WOLF
Lighting Design: HOWELL BINKLEY
Sound Design: CARL CASELLA
Projection Design: JASON H. THOMPSON
Hair & Wig Design: DAVID N. LAWRENCE
Casting: TELSEY + COMPANY
Production Stage Manager: JOSHUa HALPERIN
Music Supervisor & Arrangements: RAHN COLEMAN
Orchestrations: DON SEBESKY
Music Director: SHELTON BECTON
Music Coordinator: JOHN MILLER
Marketing Direction: TYPE A MARKETING, ANNE RIPPEY
Advertising: SPOTCO
Consulting Producer: RICHARD PERRY
Producer for American Pop Anthology: JONATHAN SANGER
Press Representation: THE HARTMAN GROUP
Technical Director: BRIAN LYNCH
General Management: ALAN WASSER, ALLAN WILLIAMS, AARON LUSTBADER

Broadhurst Theatre
235 West 44th Street (between Broadway & Eighth Avenue)
(212) 239-6200 or www.telecharge.com

After seeing BABY IT'S YOU!, you are going to want to erect a monument to Floyd Mutrux for coming up with the idea of this musical delight. Not only do you get to hear some of the best music ever heard - "Book Of Love," "Rockin' Robin," "Mama Said," "Dedicated To The One I Love," the title song, and over 20 more – you also learn the fascinating story of Florence Greenberg (Beth Leavel), a white woman in the black music industry who couldn't sing, and the prolific songwriter Luther Dixon (Allan Louis). The discovery and nurturing of The Shirelles (Erica Ash, Kyra DaCosta, Erica Dorfler, and Christina Sajous) are only part of this saga. There are interracial relationships, the underworld of the music industry, record spinning, payoffs, changing music styles, and much more. Throw in magnificent costumes, great choreography, and a cast dripping with talent, and you have one hell of an evening.

Don't miss BABY IT'S YOU! You will sing and dance out of the theatre with this one – nothing but fun!

- Laurie Lawson -
Lincoln Center Theatre at the Vivian Beaumont
Under the direction of Andre Bishop and Bernard Gersten
NATIONAL THEATRE OF GREAT BRITAIN
Under the direction of Nicholas Hytner and Nick Starr
In association with Bob Boyett - War Horse LP
Presents National Theatre of Great Britain production

WAR HORSE
Based on the novel by MICHAEL MORPURGO
Adapted by NICK STAFFORD
In association with HANDSPRING PUPPET COMPANY
With
(in alphabetical order)

STEPHEN JAMES ANTHONY, ZACH APPELMAN, ALYSSA BREENAHAN, RICHARD CRAWFORD
SANJIT DeSILVA, MATT DOYLE, AUSTIN DURANT, JOBY EARLE, JOEL REUBEN GANZ
ARIEL HELLER, PETER HERMANN, ALEX HOEFFER, BRIAN LEE HUYNH, JESLYN KELLY
IAN LASSITER, TOM LEE, JONATHAN CHRISTOPHER MacMILLAN, JONATHAN DAVID MARTIN
BORIS McGIVER, SETH NUMRICH, PRENTICE ONAYEMI, RHAVESH PATEL, DAVID PEGRAM
KATE PFAFFL, SEPHEN PLUNKETT, LEENYA RIDEOUT, LIAM ROBINSON, JUDE SANDY
HANNAH SLOAT, T. RYDER SMITH, ZACH VILLA, ELLIOT VILLAR, CAT WALLECK
ENRICO D. WEY, MADELEINE ROSE YEN

Directed by MARIANNE ELLIOTT and TOM MORRIS
Sets, Costumes & Drawings: RAE SMITH
Puppet Design, Fabrication and Direction: ADRIAM KOHLER with
BASIL JONES FOR HANDSPRING PUPPET COMPANY
Lighting: PAULE CONSTABLE
Director of Movement and Horse Movement: TOBY SEDGWICK
Animation & Projection Design: 59 PRODUCTIONS
Music: ADRIAN SUTTON
Songmaker: JOHN TAMS
Sound: CHRISTOPHER SHUTT
Music Director: GREG PLISKA
Associate Puppetry Director: MERVYN MILLAR
Stage Manager: RICK STEIGER
Casting: DANIEL SWEE
NT Technical Producer: KATRINA GILROY
NT Production: ROBIN HAWKES
NT Marketing: ALEX BAYLEY
Boyett Theatrical Producer: TIM LEVY
General Manager: ADAM SIEGEL
Production Manager: JEFF HAMLIN
Director of Development: HATTIE K. JUTAGIR
Director of Marketing: LINDA MASON ROSS
General Press Agent: PHILIP RINALDI

Vivian Beaumont Theatre at Lincoln Center
(212) 239-6200 or www.telecharge.com

Who would have thought that a show about horses and their role in World War I, complete with puppets, would be able to captivate the interest of an audience for 2 hours and 40 minutes? WAR HORSE certainly wasn't on my "must-see" list, but word of mouth won me over. I kept hearing that this is an amazing play that will tug your heartstrings, and it does have its moments. What I found fascinating is the creativity of the puppetry (it took about five minutes to forget that the horses weren't real and I have a serious love thing going on with a duck puppet). The horses pranced and plowed and performed their civic duty on the war front. The relationship between horse Joey and his young master was palpable, and even through the throes of war and devastation, maintained its intensity. Sets, costumes, and drawings brought the early 1900's to life, along with live music.

No one who recommended WAR HORSE could actually articulate what was so great about this production. They were only in agreement that it shouldn't be missed. I will add my voice to that sentiment. Two and one half hours fly by, and you find yourself wrapped in mesmerizing drama about a horse. Go figure. No, instead just go!

- Laurie Lawson -
PRISCILLA
QUEEN OF THE DESERT
The Musical

Book by STEPAN ELLIOTT & ALLAN SCOTT
Based on the Latent Image/Specific Films Motion Picture
Distributed by Metro-Goldwyn-Mayer Inc.

Starring

WILL SWENSON, TONY SHELDON, NICK ADAMS, C. DAVID JOHNSON

with
JAMES BROWN III, NATHAN LEE GRAHAM, J. ELAINE MARCOS, MICK McGOWAN, JESSICA PHILLIPS
STEVE SCHEPIS, KEALA SETTLE, JACQUELINE B. ARNOLD, ANASTACIA McCLESKEY, ASHLEY SPENCER

and
THOM ALLISON, KYLE BROWN, JOSHUA BUSCHER, GAVIN LODGE, LUKE KOLBE MANNIKUS, ELLYN MARIE MARSH
JEFF METZLER, ERIC SCIOTTO, AMAKER SMITH, ESTHER STILLWELL, BRYAN WEST, TAB WILSON, ASHTON WOERZ

Director: SIMON PHILLIPS
Production Supervised by JERRY MITCHELL
Music Supervision & Arrangements: STEPHEN "SPUD" MURPHY
Choreographer: ROSS COLEMAN
Bus Concept & Production Design: BRIAN THOMSON
Costume Design: TIM CHAPPEL & LIZZI GARDINER
Lighting Design: NICK SCHLIEPER
Sound Designs: JONATHAN DEANS & PETER FITZGERALD
Orchestrations: STEPHEN "SPUD" MURPHY & CHARLIE HULL
Music Director: JEFFREY KLITZ
Musical Coordinator: JOHN MILLER
Developed for the Stage by SIMON PHILLIPS
Casting: TELSEY + COMPANY
Press Representative: BONEAU/BRYAN-BROWN
Advertising: SPOTCO
Director of Marketing: NICK PRAMIK
Technical Supervisor: DAVID BENKEN
Production Stage Manager: DAVID HYSLOP
Flying by FOY
Makeup Design: CASSIE HANLON
Associate Director: DEAN BRYANT
Associate Choreographer: ANDREW HALLSWORTH
Associate Producer: KEN SUNSHINE
General Manager: B.J. HOLT
Associate Producer: ALECIA PARKER

The Palace Theatre
1564 Broadway (between West 46th & 47th Streets)
(877) 250-2929 or www.ticketmaster.com

PRISCILLA, QUEEN OF THE DESERT is a musical extravaganza of feathers, fur, sequins, glitz and glamour. Two drag queens (Will Swenson & Nick Adams) and a transsexual (Tony Sheldon) rent a bus named Priscilla and take their hilarious act on the Australian outback road. As the bus moves all over the stage, audience members are treated to now-classic songs made popular by Madonna, Cindi Lauper, Donna Summer, and a plethora of other disco stars. Sometimes the three provide their own vocals; at others they are assisted by the Divas (Jacqueline B. Arnold, Anastacia McCleskey, Ashley Spencer). No matter who is singing, you can be guaranteed that there will be outrageously creative costumes (Tim Chappel & Lizzi Gardiner), innovative choreography (Ross Coleman), and just out-and-out fun. Even the bus is decorated and over-the-top ingeniously designed (Brian Thomson). Running throughout the production, there are a few life lessons to be learned about family, tolerance, and embracing your uniqueness.

Based on the 1994 movie of the same name, PRISCILLA is exactly what you expect – wild, wacky, and wonderfully weird!

- Laurie Lawson -
ROBYN GOODMAN, KEVIN McCOLLUM, JEFFREY SELLER
SANDER JACOBS, RUTH HENDEL/BURNT UMBER, SCOTT& BRIAN ZEILINHRT
CENTER THEATRE GROUP, STEPHEN KOCIS/WALT GROSSMAN
Present

ROBIN WILLIAMS
In

BENGAL TIGER AT THE BAGHDAD ZOO
By RAJIV JOSEPH

With

GLENN DAVIS, BRAD FLEISCHER, HRACH TITIZIAN
SHEILA VAND, NECAR ZADEGAN, ARIAN MOAYED

HEND AYOUB, COREY BRILL, DAAOUD HEIDAMI, SHERMAN HOWARD

Directed by MOISES KAUFMAN
Scenic Design: DEREK McLAND
Costume Design: DAVID ZINN
Lighting Design: DAVID LANDER
Sound Design: ACME SOUND PARTNERS and CRICKET S. MYERS
Music by KATHRYN BOSTIC
Casting by BONNIE GRISAN, CSA and MELCAP CASTING, CSA
Press Representative: SAM RUDY MEDIA RELATIONS
Production Stage Manager: BEVERLY JENKINS
Original Fight Director: BOBBY C. KING
Technical Supervisor: BRIAN LYNCH
General Management: RICHARADS/CLIMAN, INC.

Richard Rodgers Theatre
226 West 46th Street (between Broadway & Eighth Avenue)
(877) 250-2929 or www.ticketmaster.com

Magnificent! Rajiv Joseph's BENGAL TIGER AT THE BAGHDAD ZOO is the kind of production that makes you say "That's what theatre is all about!" An innovative plot that probes and pushes your brain, a superb cast, and tackling timely and controversial issues make this a play not to be missed.

And just in case you need a little more motivation, it is Robin Williams' Broadway debut! As the Bengal tiger in question, Mr. Williams and the rest of the cast roam an uneasy Iraq, as well as the afterlife, - both of which often resemble the throes of hell. Co-habitation and conflict rule the relationships that have been unnaturally formed, and whether on earth or in heaven, ghosts haunt these anguished characters.

Williams is a saucy, salty tiger who injects his amazing ability to make you laugh throughout and sets the pace for the rest of the cast. Special kudos to Arian Moayed who portrays an Iraqi abused by his countrymen, working for the United States as an interpreter, and consumed by guilt. What Joseph does is give you all sides of the coin through humor and pathos without judgment. BENGAL TIGER AT THE BAGHDAD ZOO is an experience that will remain with you long after you have left the theater.

- Laurie Lawson -
SCOTT RUDIN, STUART THOMPSON, PUBLIC THEATER PRODUCTIONS, LABYRINTH THEATER COMPANY
FABULA MEDIA PARTNERS, LLC, JEAN DOUMANIAN, RUTH HENDEL, CARL MOLLENBERG
JON B. PLATT, TULCHINE BARTNER/JAMIE DE ROY
Present

THE MOTHER F**KER WITH THE HAT
www.TheMFwiththeHat.com

By STEPHEN ADLY GUIRGIS

BOBBY CANNAVALE, CHRIS ROCK, ELIZABETH RODRIGUEZ
ANNABELLA SCIORRA, YUL VAZQUEZ

Directed by ANNA D. SHAPIRO
Scenic Design: TODD ROSENTHAL
Costume Design: MIMI O'DONNELL
Lighting Design: DONALD HOLDER
Sound Design: ACME SOUND PARTNERS
Original Music by TERENCE BLANCHARD
Casting: JORDAN THALER & HEIDI GRIFFITHS
Production Stage Manager: CHARLES MEANS
Production Management: AURORA PRODUCTIONS
Press Representative: BONEAU/BRYAN-BROWN
General Management: STP/MARSHALL B. PURDY

Schoenfeld Theatre
236 West 45th Street (between Broadway & Eighth Avenue)
(212) 239-6200 or www.telecharge.com
Opening Night: April 11, 2011


Stephen Adly Guirgis' THE MOTHERF**KER WITH THE HAT is a brilliant piece of work plentifully peppered with humor, salaciously salted with sarcasm, and delightfully served up as hilarious Broadway fare. Addiction, betrayal, adultery, friendship, second chances, rehab programs, family ties, and incarceration all intertwine to bring together a plot that is both absurd and universal. You will find yourself laughing uncontrollably and then suddenly be stopped by a poignant moment that brings tears to your eyes.

And how do you steal a scene from the sharp-edged, always humorous Chris Rock who is making his Broadway debut? Ask Bobby Cannavale and Elizabeth Rodriguez, the battle-scarred couple who endear themselves to you immediately. Backed up by the impressive skills of Annabella Sciorra and Yul Vazquez, this cast delivers a powerful comedy punch with a touch of pathos. THE MOTHERF**KER WITH THE HAT is not to be missed. It is one of a kind, and the kind is pure entertainment.

- Laurie Lawson -
Broadway Across America, Craig Zadan, Neil Meron, Joseph Smith, Michael McCabe, Candy Spelling, Takonkiet Viravan/Scenario Thailand, Hilary A. Williams, Jen Namoff/Fakston Productions, Two Left Feet Productions/Power Arts, Hop Theatricals, LLC/Paul Chau/Daniel Frishwasser/Michael Jackowitz, Michael Speyer- Bernie Abrams/Jacki Barlia Florin-Adam Blanshay/Arlene Scanlen/TBS Service

HOW TO SUCCEED IN BUSINESS WITHOUT REALLY TRYING

Music & Lyrics by Frank Loesser
Book by Abe Burrows, Jack Weinstock, Willie Gilbert
Based on the book by Shepherd Meade
Music Direction and Arrangements by David Chase
Directed and Choreographed by Rob Ashford, Scenic Design by Derek McLane, Costume Design by Catherine Zuber, Lighting Design by Howell Binkley, Sound Design by Jon Weston, Hair & Design by Tom Watson, Orchestrations by Doug Besterman, Music Coordinator Howard Jones, Production Stage Manager Michael J. Passaro, Associate Director Stephen Sposito, Associate Choreographer Christopher Bailey, Assistant Choreographers Sarah O'Gleby, Charlie Williams

Cast
Daniel Radcliffe, John Larroquette,
Tammy Blanchard, Christopher J. Hanke,
Rob Bartlett, Mary Farber, Ellen Harvey, Michael Park
Cameron Adams, Cleve Asbury, Tanya Birl, Kevin Covert, Paige Faure
David Hull, Justin Keyes, Marty Lawson, Erica Mansfield, Barrett Martin, Nick Mayo, Sarah O'Gleby, Stephanie Rothenberg, Megan Sikora, Michaeljon Slinger, Joey Sorge, Matt Wall, Ryan Watkinson, Charlie Williams, Samantha Zack
And Introducing Rose Hemingway
Featuring Anderson Cooper as the Voice of the Narrator

Daniel Radcliffe is entertaining and engaging as he sings and struts his stuff across the Broadway stage in the 50th anniversary revival of the Pulitzer Prize-winning musical satire, HOW TO SUCCEED IN BUSINESS WITHOUT REALLY TRYING. Set in the 1960's with campy, colored costumes and hair-dos, the play still presents a timeless tale of moving ahead in the business world, ingratiating oneself with the boss and finding and keeping the right girl.
At each key juncture, Mr. Radcliffe rises to the occasion and holds his own, first in a rousing duet "Grand Old Ivy" with John Larroquette (that veteran scene stealer), where the physical counterpoint between the 5'5" Radcliffe and the 6'4" Larroquette only adds to the humor. It is clear in this very funny scene that the cast is having fun and the audience just loves them. It was a pleasure to watch them. Next Mr. Radcliffe gets his romantic comedy chops and the girl in "Been A Long Day". And then, he and the rest of the cast sing and dance up a storm in the finale, "Brotherhood of Man".
A note of caution to Harry Potter fans: he's not here. What is here, is a young actor named Daniel Radcliffe making his musical comedy debut in a lead role, and doing it well. Not a hint of the British accent or 7 years of Hogwarts shows through – so there is some magic – but a lot of skill. A strong supporting cast moves the show along at a brisk tempo to provide a thoroughly enjoyable night at the theatre. Go! Enjoy!
- Faye A.-

Opening Night: March 27, 2011 Al Hirshfeld Theatre
8th Ave & 45th Street, NYC
ROBERT COLE, FREDERICK ZOLLO, SHELTER ISLAND ENTERPRISES, THE SHUBERT ORGANIZATION
JAMES MacGILVAY, ORIN WOLF, THE WEINSTEIN COMPANY, SECOND CHANCE PRODUCTION
BRANNON WILES, SCOTT M DELMAN/LUCK VIII
PRESENT

BRIAN COX, JIM GAFFIGAN, CHRIS NOTI
JASON PATRIC, KIEFER SUTHERLAND
In

THAT CHAMPIONSHIP SEASON
By JASON MILLER

Directed by GREGORY MOSHER
Scenic Design: MICHAEL YEARGAN
Costume Design: JANE GREENWOOD
Lighting Design: PETER KACZOROWSKI
Sound Design: SCOTT LEHRER
Casting: CANDY TOLAN
Fight Director: RICK SORDELET
Production Stage Manager: JANE GREY
Production Management: AURORA PRODUCTIONS
Press Representative: BONEAU/BRYAN-BROWN
Advertising: SPOTCO
General Management: LISA M. POYER

JACOBS THEATRE
242 West 45th Street (between Broadway & Eighth Avenue)
(212) 239-6200 or www.telecharge.com
Opening Night: March 6, 2011


THAT CHAMPIONSHIP SEASON by Jason Miller opened on Broadway with an all-star cast – Brian Cox, Jim Gaffigan, Chris Noth, Jason Patric, and Keifer Sutherland - each bringing their own special touch to the aging characters clinging to the memory of one triumphant basketball season. No one can deny the pure pleasure of seeing these seasoned actors interplaying with one another.

The play on the other hand, while brash and honest in its day, no longer pushes the envelope. What were revolutionary confessions in the original form fail to impress or even move a jaded audience who has been exposed to so much scandal, tragedy, and nefarious behavior every day via the Internet and its many forms of communication. However, there is something to be said for preserving THAT CHAMPIONSHIP SEASON rather than try to update it. First of all, it may prove all too difficult to impress the above-mentioned jaded audience – where to draw the line or, in some cases, even find the line? And if the audience can transport itself back to 1972, they will be able to appreciate the ground-breaking material and circumstances revealed by Jason Miller's courageous work.

THAT CHAMPIONSHIP SEASON is best viewed as a nostalgic production bought to life by an impressive cast. And for an evening of theatre, that's not a bad thing.

- Laurie Lawson -
Relevant Theatricals, John Cossette Productions, American Pop Anthology,
Broadway Across America and James L. Nederland Present

MILLION DOLLAR QUARTET

Book by COLIN ESCOTT & FLOYD MUTRUX
Original Concept and Direction by FLOYD MUTRUX
Inspired by ELVIS PRESLEY, JOHNNY CASH, JERRY LEE LEWIS and CARL PERKINS

Featuring
EDDIE CLENDENING, LANCE GUEST, LEVI KREIS, ROBERT BRITTON LYONS
With
ELIZABETH STANLEY
And
JAMES MOYE, COREY KAISER, and LARRY LELLI

Directed by ERIC SCHAEFFER
Musical Arrangement and Supervision: CHUCK MEAD
Scenic Design: DEREK McLANE
Costume Design: JANE GREENWOOD
Lighting Design: HOWELL BINKLEY
Sound Design: KAI HARADA
Hair and Wig Design: TOM WATSON
Associate Music Supervision: AUGUST ERIKSMOEN
Casting: TELSEY + COMPANY
Marketing Director: CAROL CHIAVETTA
Press Representation: BONEAU/BRYON-BROWN
Marketing: TYPE A MARKETING
Production Stage Manager: ROBERT WITHEROW
Production Manager: JUNIPER STREET PRODUCTIONS
General Management: ALAN WASSER, ALLAN WILLIAMS

Nederlander Theatre
208 West 41st Street (between Broadway & Eighth Avenue)
www.ticketmaster.com

If you are looking for a show that makes you smile from beginning to end, MILLION DOLLAR QUARTET is a safe bet. Based on actual events, on December 4, 1956, four budding musician superstars gathered together at Sun Records Studio in Memphis, TN. This is probably an event that happens on a regular basis at any record studio in the world. But these were no ordinary musicians. For one night Elvis Presley (Eddie Clendening), Johnny Cash (Lance Guest), Jerry Lee Lewis (Levi Kreis), and Carl Perkins (Robert Britton Lyons) shared their musical genius with one another.

MILLION DOLLAR QUARTER captures the thrill, the camaraderie, the revolutionary spirit, and the potential that was to come in the music industry. In addition to a slice of history, the likes of which you would kill to have been a part of, you are treated to classic songs like "Blue Suede Shoes," "Great Balls Of Fire," "I Walk The Line," "See You Later Alligator," and a slew of songs that became a part of our culture. Go and sing along, stomp your feet, and dance in the aisles. It's that kind of night.

- Laurie Lawson -
Ruth & Stephen Hendel, Roy Gabay, Edward Tyler Nahem, Slava Smolokowski
Chip Meyrelles/Ken Greiner, Susan Dietz
Steve Semultz/Cathy Glaser, Daryl Roth/True Love Productions, Knitting Factory Productions
Present

FELA!
www.FelaOnBroadway.com

Book: JIM LEWIS & BILL T. JONES
Music & Lyrics: FELA ANIKULAPO-KUTI
Additional Lyrics: JIM LEWIS
Additional Music: AARON JOHNSON & JORDON McLEAN

Based on the life of FELA ANIKULAPO-KUTI
Conceived by BILL T. JONES, JIM LEWIS & STEPHEN HENDEL

Starring

SAHR NGALUAH, KEVIN MAMBO, SAYCON SENGBLOH, LILLIAS WHITE

ISMAEL KOUYATE, GELAN LAMBERT, TALU GREEN, COREY BAKER, HETTIE BARNHILL
NICOLE CHANTAL DE WEEVER, LAUREN DEVEAUX, ELASEA DOUGLAS, RUJEKO DUMBUTSHENA
SHANEEKA HARRELL, ABENA KOOMSON, SHAKIRA MARSHALL, AFI McCLENDON
ADESOLA OSAKALUMI, JEFFREY PAGE, DANIEL SOTO, JILL M. VALLERY
IRIS WILSON, AIMEE GRAHAM WODOBODE

Directed & Choreographed by BILL T. JONES

Eugene O'Neill Theatre
230 West 49th Street (between Broadway & Eighth Avenue)
(212) 239-6200 or www.telecharge.com


It took a village to bring FELA! to the stage, and it was well worth the effort. Based on the life of Fela Anikulapo-Kuti (portrayed by Sahr Ngaluah), the musician attributed with introducing "Afrobeat" to Africa and the world, the action takes place at the infamous Shrine in Lagos, Nigeria. It is 1978, six months after the death of Fela's mother (Lillias White) at the hands of the Nigerian army, and it is to be his final concert.

The stage at the Eugene O'Neill Theatre is an explosion of politics, a cacophony of music, and a gyration of constant rhythm and afrobeats. And it's 100 % contagious! As the story of a self-indulgent man possessing 27 wives, a creative genius who played several instruments, and a political revolutionist who established his own Movement of the People unfolds, Fela comes to life in all his glory. And suddenly you are swept away by a passion that cannot be contained. Ngaluah exudes both sex and fervor as he whips the audience into a frenzy. FELA! is one of those rare theatrical experiences that should not be missed.

- Laurie Lawson -
LINCOLN CENTER THEATER AT THE VIVIAN BEAUMONT
Under the direction of
ANDRE BISHOP and BERNARD GERSTEN
In association with BOB BOYETT
Present

RODGERS & HAMMERSTEIN'S
SOUTH PACIFIC

Music by RICHARD RODGERS
Lyrics by OSCAR HAMMERSTEIN II
Adapted from the Pulitzer Prize-winning novel Tales of the South Pacific by JAMES A. MICHENER
Original stage production directed by JOSHUA LOGAN

With
LAURA OSNES, PAULO SZOT
DANNY BURSTEIN, LORETTA ABLES SAYRE, ANDREW SAMONSKY
ERIC ANDERSON, SEAN CULLEN, CHRISTIAN DELCROIX, MURPHY GUYER
LUKA KAIN, LIJUN LI, LAURISSA ROMAIN
And
MICHAEL ARNOLD, BECCA AYERS, CRAIG BENNETT, WENDI BERGAMII, CHARLIE BRADY
CHRISTIAN CARTER, TODD CERVERIS, HELMAR AUGUSTUS COOPER, MARGOT DE LA BARRE
LAURA MARIE DUNCAN, ROB GALLAGHER, MARYANN HU, ROBERT LENZI, DEBORAH LEW
PETER LOCKYER, GARRETT LONG, NICK MAYO, LIZ McCARTNEY, GEORGE MERRICK
WILLIAM MICHALS, MARLA MINDELLE, KIMBER MONROE, ALFIE PARKER, JR., GEORGE PSOMAS
GREG RODERICK, JASON MICHAEL SNOW, JEROLD E. SOLOMON, CORREY WEST

Directed by BARTLETT SHER
Musical Staging: CHRISTOPHER GATTELLI
Music Direction: TED SPERLING
Sets: MICHAEL YEARGAN
Costumes: CATHERINE ZUBER
Lighting: DONALD HOLDER
Sound: SCOTT LEHRER
Orchestrations: ROBERT RUSSELL BENNETT
Dance & Incidental Music Arrangements: TRUDE RITTMANN
Conductor: FRED LASSEN
Casting: TELSEY + COMPANY
Production Stage Manager: MICHAEL BRUNNER
General Press Agent: PHILIP RINALDI
Musical Theatre Associate Producer: IRA WEITZMAN
General Manager: ADAM SIEGEL
Production Manager: JEFF HAMLIN
Director of Development: HATTIE K. JUTAGIR
Director of Marketing: LINDA MASON ROSS

Vivian Beaumont Theater
At Lincoln Center
(212) 239-6200 or www.telecharge.com


Finally discounted tickets to SOUTH PACIFIC are available. Take advantage of them. It is a perfect opportunity to renew your respect and awe for the collective and individual genius of Richard Rodgers and Oscar Hammerstein II. Every song is a gem – from "Some Enchanted Evening" and "Younger Than Springtime" to "There is Nothin' Like A Dame" and "I'm Gonna Wash That Man Right Outa My Hair." The current cast beautifully executes them and allows the eternal story to unfold. I would love to be able to say that the songs about race are now obsolete, but unfortunately that is not the case. Even more testament to the insight and brilliance of Rodgers and Hammerstein. At any price this was a spectacular bargain. Now there is no excuse not to see the glorious SOUTH PACIFIC. You will be humming for days afterward.

- Laurie Lawson -
MANHATTAN THEATRE CLUB
Samuel J. Friedman Theatre
Artistic Director: LYNNE MEADOWN/ Executive Producer: BARRY GROVE
By special arrangement with
DARYL ROTHE, OSTAR PRODUCTIONS, REBECCA GOLD/DEBBIE BISNO
Presents

ACCENT ON YOUTH
By SAMSON RAPHAELSON
With
LISA BANES, ROSIE BENTON, CURT BOURIL, DAVID FURR
MARY CATHERINE GARRISON, BYRON JENNINGS, CHARLES KIMBROUGH
DAVID HYDE PIERCE, JOHN WERNKE

Directed by DANIEL SULLIVAN
General Manager: FLORIE SEERY
Director of Artistic Development: JERRY PATACH
Associate Artistic Director: MANDY GREENFIELD
Director of Marketing: DABRA WAXMAN-PILLA
Press Representative: BONEAU/BRYAN BROWN
Production Manager: KURT GARDNER
Director of Casting: NANCY PICCIONE
Director of Development: JILL TURNER LLOYD
Scenic Design: JOHN LEE BEATTY
Costume Design: JANE GREENWOOD
Lighting Design: BRIAN MacDEVITT
Original Music & Sound Design: OBADIAH EAVES
Hair & Wig Design: TOM WATSON
Production Stage Manager: ROY HARRIS

Samuel J. Friedman Theatre
261 West 47th Avenue (between Broadway & Eighth Avenue)
(212) 239-6200 or www.telecharge.com


Although originally produced on Broadway in 1934, you will still get a few chuckles out of Samson Raphaelson's comedy ACCENT ON YOUTH. This could be largely attributed to the comedic genius and timing of both David Hyde Pierce and Charles Kimbrough. The driven playwright (Pierce) is buttressed by his faithful butler (Kimbrough) as he presents his first drama, agrees to cruise with his long-time, sometimes fiancée (Rosie Benton), plans to marry his secretary (Mary Catherine Garrison), deals with celebrities (Lisa Banes, Curt Bouril, David Furr, Byron Jennings), and questions the meaning of life.

With an amazing set by John Lee Beatty and costume design by Jane Greenwood, you are easily transported back to the 1930's. Tight direction by Daniel Sullivan keeps the comedy moving, and ACCENT ON YOUTH turns out to be a pleasant way to spend an evening.

- Laurie Lawson -
Roundabout Theatre Company
www.roundabouttheatre.org
By special arrangement with Elizabeth Ireland McCann
Presents

WAITING FOR GODOT
By SAMUEL BECKETT

Starring

NATHAN LANE, BILL IRWIN, JOHN GOODMAN, JOHN GLOVER

With
CAMERON CLIFFORD and MATTHEW SCHECHTER

Directed by ANTHONY PAGE
Set Design: SANTO LOQUASTO
Costume Design: JANE GREENWOOD
Lighting Design: PETER KACZOROWSKI
Sound Design: DAN MOSES SCHREIER
Hair & Wig Design: TOM WATSON
Fight Director: THOMAS SCHALL
Production Stage Manager: PETER HANSON
Casting: JIM CARNAHAN, CSA/KATE BOKA
Technical Supervisor: STEVE BEERS
General Manager: SYDNEY BEERS
Press Representative: BONEAU/BRYAN-BROWN
Director of Marketing & Sales Promotion: DAVID B. STEFFEN
Founding Director: GENE FEIST
Associate Artistic Director: SCOTT ELLIS

Studio 54
254 West 54th Street (between Broadway & Eighth Avenue)
(212) 719-1300 or www.roundabouttheatre.org
April 3 – July 5, 2009; Opening Night: April 30, 2009


Samuel Beckett's classic play WAITING FOR GODOT is back on Broadway. And what would make a financially-devastated, swine-flu infected, and generally disparaged general public want to see a drama about the nothingness of life? Well, let's take a look at the cast: Two-time Tony-Award winner Nathan Lane, Tony-Award winner Bill Irwin, Golden-Globe winner John Goodman, and Tony-Award winner John Glover. Throw in Tony-Award winning Anthony Page as the Director, and that should have you reaching for your wallet. No comment is even necessary on the quality of acting in this production. Expectations are high, and they are easily met.

The real question here is whether the subject matter is timely or redundant. Although interspersed with humor, GODOT is an existential work about the boredom of life, the futility of waiting for something that can't be defined, the routines and distractions we devise to get us through, and our co-dependency on others. The aforementioned humor does not include knee-slapping, belly-shaking laughter. At a time when life as we know it has been turned on its ear and folks are being forced to re-evaluate their values and plans for the future, this could be re-enforcement that they are on the right track. Or it could be too much reality when things are already stark. However you view this play, one thing cannot be denied – WAITING FOR GODOT offers a once-in-a-lifetime opportunity to see four of our revered actors under the direction of an esteemed director. How often does that happen?

- Laurie Lawson -
GUYS AND DOLLS
A Musical Fable of Broadway
Based on a Story and Characters of Damon Runyon
www.guysanddollsbroadway.com

Music and Lyrics by FRANK LOESSER
Book by JO SWELING and ABE BURROWS

Starring
OLIVER PLATT, LAREN GRAHAM, CRAIG BIERKO, KATE JENNINGS GRANT

With
TITUS BURGESS, GLENN FLESHLER, ADAM LEFEVRE
JIM ORTLIEB, STEVE ROSEN, MARY TESTA

NICK ADAMS, ANDREA CHAMBERLAIN, RAYMND DEL BARRIO, MELISSA FAGAN
KEARRAN GIOVANNI, JAMES HARNESS, LORIS LATARRO, BENJAMIN MAGNUSON
JOSEPH MEDEIROS, SPENCER MOSES, JULIA PATTERSON, GRAHAM ROWAT
JESSICA RUSH, WILLIAM RYALL, MARCOS SANTANA, JENNIFER SAVELLI
JOHN SELVA, BRIAN SHEPARD, RON TODOROWSKI, JIM WALTON, BROOKE WENDLE

Directed by DES McANUFF
Choreography by SERGIO TRUJILLO
Music Direction, Vocal Arrangements & Incidental Music: TED SPERLING
Scenery Design: ROBERT BRILL
Costume Design: PAUL TAZEWELL
Lighting Design: HOWELL BINKLEY
Sound Design: STEVE CANYON KENNEDY
Video Design: DUSTIN O'NEILL
Press Representative: BARLOW-HARTMAN
Production Stage Manager: FRANK HARTENSTEIN
General Management: ALCHEMY PRODUCTION GROUP
CARL PASBJERG & FRANK SCARDINO
Associate Producers: JILL LENHART, PETER GODFREY
Executive Producer: DAVID LAZAR

Nederlander Theatre
208 West 41st Street (between Broadway & Eighth Avenue)
(212) 307-4100 or www.theatermania.com
Opened: March 1, 2009


It would be difficult to take a show where almost every song became a part of American musical history and destroy it during the revival. The latest presentation of GUYS AND DOLLS at the Nederlander Theatre is a more-than-adequate production of this favored classic about sin and redemption. The scenery designed by Robert Brill and backdrop videos by Dustin O'Neill bring you back to ole New York, and Paul Tazewell's costumes reflect an era where nightlife ruled in the City That Never Sleeps. You will be amazed at how familiar the music and lyrics by Frank Loesser are, and Des McAnuff's direction pretty much assures that every scene advances the plot while thoroughly entertaining the audience.

There are even touches of magic. The pairing of Sky Masterson (Craig Bierko) and Miss Sarah Brown (Kate Jennings Grant) is sublime. Personas clash as voices meld, and you root for the couple from the beginning. Another perfect comedic pairing is that of Nicely-Nicely (Tituss Burgess) and Benny Southstreet (Steve Rosen), and Lauren Graham is magnificent as the beleaguered and beautiful Miss Adelaide. So if you're looking for an evening of glitz and glamour, wonderful songs with memories fully in tact, and touches of magic, GUYS AND DOLLS would be the ticket.

- Laurie Lawson -
Barbara Russell, Ron Sharpe, Bernard Brogan, Sharon A. Fordham, Theater Associates
David Sonnenberg/Rami Evar, The Monacle Group, Joseph J. Grano, Fanok Entertainment
Mary E. Laminack, Nancy & Paul Audet, Jim Barry, Gasperino Entertainment
Vincent Russell, William M. Broderick, Alex Santoriello
In association with David Bryant, Spencer Brody, Harry Casey
Present

A TALE OF TWO CITIES
www.TaleMusical.com

Book, Music & Lyrics by JILL SANTORIELLO
Based on the novel by CHARLES DICKENS

Featuring

JAMES BARBOUR, CRAIG BENNETT, BRANDI BURKHARDT, KEVIN EARLEY
GREGG EDELMAN, MICHAEL HAYWARD-JONES, MILES KATH, AARON LAZAR
KATHERINE McGRATH, LES MINSKI, CATHERINE MISSAL
NATALIE TORO, NICK WYMAN

WITH
DREW ABER, CATHERINE BRUNELL, ALISON CIMMET, JENNIFER EVANS, WILLIAM THOMAS EVANS
RANDY GLASS, KEVIN GREENE, MICHAEL HALLING, TIM HARTMAN, FRED INKLEY, GEORGI JAMES
JAY LUSTECK, MACKENZIE MAUZY, RAYMOND JARAMILLO McLEOD, JAMES MOYE
WALTER WINSTON O'NEIL, DAN PETROTTA, DEVIN RICHARDS, ROB RICHARDSON
REBECCA ROBBINS, JENNIFER SMITH, ANNE TOLPEGIN, ERIC VAN TIELEN
MOLLIE VOGT-WELCH, ALISON WALLA

Directed & Choreographed by WARREN CARLYLE
Music Supervision & Direction: KEVIN STITES
Scenic Design: TONY WALTON
Costume Design: DAVID ZINN
Lighting Design: RICHARD PILBROW
Sound Design: CARI CASELLA, DOMINIC SACK
Hair Design: TOM WATSON
Special Effects Design: GREGORY MEEH
Orchestrations & Arrangements: DEWARD B. KESSEL
Additional Arrangements: BOB KROGSTAD
WENDY BOBBITT CAVETT, KEVIN STITES
Music Coordinator: JAMES NEGLIA
Casting: SHARON A. FORDHAM
Press Representative: THE JACKSINA COMPANY, INC.
Promotion Agency: MARGERY SINGER COMPANY
Production Supervisor: CHRISTOPHER C. SMITH
Production Stage Manager: KIM VERNACE
Associate Choreographer: PARKER ESSE
General Management: TOWN SQUARE PRODUCTIONS
Executive Production: RON SHARPE & BARBARA RUSSELL

Al Hirschfeld Theatre
302 West 45th Street (between Eighth & Ninth Avenues)
(212) 239-6200 or www.telecharge.com
Opening Night: September 18, 2008



If you are looking for an extravaganza of a musical – you know the kind where the costumes (David Zinn) are exquisite, the lighting (Richard Pilbrow) is perfection, the sets (Tony Walton) are astoundingly creative, the story is told through emotion-rousing music (Jill Santoriello) and based on a classic (by Charles Dickens) – then A TALE OF TWO CITIES is waiting for you at the Al Hirschfeld Theatre.

Set during the French Revolution, A Tale chronicles the brutality of the ruling aristocracy in France and the almost-inevitable-and-equally-brutal oppression by the oppressed once they gain power. The action takes place in London and Paris and centers around two men who appear to be complete opposites, and yet eventually the lines of distinction blur as their lives intertwine. The altruistic French aristocrat Charles Darnay (Aaron Lazar) and the irascible and cunning British lawyer (sublimely portrayed by James Barbour who is guaranteed to steal your heart) come together as a result of their love for the same woman (the lovely Brandi Burkhardt). While the Defarges (Natalie Toro and Kevin Earley) plot the revolution from the ghettos of Paris, eccentric characters like the bodyguard Jerry Cruncher (Craig Bennett), the prim Miss Pross (Katherine McGrath), and the completely crooked John Barsad (Nick Wyman) lighten up the serious business of war. Backed by a talented cast, A TALE OF TWO CITIES becomes an impressive venture indeed.

Director and Choreographer Warren Carlyle tells the age-old story of love and sacrifice amidst power and corruption with a flair and authenticity that mesmerizes the audience from the renown opening line ("It was the best of times, it was the worst of times.") to the heart-wrenching closing ("It is a far, far better thing I do…"). In an example of pure genius, the courtship, marriage and birth of a child between Darnay and his wife Lucie is beautifully revealed in less than a minute with the assistance of a white lace prop. This, like the entire production, has to be seen to be fully appreciated. If your 2008 budget only allows for one more ticket, this is the one. A TALE OF TWO CITIES is easily the best of Broadway.

- Laurie Lawson -
New York City Center 2008 Encores! Summer Stars
Presents

SEAN HAYES, JANE KRAKOWSKI
CHEYENNE JACKSON, RANDY GRAFF

In

DAMN YANKEES

Words and Music by RICHARD ADLER and JERRY ROSS
Book by GEORGE ABBOTT and DOUGLASS WALLOP
Based on the novel by Douglass Wallop
"The Year the Yankees Lost the Pennant"

Starring
MICHAEL MULHEREN, VEANNE COX, P.J. BENJAMIN, MEGAN LAWRENCE
ROBERT CREIGHTON, JIMMY SMAGULA, KATHY FITZGERALD, JOHN HORTON, JOHN SELYA

NATHAN BALSER, DAVID BAUM, JIMMY RAY BENNETT, RACHEL COLOFF
ANDERSON DAVIS, MARYA GRANDY, SHANNON LEWIS, JAY LUSTECK, PAMELA OTTERSON
ADAM PERRY, KARINE PLANTADIT, T.OLIVER REID, JON RUS, STACEY SARGEANT
ALEXANDER SCHEITINGER, CHANDRA LEE SCHWARTZ, BARON VAUGHN, CODY RYAN WISE


Directed by JOHN RANDO
Music Director: ROB BERMAN
Choreography by BOB FOSSE
Scenic Design: JOHN LEE BEATTY
Costume Design: WILLIAN IVEY LONG
Lighting Design: PETER KACZOROWSKI
Sound Design: SCOTT LEHER
Casting: LAURA STANCZYK
Company Manager: MICHAEL ZANDE
Production Stage Manager: KAREN MOORE
Wig and Hair Design: PAUL HUNTLEY
Music Coordinator: SEYMOUR RED PRESS
Original Orchestrations: DON WALKER
Mr. Fosse's Choreography Reproduced by MARY MacLEOD

New York City Center
130 West 55th Street between 6th & 7th Avenues
(212) 581-1212 or www.NYCityCenter.org
July 5-27, 2008


You forget how many memorable songs came out of the original DAMN YANKEES thanks to music greats Richard Adler and Jerry Ross, but it quickly comes rushing back as you watch gum-chewing burly baseball players singing "(You Gotta Have) Heart." And it only gets better from there.

In this thoroughly delightful version of the all-time favorite musical, the always-hilarious, scene-stealing Sean Hayes is a heavenly devil to whom P.J. Benjamin/Cheyenne Jackson sells his soul in order to assure the Washington Senators win the pennant. The multi-talented Jane Krakowski is a more cute and cuddly Lola instead of the standard straight-out sexy version, and lovely Randy Graff is Joe's long-suffering and highly-devoted wife.

Everybody knows the storyline to DAMN YANKEES so with this 2008 Summer Stars Encores! reproduction, sit back and sing along with the music, marvel at the genius of Bob Fosse's choreography, root for the home team, and fall in love all over again with Hayes and Krakowski.

- Laurie Lawson -
A+ Theatricals, Broadway Across America, Cirque Productions, Adam Troy Epstein
Fox Associates, New Space Entertainment, Albert Nocciolino
Providence Performing Arts Center, Theatre League
Present

CIRQUE DREAMS
Jungle Fantasy
www.cirqueproductions.com

Created & Directed by NEIL GOLDBERT
Music & Lyrics by JILL WINTERS
Choreographed by TARA JEANNE VALLEE
Costume Design: CIRQUE PRODUCTIONS, LENORA TAYLOR, SANTIAGO ROJO
Additional Music by DAVID SCOTT, KEITH HEFFNER, BILLY PAUL WILLIAMS
TONY ALIPERTI, LANCE CONQUE, CHRISTOPHER PATI
Act Design: NEIL GOLDBERG, HEATHER HOFFMAN, IOURI KLEPATSKY
Scenic Design: JON CRAINE
Lighting Design: KATE JOHNSTON
Sound Design: CRAIG CASSIDY
Executive Producers: ALAN WASSER, ALLAN WILLIAMS
Animal Sculpture Designs: William Olson
Production Design: BETSY HERST
Executive Producer: JAMES GEISLER
Press Representative: THE PUBLICITY OFFICE
Marketing: TYPE A MARKETING
Production Management: JUNIPER STREET PRODUCTIONS

Featuring

URANMANDAKH AMARSANAA, MARCELLO BALESTRACCI, JARED BURNETT, ZACHARY CARROLL
JILL DIAN, LAUREN DIBLASI, RUSLAN DMYTRUK, IRYNA DMYTRUK, IVAN DOTSENKO
VLADIMIR DOVGAN, NATALIYA EGOROVA, JUDAH FRANK, BUYANKHISHIG GANBAATAR
ERDENESUVD GANBAATAR, STEFKA IORDANOVA, DENYS KUCHER, VITALH LYKOV
LEE MILLER, ODGEREL OYUNBAATAR, SERGEY PARSHIN, PAVEL POZDNYAKOV
GLENN ROGERS, NAOMI SAMPSON, KONSTANTIN SEROV, CARLY SHERIDAN
SERGUEI SLAVSKI, ALEXANDER TOLSTIKNOV, ANATOLIY YENIY

Broadway Theatre
Broadway at 53rd Street
(212) 239-6200 or www.telecharge.com
Opening Night: June 26, 2008


You're going to find yourself saying "Wow!" right out loud whenever your mouth isn't agape with wonder throughout the awe-inspiring CIRQUE DREAMS Jungle Fantasy at the Broadway Theatre. Director Neil Goldberg's creation combines the mind-blowing aspects of an American circus – aerial stunts, balancing acts that defy gravity, contortions and gymnastics – with the European flair of modern pulsating music, colorful flowing costumes, and imaginative half-human, half-fantasy characters. Throughout the elaborate production is a celebration of nature led by an adventurous boy (Marcello Balestracci) and Mother Nature (Jill Diane) with acts divided in Jungle by Day and Jungle by Night.

The performers are deserving of constant applause, which they easily obtain; the music and choreography is fresh and innovative; and the atmosphere is intimate. All of these well-designed elements make CIRQUE DREAMS Jungle Fantasy a novel addition to Broadway, worthy of many "Wows!"

- Laurie Lawson -
SONIA FRIEDMAN PRODUCTIONS, BOB BOYETT, ACT PRODUCTIONS, MATTTHEW BYAM SHAW
ROBERT G. BARTNER, THE WEINSTEIN COMPANY, SUSAN GALLILN/MARY LU ROFFEE, BROADWAY ACROSS AMERICA
TUCHIN/JENKINS/DSM, THE ARACA GROUP

Present

CHRISTINE BARANSKI MARK RYLANCE BRADLEY WHITFORD

IN

BOEING BOEING

Written by MARC CAMOLETTI
Translated by BEVERLEY CROSS & FRANCIS EVANS
Also Starring

GINA GERSHON KATHRYN HAHN MARY McCORMACK

Directed by MATTHEW WARCHUS
Scenic and Costume Design: ROB HOWELL
Lighting Design: HUGH VANSTONE
Original Music: CLAIRE VAN KEMPEN
Sound Design: SIMON BAKER
Stage Manager: WILLIAM JOSEPH BARNES

Longacre Theatre
220 West 48th Street (between Broadway and Eighth Avenue)
(212) 239-6200 or www.telecharge.com
Opening Night: May 4, 2008


BOEING BOEING wins the prize for the cutest finale that I've seen on Broadway this year. Surprisingly, it's because you have absolutely fallen in love with all of the characters by the time this comedy is over. Each is a scene stealer in their own right, with Christine Baranski being the indisputable queen. The surprising part is that this was originally a hit over 40 years ago, and the humor has wonderfully worn the test of time.

An enterprising and energetic American located in Paris (Bradley Whitford) has devised an ingenious plan allowing him to have three fiancées (Gina Gershon, Kathryn Hahn, Mary McCormack), all of whom are flight attendants. His shenanigans are successfully executed with the help of his sardonic maid, hysterically played by Baranski, and the entrance of a passing acquaintance (Mark Rylance, also heavy on the hysterical side). The predictable chaos ensues as flights are canceled, schedules are revised, and stewardesses inhabit the same apartment unknowingly. Under the skillful direction of Matthew Warchus, the laughs are plentiful throughout, and Marc Camoletti's BOEING BOEING becomes a welcome addition to the 2008 Broadway stage.

- Laurie Lawson -
Ostar Productions, Bob Boyett, The Shubert Organization, Eric Falkenstein, Roy Furman, Lawrence Horowitz
Jam Theatricals, Stephanie P. McClelland, Bill Rollnick/Nancy Ellison Rollnick, Daryl Roth/Debra Black
In Association With
Jon Avnet/Ralph Gould, Michael Coppel, Jamie deRoy/Michael Filerman
Philip Geier/Donald Keough, Max OnStage, Mary Lu Roffe
Present

MORGAN FREEMAN, FRANCES McDORMAND, PETER GALLAGHER

In

THE COUNTRY GIRL
By CLIFFORD ODETS

Also starring
REMY AUBERJONOIS, ANNA CAMP, JOE ROLAND
LUCAS CALEB ROONEY and CHIP ZIEN

Directed by MIKE NICHOLS
Associate Director: B.T. McNICHOLL
Scenic Design by TIM HATLEY
Costume Design by ALBERT WOLSKY
Lighting Design by NATASHA KATZ
Sound Design by ACME SOUND PARTNERS
Casting: TARA RUBIN CASTING
Production Manager: AURORA PRODUCTIONS
Production Stage Manager: BARCLAY STIFF
Press Representation: BONEAU/BRYAN-BROWN
General Management: 101 PRODUCTIONS LTD.

Jacobs Theatre
242 West 45th Street (between Broadway & Eighth Avenue)
(212) 239-6200 or www.telecharge.com
Opening Night: April 27, 2008


I like to consider myself articulate and expressive, but the only thing I keep saying after seeing THE COUNTRY GIRL is "Dang, Morgan Freeman is good!" He glides on stage with the greatest of ease, captures your attention the moment he opens his mouth, and gently enfolds you in the palm of his hand until the final curtain.

Clifford Odets' play takes place in 1950 and tells the story of an alcoholic actor (Freeman) who is given a chance at a comeback through the foresight and misguided faith of the director (Peter Gallagher). Wife Georgie (Frances McDormand) is THE COUNTRY GIRL, the fragile feminine counterpart that provides the backbone and guidance to the life and career of the complex and contradictory character of Freeman. The story wears well, first as a play and later as a movie starring Grace Kelly, and it is definitely worth seeing again on Broadway. The richness of the THE COUNTRY GIRL's characters is enough of a draw to warrant the price of a ticket, and Dang, Morgan Freeman is good!

- Laurie Lawson -
Adam Epstein, Allan S. Gordon, Elan V. McAllister and Brian Grazer
James P. MacGilvray, Universal Pictures Stage Productions
Anne Caruso, Adam S. Gordon, Latitude Link, The Pelican Group
In association with Philip Morgaman, Andrew Farber/Richard Mishaan
Present

CRY BABY
The Musical

Book by MARK O'DONNEL & THOMAS MEEHAN
Songs by DAVID JAVERBAUM & ADAM SCHLESINGER
Based on the Universal Pictures Film Written and Directed by JOHN WATERS

Starring

JAMES SNYDER, ELIZABETH STANLEY
CHESTER GREGORY II, CHRISTOPHER J. HANKE, ALLI MAUZEY
COURTNEY BALAN CARLY JIBSON, LACEY KOHN, RICHARD POE
CAMERON ADAMS, ASHLEY AMBER, NICK BLAEMIRE, MICHAEL BUCHANAN, ANDREW C. CALL
ERIC L. CHRISTIAN, COLIN CUNLIFFE, LISA GAJDA, STACEY TODD HOLT, MICHAEL D. JABLONSKI
LAURA JORDAN, BRENDAN KING, MARLY LAWSON, SPENCER LIFF, COURTNEY LAINE MAZZA
MAYUMI MIGUEL, TORY ROSS, ERICK SCIOTTO, PETER MATTHEW SMITH
ALLISON SPRATT, CHARLIE SUTTON
And
HARRIET HARRIS

Directed by MARK BROKAW
Choreographed by ROB ASHFORD
Incidental Music, Arrangements and Music Direction by LYNNE SHANKEL
Creative Consultant: JOHN WATERS
Scenic Design by SCOTT PASK
Costume Design by CATHERINE ZUBER
Lighting Design by HOWELL BINKLEY
Sound Design by PETER HYLENSKI
Production Manager: JUNIPER STREET PRODUCTIONS
Production Stage Manager: ROLT SMITH

Marquis Theatre
Broadway @ 45th Street
(212) 307-4100 or www.ticketmaster.com
Opening Night: April 25, 2008

Scathing wit, total irreverence, endearing characters who defy convention, and it's 1954 in Baltimore. That's right! John Waters is back on Broadway in a musical which I found even more amusing than his highly-acclaimed Hairspray. CRY BABY has the usual theme of the "bad boy" who doesn't fit into society persevering against all odds. The book by Mark O'Donnell and Thomas Meehan has been enhanced by songs with some of the cleverest wording on a stage today (thanks to David Javerbaum and Adam Schlesinger). Period costumes by Catherine Zuber and magnificent sets by Scott Pask put you right into the proper frame of time and mind, and the action begins with an Anti-Polio Picnic. I did mention irreverence, right?

Classes clash as Cry Baby (James Snyder), his sidekick Dupree (Chester Gregory II) and a group of misfits crash the picnic. Here Cry Baby meets the beautiful Allison (Elizabeth Stanley) and her uptight grandmother (wonderfully portrayed by veteran Harriet Harris). As the battle ensues and a romance blossoms, songs like "Watch Your Ass," "Squeaky Clean," "Class Dismissed," and "You Can't Beat The System" keep the audience hysterical and Water's message at the forefront of the action. CRY BABY makes you root for the person who is on the outside looking in, gives hope to those whom society scorns, and even dares to make fun of all that conservative compliers hold near and dear. You'll join in the fun with a huge smile on your face throughout the entire production. Thanks heavens John Waters didn't waste his efforts trying to fit in! Look at all the fun we'd be missing.

- Laurie Lawson -
Jujamycn Theaters, Jordan Roth, Harvey Entertainment/Ron Fierstein, Richie Jackson
Daryl Roth, John O'Boyle/Ricky Stevens/Davis-Tolentino, Barbra Russell/Ron Sharpe
In association with
Frankel-Baruch-Vientel-Routh Group, Broadway Across America, True Love Productions
Rick Steiner/Mayerson-Bell-Stanton-Osher Group, Jan Kallish
Present

FAITH PRINCE TOM WOPAT HARVEY FIERSTEIN
In

A CATERED AFFAIR

Book by HARVEY FIERSTEIN
Music & Lyrics by JOHN BUCCHINO
Based on the Turner Entertainment motion picture distributed by Warner Brothers
And written by Gore Vidal and the original teleplay by Paddy Chayefsky

Also Starring

LESLIE KRITZER
PHILIP HOFFMAN, KATIE KLAUS, HEATHER MacRAE, LORIE WILNER, KRISTINE ZBORNIK
JENNIFERALLEN, BRITTA OLLMAN, MATTHEW SCOTT, MARK ZIMMERMAN
And
MATT CAVENAUGH

Directed by JOHN DOYLE
Scenic Design by DAVID GALLO
Costume Design by ANN HOULD-WARD
Lighting Design by BRIAN MacDEVITT
Sound Design by DAN MOSES SCHREIER
Production Design by ZACHARY BOROVAY
Associate Director: ADAM JOHN HUNTER
Music Direction & Arrangements: CONSTANTINE KITSOPOULOS
Orchestration by JONATHAN TUNICK
Music Coordinator: JOHN MILLER
Associate Producers: STACEY MINDICH, RHONDA MAYERSON
Press Representative: O&M CO.

Walter Kerr Theatre
219 West 48th Street (between Broadway & Eighth Avenue)
(212) 239-6200 or www.telecharge.com
Opening Night: April 17, 2008


Harvey Fierstein's book for A CATERED AFFAIR is ultimately a poignant and inspiring tale of an every-day family grieving and celebrating life's ups and downs. And although comical at times (it is Fierstein after all), it emphasizes the importance of relationships, appreciating what you have, and taking into consideration others' feelings. That's pretty amazing for a 90-minute show!

Fierstein is the "bachelor uncle" of a family created by Faith Prince and Tom Wopat, both of whom powerfully execute the undercurrents of what appears to be the average couple. Their daughter (Leslie Kritzer) plans to marry her boyfriend (Matt Cavenaugh), and thus the plans for A Catered Affair begin.

This not-so-usual musical (much of the dialogue is done in a speak-sing manner) is an honest and revealing journey through universal territories – sacrifice, longing, a desire to please and compensate, loss, gain and in the end love. The brilliance of A CATERED AFFAIR is the cumulative effect. Go along for this brief ride; you'll be pleased where you end up.

- Laurie Lawson -
The Shubert Organization, Elizabeth Ireland McCann, LLC
Bill Kenwright, Chase Mishkin, Barbara & Buddy Freitag
Broadway Across America, Emily Fisher Landau, Peter May
Boyett Ostar, Elie Hirschfeld/Jed Bernstein, Wendy Federman/Jackie Barlia Florin
Spring Sirkin/Ruth Hendel, Vasi Laurence/Pat Flicker Addiss
Joey Parnes, Executive Director
In association with
The Public Theater and The Berkeley Repertory Theatre
Present

PASSING STRANGE
www.PassingStrangeOnBroadway.com
Book & Lyrics by STEW
Music by STEW and HEIDI RODEWALD

Starring
STEW

With
DE'ADRE AZIZA, ELISA DAVIS, COLMAN DOMINGO, CHAD GOODRIDGE, REBECCA NAOMI JONES
And
DANIEL BREAKER

Directed by and created in collaboration with ANNIE DORSEN
Choreography by KAROLE ARMITAGE
Scenic Design: DAVID KORINS
Costume Design: ELIZABETH HOPE CLANCY
Lighting Design: KEVIN ADAMS
Sound Design: TOM MORSE
Music Supervision & Orchestration: STEW & HEIDI RODEWALK
Music Coordinator: SEYMOUR RED PRESS
Casting: JORDAN THALER & HEIDI GRIFFITHS
Production Stage Manager: TRIPP PHILLIPS
Press Representative: SAM RUDY MEDIA RELATIONS
Company Manager: KIM SELLON
Associate Producer: S.D. WAGNER

BELASCO THEATRE
111 West 44th Street (between Broadway & Sixth Avenue)
(212) 239-6200 or www.telecharge.com
Opening Night: February 28, 2008


One of the obvious joys of Off Broadway is finding a pure gem, and PASSING STRANGE, originating at The Public Theater downtown and now at the Belasco Theatre on Broadway, is one of those jewels. The musical starts off as a rock concert. Musicians stream on stage, and the Narrator Supreme (singer/songwriter Stew who also happens to be the co-creator of this work along with Annie Dorsen) quickly sets up the scene. We are introduced to the Youth (Daniel Breaker), and his musical search for identity begins. It takes him to Church, Amsterdam and Berlin before returning him right back where he started newly awakened.

Along the way we are treated to innovative music, whether gospel, punk rock, psychedelic, or revolutionary, accompanied by fresh and resourceful choreography by Karole Armitage. The songs are punctuated by clever wording, just the right amount of irreverence, and some extremely funny concepts. Although a tad too long, for those who encourage us to enjoy the journey, PASSING STRANGE is the perfect example of how this can be done. Tongue-in-cheek or in-your-face, the humor and pathos bring the message home. Until we find (or admit) our true essence, we all do things to "pass strange."

- Laurie Lawson -
Jeffrey Richards, Jerry Frankel, Jam Theatricals
Bat-Barry Productions, Michael Cohl, Ergo Entertainment, Michael Filerman
Ronald Frankel, Barbara & Buddy Freitag, James Fuld Jr., Roy Furman
JK Productions, Harold Thau, Jamie deRoy/Ted Snowdon, Wendy Federman
Present

NATHAN LANE
LAURIE METCALF DYLAN BAKER
In

NOVEMBER
By DAVID MAMET
With
MICHAEL NICOLS and ETHAN PHILLIPS
Directed by JOE MANTELLO
Scenic Design: SCOTT PASK
Costume Design: LAURA BAUER
Lighting Design: PAUL GALLO
Casting: TELSEY+COMPANY
Production Stage Manager: JILL CORDLE
Technical Supervision: HUDSON THEATRICAL ASSOCIATES
General Management: RICHARDS/CLIMAN, INC.
Marketing Services: TMG THE MARKETING GROUP
Company Manager: BRUCE KLINGER

Barrymore Theatre
243 West 47th Street (between Broadway & Eighth Avenue)
(212) 239-6200 or www.telecharge.com
Opening Night: January 17, 2008


Absolutely hysterical! Those are the only words for David Mamet's NOVEMBER. This political farce, and I'm not even sure you can call it a farce because too many improbable premises ring almost true, is set in the Oval Office, currently inhabited by President Charles Smith (Nathan Lane) on the eve of his quite-likely unsuccessful bid for a second term. In addition to dealing with polls that indicate he is well-hated by the American public, he also has the pardoning of two turkeys, an out-of-control Native American looking for a place to build his casino, and a speech writer (Laurie Metcalf) who demands to be married to her lesbian lover before another word will hit her paper on his crowded plate clamoring for his attention. To his credit, his capable assistant/lawyer (Dylan Baker) manages to keep up with the action.

Lane, as usual, turns in an amazingly high-energy performance. Metcalf and Baker hold their own with perfectly-timed responses and one liners. Ethan Phillips and Michael Nichols round out this superb cast.

In NOVEMBER the humor is bitingly witty, the execution of Mamet's script is flawless, the direction of Joe Mantello is brisk and full of laugh-out-loud action, and the audience doesn't get a chance to take a break from pure out-and-out fun.

- Laurie Lawson -
Bob Boyett, Harriet Newman Leve/Ron Nicynski, Stewart F. Lane/ Bonnie Comley, Manocherian Golden Prods.,
Olympus Theatricals/Douglas Denoff, Pamela Laudenslager/Pat Addiss, Tim Levy
In association with
Roundabout Theatre Company
(Todd Haimes, Artistic Director; Harold Wolpert, Managing Director; Julia C. Levy, Executive Director
Huntington Theatre Company
(Nicholas Martin, Artistic Director; Michael Maso, Managing Director)
Edward Snape for Fiery Angel Ltd.
Present

Alfred Hitchcock's THE 39 STEPS

Adapted by PATRICK BARLOW
Based on the original concept by SIMON CORBLE and NOBBY DIMON
Based on the book by JOHN BUCHAN

With
ARNIE BURTON, CHARLES EDWARDS, JENNIFER FERRIN, CLIFF SAUNDERS

Directed by MARIA AITKEN
Set & Costume Design: PETER McKINTOSH
Lighting Design: KEVIN ADAMS
Sound Design: MIC POOL
Original Movement Created by TOBY SEDGWICK
Additional Movement Created by CHRISTOPHER BAYES
Production Manager: AURORA PRODUCTIONS
Production Stage Manager: NEVIN HEDLEY
Casting: JAY BINDER/JACK BOWDAN
Marketing: HHC MARKETING
Press Representative: BONEAU/BRYAN-BROWN
Dialect Coach: STEPHEN GABIS
Associate Producer: MAREK J. CANTOR
Executive Producer: 101 PRODUCTIONS, LTS.
General Manager: ROY GABAY

Cort Theatre
138 West 48th Street (between Broadway & Sixth Avenue)
(212) 239-6200 or www.telecharge.com

Outrageously clever staging and a cast that goes beyond and above drives this parody of Alfred Hitchcock's THE 39 STEPS. It may be a ride you don't necessarily want to take however.

A mysterious woman (Jennifer Ferrin) enters the life of Richard Hannay (Charles Edwards) and before her untimely death leaves a clue of 39 STEPS. As Hannay attempts to elude his own untimely death, as well as spies, authorities, and outraged husbands, he ferrets out the danger lurking just outside his grasp.

There are so many things that work in THE 39 STEPS – actors Arnie Burton and Cliff Saunders who seem to be in search of a character they can't sublimely play but don't succeed in finding, humorous references to Hitchcock's works, creative props, and much droll and current humor. The play loses the "clever" aspect as the same methods are repeated over and over. Two or three missed cues are funny; eight or nine lose their charm. To update melodrama is genius; to overkill defeats the genius. THE 39 STEPS should probably be seen as a tribute to its efforts, but you have to be willing to overlook the constant spoon feeding of redundant humor.

- Laurie Lawson -
Disney Theatrical Productions
Under the direction of Thomas Shumacher
Presents

THE LITTLE MERMAID
Music: ALAN MENKEN
Lyrics: HOWARD ASHMAN and GLENN SLATER
Book: DOUG WRIGHT
Based on the Hans Christian Andersen story and the Disney film produced by Howard Ashman & John Musker
And written & directed by John Musker & Ron Clements

Starring
SIERRA BOGGESS SEAN PALMER
NORM LEWIS TITUSS BURGESS EDDIE KORBICH JONATHAN FREEMAN
DERRICK BASKIN TYLER MAYNARD
TREVOR BRAUN BRIAN D'ADDARIO CODY HANFORD J.J. SINGLETON
SHERIE RENE SCOTT

ADRIAN BAILY, CATHRYN BASILE, HEIDI BUCKENSTAFF, JAMES BROWNIII, ROBERT CREIGHTON,
CICILY DANIELS, JOHN TREACY EGAN, TIM FEDERLE, MERWIN FOARD, BEN HARTLEY
MEREDITH INGLESBY, MICHELLE LOOKADOO, JOANNE MANNING, ALAN MINGO, JR.
ZAKIYA YOUNG MIZEN, BETSY MORGAN, ABBENDER J. ROBINSON, BAHIYAH SAYYED GAINES
BRET SHUFORD, JASON SNOW, CHELSEA MORAND STOCK, KAY TRINIDAD
PRICE WALDMAN, DANIEL J. WATTS

Directed by FRANCESCA ZAMBELLO
Choreography by STEPHEN MEAR
Music Director, Incidental Music & Vocal Arrangements: MICHAEL KOSARIN
Orchestrations: DANNY TROOB
Scenic Design: GEORGE TSYPIN
Costume Design: TATIANA NOGINOVA
Lighting Design: NATASHA KATZ
Sound Design: JOHN SHIVERS
Dance Arrangements: DAVID CHASE
Music Coordinator: MICHAEL KELLER
Casting: TARA RUBIN CASTING
Production Supervisor: CLIFFORD SCHWARTZ

Lunt-Fontanne Theatre
205 West 46th Street (between Broadway & Eighth Avenue)
(212) 307-47474 or www.theatremania.com
Opening Night: January 10, 2008


After an 18-year wait, Disney's THE LITTLE MERMAID has finally made it to Broadway. And being a Disney production, audience goers have a guarantee of a few things: breath-taking costumes, creative choreography, catchy music that you can't get out of your head, and entertainment with a gentle message. This musical does not disappoint. Mermaid Ariel (Sierra Boggess) has fallen in love with a human prince (Sean Palmer). In defiance of her father (Norm Lewis), she makes a deal with the devil or in this case her aunt, the amusingly menacing Sherie Rene Scott so that she can be with the human of her dreams. Tituss Burgess as a hysterical cohort crab and Brian D'Addario as the precious Flounder head up a multi-talented cast.

No matter what your age, THE LITTLE MERMAID is going to delight and astound as only a Disney production can do. Give yourself a treat and go see it.

- Laurie Lawson -
ROBERT F.X. SILLERMAN and MEL BROOKS
In association with THE R/F/B/V GROUP
Present

THE NEW MEL BROOKS MUSICAL
YOUNG FRANKENSTEIN

Book by MEL BROOKS and THOMAS MEEHAN
Music & Lyrics by MEL BROOKS
Based on the story and screenplay by GENE WILDER and MEL BROOKS
And on the original motion picture by special arrangement with TWENTIETH CENTURY FOX

Starring
ROGER BART MEGAN MULLALLY
SUTTON FOSTER, SHULER HENSLEY, ANDREA MARTIN
FRED APPLEGATE, CHRISTOPHER FITZGERALD

With
HEATHER AYERS, JIM BORSTELMANN, PAUL CASTREE
JACK DOYLE, KEVIN LIGON, LINDA MUGLESTON

JENNIFER LEE CROWL, RENEE FEDER, JAMES GRAY, AMY HEGGINS, ERICK JACKSON
KRISTIN MARIE JOHNSON, MATTHEW LABANCA, BARRETT MARTIN, CHRISTINA MARIE NORRUP
JUSTIN PATTERSON, BRIAN SHEPARD, SARRAH STRIMEL, CRAIG WALETZKO, COURTNEY YOUNG

Direction & Choreography by SUSAN STROMAN
Music Arrangements & Supervision by GLEN KELLY
Scenery Designed by ROBIN WAGNER
Costumes Designed by WILLIAM IVEY LONG
Lighting Designed by PETER KACZOROWSKI
Sound Designed by JONATHAN DEANS
Special Effects Designed by MARC BRICKMAN
Associate Director: STEVEN ZWEIGBAUM
Associate Choreographer: CHRIS PETERSON
Music Direction & Vocal Arrangements by PATRICK S. BRADY
Orchestrations by DOUG BESTERMAN
Music Coordination by JOHN MILLER

HILTON THEATRE
213 West 42nd Street (between Broadway & Eighth Avenue)
(212) 307-4100 or www.ticketmaster.com


Sexual innuendos galore, totally irreverent asides, wildly wacky humor, hilarious camp, and non-stop fun. Yep, Mel Brooks is back on Broadway with The New Mel Brooks Musical YOUNG FRANKENSTEIN. Based on the popular motion picture and spiced up with comedic songs by Brooks himself, this delightful play centers around the scientific escapades of Dr. Frankenstein (marvelously portrayed by Roger Bart) and a cast of bizarre characters that inhabit a castle/laboratory in Transylvania. Megan Mullally is Frankenstein's madcap fiancée.

Scenery designed by Robin Wagner borders on genius; throw in some special effects by Marc Brickman and creative lighting by Peter Kaczorowski, and the genius line is definitely crossed. William Ivey Long should also be commended for his costumes. All the elements are there for a great time, and the audience is not disappointed with YOUNG FRANKENSTEIN. The clapping begins before the play and continues throughout. Delightful entertainment!

- Laurie Lawson -
Kevin McCollum, Robyn Good man, Jeffrey Seller
Vineyard Theatre and The New Group
Present

AVENUE Q
The Musical

Music & Lyrics by ROBERT LOPEZ and JEFF MARX
Book by JEFF WHITTY
Based on an Original Concept by ROBERT LOPEZ and JEFF MARX
With

CHRISTIAN ANDERSON, JENNIFER BARNHART, NICHOLAS KOHN
ANN SANDERS, RASHIDRA SCOTT, HOWIE MICHAEL SMITH, SARAH STILES

Directed by JASON MOORE
Puppets Conceived and Designed by RICK LYON
Music Supervision, Arrangements & Orchestrations by STEPHEN OREMUS
Choreographer: KEN ROBERSON
Set Design: ANNA LOUIZOS
Costume Design: MIRENA RADA
Lighting Design: HOWELL BINKLEY
Sound Design: ACME SOUND PARTNERS
Animation Design: ROBERT LOPEZ
Music Director & Incidental Music: GARY ADLER
Music Coordinator: MICHAEL KELLER
General Manager: JOHN CORKER
Technical Supervisor: BRIAN LYNCH
Production Stage Manager: BEVERLY JENKINS
Press Representative: SAM RUDY MEDIA RELATIONS
Casting: CINDY TOLAN
Associate Producers: SONNY EVERETT, WALTER GROSSMAN, MORT SWINSKY

The John Golden Theatre
252 West 45th Street (between Broadway & Eighth Avenue)
(212) 239-6200 or www.telecharge.com
Opening Date: July 31, 2003

Electronic Link reviewer, Kessa DeSantis, caught AVENUE Q, The Musical, when it was still a revolutionary Off-Broadway production, and she predicted a rosy future. And right she was. Now on Broadway for several years, I thought it might be time to revisit the musical and see how it is holding up. Often, promising works do not easily make the transition from Off Broadway to On Broadway. Not to worry with this adventuresome piece. Clever, clever, clever is all you can say about the precious, down-to-earth, sometimes rude and rowdy, shockingly sarcastic, and almost always hilarious puppets that rule this show. We won't even get into their behavior. Let's just say "Leave the kids at home."

No matter what the topic – racism, homosexuality, unemployment, downsizing, porn, or politics - there's a song full of sophisticated humor and creative puppet/people choreography that will deliver a powerful punch line bolstered by lots of laughs. Songs like "It Sucks To Be Me" are current, topical, and downright hysterical. AVENUE Q – you will be glad you visited and will find yourself thinking about a return trip.

- Laurie Lawson -
Studio 54 Roundabout Theatre Company
Todd Haimes, Artistic Director
Harold Wolpert, Managing Director
Julia C. Levy, Executive Director
Present

ROSIE PEREZ and KEVIN CHAMBERLIN
In

THE RITZ

By TERRENCE McNALLY
With
Brooks Ashmanskas

Ashlie Atkinson, Ryan Idol, Patrick Kerr, Lucas Near-Verbrugghe
Terrence Riordan, Seth Rudetsky, Adam Sietz, David Turner
Lenny Venito, Teddy Coluca, Mark Leydorf, Billy Magnussen
Matthew Montelongo, Angela Pietropinto, Jeffrey Evan Thomas
Josh Breckenridge, Justin Clynes, Andrew R. Cooksey
Nick Mayo, Dillion Porter

Directed by JOE MANTELLO
Set Design: SCOTT PASK
Costume Design: WILLIAM IVEY LONG
Lighting Design: JULES FISHER & PEGGY EISENHAUER
Sound Design: TONY MEOLA
Choreography: CHRISTOPHER GATELLI
Production Stage Manager: TRIPP PHILLIPS

Studio 54
254 West 54th Street (between Broadway and Eighth Avenue)
(212) 719-1300 or www.roundabouttheatre.org
Extended through December 09, 2007


Terrence McNally's THE RITZ has been revived with the adorable Rosie Perez and Kevin Chamberlin, and although several of the comic references are dated and we would like to think that bath houses where random sexual encounters are encouraged no longer exist, this is still a rollicking frolic through a seedy establishment occupied with charmingly eccentric characters. Creative costumes (or the lack thereof), an elaborate set and music from an era of past renown make the audience willing to go along for this hilarious ride.

Chamberlin chooses The Ritz, of all places, to hide out from his murderous brother-in-law. In a continual comedic cycle of mistaken identities, Perez thinks he is a big producer of legitimate shows who could be her ticket to the Big Time. Ms. Perez's bath house act and her attempts to seduce Chamberlin are worthy of raucous laughs out loud, and theater goers gladly oblige. THE RITZ is a four-star evening of entertainment.

- Laurie Lawson -
Vienna Waits Productions Presents

A CHORUS LINE

Conceived and Originally Choreographed and Directed by
MICHAEL BENNETT
Book by JAMES KIRKWOOD & NICHOLAS DANTE
Music by MARVIN HAMLISCH
Lyrics by EDWARD KLEBAN
Originally Co-Choreographed by BOB AVIAN

With

NICK ADAMS, MICHELLE ARAVENA, DAVID BAUM, MICHAEL BERRESSE, MIKE CANNON, E. CLAYTON CORNELIOUS, NATALIE CORTEZ, CHARLOTTE d'AMBOISE, DENA DiGRACINTO, JOEY DUDDING, LYNDY FRANKLIN, JESSICA LEE GOLDYN, DEIDRE GOODWIN, MICHAEL GRUBER, NADINE ISENEGGER, BRYAN KNOWLTON, JAMES T. LAND, MELISSA LONE, J. ELAINE MARCOS, PAUL McGILL, HEATHER PARCELLS, JESSICA LEA PATTY, KRYSTA RODRIGUEZ, JASON PATRICK SANDS, JEFFREY SCHNECTER, KIM SHRIVER, WILL TAYLOR, KATHERINE TOKARZ, GRANT TURNER, KEVIN WORLEY, DEONE ZANOTTO

Directed by BOB AVIAN
Choreography Re-Staged by BAAYORK LEE
Music Direction & Supervision by PATRICK VACCARIELLO
Orchestrations by JONATHAN TUNICK, BILL BYERS & HERSHY KAY
Vocal Arrangements by DON PIPPIN
Scenic Design by ROBIN WAGNER
Costume Design by THEONI V. ALDREDGE
Lighting Design by THARON MUSSER
Adapted by NATASHA KATZ
Sound Design by ACME SOUND PARTNERS

Gerald Schoenfeld Theatre
236 West 45th Street (between Broadway & Eighth Avenue)
(212) 239-6200 or www.theatremania.com


The magic is back on Broadway! On October 5th Michael Bennett's A CHORUS LINE opened proving that undeniably brilliant concepts, peppered with honesty and humor and infused with high-spirited energy, are timeless.

A group of hopeful dancers, in some cases desperately hopeful, undergo an intensive audition for a limited number of available parts. They share their talents, their life stories, and their angst, giving us a behind-the-scenes look at the glitzy Broadway musical and what it takes to put it together. Their appeal and their stories are universal, and their determination and perseverance are inspiring. Whether you are viewing this for the first time, piggy-backing off the movie, or coming to revisit the magical original experience of the Broadway play, A CHORUS LINE will not disappoint.

- Laurie Lawson -
David Stone James L. Nederlander Barbara Whitman Patrick Catullo
Barrington Stage Company Second Stage Theatre
Present

The 25th Annual Putnam County
SPELLING BEE

Conceived by REBECCA FLEDMAN
Music and Lyrics by WILLIAM FINN
Book by RACHEL SHEINKIN
Additional Material by JAY REISS

With

AARON J. ALBANO, STANLEY BAHOREK, JENNI BARBER, JARED GERTNER
JAMES MONROE IGLEHART, SARA INBAR, GRETA LEE, DANIEL PEARCE
JENNIFER SIMARD
Brian Gonzales, Carly Hughes, Maurice Murphy, Jacqui Polk

Directed by JAMES LAPINE
Choreography by DAN KNECHTGES
Set Design by BEOWULF BORITT
Costume Design by JENNIFER CAPRIO
Lighting Design by NATASHA KATZ
Sound Design by DAN MOSES SCHREIER
Orchestrations by MICHAEL STAROBIN
Music Director and Dance Arrangements by VADIM FEICHTNER
Vocal Arrangements by CARMEL DEAN
Music Coordinator: MICHAEL KELLER
Press: BARLOW & HARTMAN

Circle In The Square
50th Street between Broadway and Eighth Avenue
(212) 239-6200 or www.telecharge.com

I am going to resist the temptation to spell out FANTASTIC or HILARIOUS, even though both words perfectly express my feelings about The 25th Annual Putnam County SPELLING BEE.

Assembled on stage is the most eccentric and lovable group of spelling nerds that you ever want to meet. Extremely serious spellers who have entered this contest for a variety of reasons reveal their inner doubts and fears while tenaciously clinging to the one thing they know they have under control – words. And just to keep this motley crew on the path to spelling stardom, there's a previous spelling bee winner, a vice principal with a questionable past, and a parolee doing his community service. And if that's not enough to pique your interest, there are a plethora of delightful surprises that I won't reveal. Experience them yourself by going to see The 25th Annual Putnam County SPELLING BEE. It is guaranteed to boost your spirit. Spelling has never been such fun!

- Laurie Lawson -
Dodger Theatricals Joseph J. Grano Tamara and Kevin Kinsella Pelican Group
In association with Latitude Link Rick Steiner/Osher/Staton/Bell/Mayerson Group
Present

JERSEY BOYS
The Story of Frankie Valli & The Four Seasons

Directed by DES McANUFF
Choreography: SERGIO TRUJILLO
Music Director, Vocal Arrangements & Incidental Music: RON MELROSE

Book by MARSHALL BRICKMAN & RICK ELICE
Music by BOB GUADIO
Lyrics by BOB CREWE

With
CHRISTIAN HOFF DANIEL REICHARD J.ROBERT SPENCER JOHN LLOYD YOUNG
Travis Cloer Kris Coleman Colin Donnell Ken Dow Graham Fenton
Heather Ferguson Donnie Kehr John Leone Michael Longoria Jennifer Naimo
Dominic Nolfi Joe Payne Erica Piccininni Sara Schmidt Mark Lotito

Scenic Design: KLARA ZIEGLEROVA
Costume Design: JESS GOLDSTEIN
Lighting Design: HOWELL BINKLEY
Sound Design: STEVE CANYON KENNEDY

August Wilson Theatre
245 West 52nd Street (between Broadway and Eighth Avenue)
212-239-6200 or www.theatremania.com

JERSEY BOYS, The Story of Frankie Valli & The Four Seasons will bring back memories you didn't even know you had. Four guys on a street corner in Jersey began a legacy that ended up in the Rock and Roll Hall of Fame and lives on today. Their story, gritty and gutsy and at times downright hysterical, is told through anecdotes and the many, many songs they gave to the world. It takes about three minutes to totally forget that you aren't actually watching The Four Seasons. And as you get to know the four characters superbly portrayed by Christian Hoff, Daniel Reichard, J. Robert Spencer and John Lloyd Young, you will cheer them on in their efforts to overcome their life circumstances and become "somebodies."

And if you can resist singing along to "Sherry," "Walk Like A Man," "Rag Doll," and all the other Four Seasons' number-one hits, you probably shouldn't waste your time on musicals. JERSEY BOYS will enthrall even the most jaded theatre goer. And once is not enough – you'll want to see this one over and over. Go for the music. Go for the costumes. Go for the memories. Go for one of the most enjoyable theatrical experiences ever!

- Laurie Lawson -
Judy Craymer, Richard East and Bjorn Ulvaeus
For Littlestar in Association with Universal
Present

MAMMA MIA!

Music & Lyrics by BENNY ANDERSSON, BJORN ULVAEUS
And some songs with STIG ANDERSON
Book by CATHERINE JOHNSON
Directed by PHYLLIDA LLOYD
Choreography: ANYTHONY VAN LAAST
Musical Supervisor, Additional Material & Arrangements: MARTIN KOCH
Production Designed by MARK THOMPSON
Lighting Designed by HOWARD HARRISON
Sound Designed by ANDREW BRUCE & BOBBY AITKEN

With

CAROLEE CARMELLO, CAREY ANDERSON, JUDY McLANE, GINA FERRALL
CHRISTOPHER SHYER, PEARCE BUNTING, BEN LIVINGSTON, ANDY KELSO
SAMANTHA EGGERS, VERONICA J. KUCHN, BEN GETTINGER, RAYMOND J. LEE

The Ensemble
TIMOTHY BOOTH, ISAAC CALPITO, CHRISTOPHER CARL
ALLYSON CARR, MEGHANN DREYFUSS, LORI HALEY FOX, HEIDI GODT
FRANKIE JAMES GRANDE, BRYAN SCOTT JOHNSON, MONICA KAPOOR
CORINNE MALANCON, STEVE MORGAN, COURTNEY REED
AMINA ROBINSON, GERARD SALVADOR, LEAH ZEPEL

Swings
LANENE CHARTERS, MATTHEW FARVER, RYAN SANDER, COLLETTE SIMMONS

Dance Captain
JANET ROTHERMEL

The Band
Music Director/Conductor/Keyboard 1 – WENDY BOBBITT CAVETT
ROB PREUSS, STEVE MARZULLO, MYLES CHASE, DOUG QUINN
JEFF CAMPBELL, PAUL ADAMY, RAY MARCHICA
DAVID NYBERG, MICHAEL KELLER, NICHOLAS GILPIN


Winter Garden
1634 Broadway at 50th Street
(212) 239-6200 or www.telecharge.com


There's a reason why MAMMA MIA! has been on Broadway forever (slight exaggeration) and keeps selling out performances. Actually there are several reasons. Set on a Greek island in the 1980's, the action is a fantastical blast to the past. Disco costumes, creative choreography, and a hysterical plot cleverly based around the eternally-popular music of ABBA are fully utilized by a multi-talented cast to keep the laughs coming and pull off the feel-good musical of all times.

Never has regression to a past era been such fun. If you haven't seen MAMMA MIA!, you must. Everybody deserves to feel that good at least once. And if you have seen it, you have probably already figured out an excuse to go see it again.

- Laurie Lawson -
JAY JOHNSON: THE TWO AND ONLY
Written and performed by JAY JOHNSON

Conceived by JAY JOHNSON/MURPHY CROSS/PAUL KREPPEL
Directed by MURPHY CROSS & PAUL KREPPEL
Scenery by BEOWULF BORITT
Lighting by CLIFTON TAYLOR
Sound by DAVID GOTWALD
Original Music by MICHAEL ANDREAS
Production Management: ROBERT G. MAHON III/JEFF WILD
Production Stage Manager: LORI ANN ZEPP
Marketing: HHC MARKETING
Press Representation: O&M/ORIGLIO/MIRAMONTEZ CO.
Associate Producer: JAMIE deROY

HELEN HAYES THEATRE
240 West 44th Street (between Broadway and Eighth Avenue)
(212) 239-6200 or www.telecharge.com

Opening Night: September 29, 2006

A chubby-cheeked puppet named Squeaky, the sassy alter-ego, Bob, of SOAP fame, and a manic monkey named Darwin are but a few of the creative characters brought to glorious life in the charming JAY JOHNSON: THE TWO AND ONLY. Part history of the evolution of ventriloquism, part straight-on performance, and part nostalgic journey, the result is an often hilarious experience.

Set on a stage strewn with trunks, boxes and other containers, many which hold the puppets that performer Johnson will use during the show, JAY JOHNSON: THE TWO AND ONLY transforms the space into the often magical world that a gifted ventriloquist like Johnson can create. Seamlessly moving from one scene to another, employing different aspects of his talents as he goes, including throwing in a couple of songs the show is strong and fluid, avoiding any of the underlying creepiness that one fears a show about ventriloquism can evoke.

So go see JAY JOHNSON: THE TWO AND ONLY. You'll fall in love with a snake within the first three minutes, learn more about ventriloquism than you ever thought you wanted to know, laugh along with the "wooden Americans," and just plain have a ball. This one is definitely a winner!

-Kessa DeSantis/Laurie Lawson-
Showtime Networks presents

MARIO CANTONE
LAUGH WHORE
www.mariocantone.com
www.laughwhore.com
Written by MARIO CANTONE

Directed by JOE MANTELLO
Produced in Association with JONATHAN BURKHART
Original Music by JERRY DIXON
Additional Music by MARIO CANTONE & HAROLD LUBIN
Original Lyrics by MARIO CANTONE, JERRY DIXON & HAROLD LUBIN
Set Design by ROBERT BRILL
Sound Design by TONY MEOLA
Lighting Design by JULES FISHER & PEGGY EISENHAUER
Music Director & Orchestration: TOM KITT
Arrangements: JERRY DIXON & TOM KITT
Production Manager: AURORA PRODUCTIONS
Production Stage Manager: WILLIAM JOSEPH BARNES
Press: PETE SANDERS GROUP

CORT THEATRE
138 West 48th Street (between Broadway & Sixth Avenue)
(212) 239-6200 or www.telecharge.com
October 12, 2004 - January 2, 2005


Your teeth are dry because you haven't been able to close your mouth
in such a long time, your jowls are quivering, and tears are streaming
from your eyes. Is this any way to watch a Broadway show? Well, if
the wild and wacky ball of energy known as MARIO CANTONE is on stage,
it is! Cantone is indeed in his element in LAUGH WHORE - he'll do
anything to make you laugh, and whatever he does works. Whether he's
performing "Rollin' On A River" as Tina Turner, Cher and Kate Smith
in concert or presenting a Jim Morrison Christmas or simply revealing
his childhood in an Italian household, the laughs are non-stop.
Cantone is acerbic, sassy, and totally irreverent. He's both
hysterical and hysterically funny and a damn good singer to boot.
LAUGH WHORE is a marvelous Christmas gift to yourself. Warning:
Take deep breaths during intermission because this is the only
opportunity you'll get!

- Laurie Lawson -
CHIGAGO

Book by FRED EBB & BOB FOSSE
Music by JOHN KANDER
Lyrics by FRED EBB

Based on the play by MAURINE DALLAS WATKINS
Original Production Directed and Choreographed by BOB FOSSE

RICHARD RODGERS THEATRE
226 West 46th Street (between Broadway and Eighth Avenue)
(212) 239-6200

Directed by WALTER BOBBIE
Choreography by ANN REINKING (in the style of Bob Fosse)
Music Director: ROB FISHER
Scenic Design: JOHN LEE BEATTY
Costume Design: WILLIAM IVEY LONG
Lighting Design: KEN BILLINGTON
Sound Design: SCOTT LEHRER
Original Orchestration: RALPH BURNS
Dance Music Arrangements: PETER HOWARD


                           CAST
                    (in order of appearance)

Velma Kelly...................................................BEBE NEUWIRTH
Roxie Hart....................................................ANN REINKING
Fred Casely...................................................MICHAEL BERRESSE
Sergeant Fogarty..............................................MICHAEL KUBALA
Amos Hart.....................................................JOEL GREY
Liz...........................................................DENISE FAYE
Annie.........................................................MAMIE DUNCAN-GIBBS
June..........................................................MARY ANN LAMB
Hunyak........................................................TINA PAUL
Mona..........................................................CAITLIN CARTER
Matron  Mama Morton...........................................MARCIA LEWIS
Billy Flynn...................................................JAMES NAUGHTON
Mary Sunshine.................................................D. SABELLA
Go-To-Hell-Kitty..............................................LEIGH ZIMMERMAN
Harry.........................................................ROCKER VERASTIQUE
Aaron.........................................................DAVID WARREN-GIBSON
The Judge.....................................................JIM BORSTELMANN
Martin Harrison...............................................BRUCE ANTHONY DAVIS
Court Clerk...................................................JOHN MINEO

CHICAGO has been kicking around since 1926.  Originally
presented as a play by Maurine Dallas Watkins, it was the
inspiration for the 1942 movie, Roxie Hart, and the musical
premiered on Broadway in 1975.  Now it is back at the Richard
Rodgers Theatre, and once again it is sure to be an audience
pleaser.

Roxie Hart (Ann Reinking) gains fame when she shoots her
lover.  Realizing that this could be her big break, she hires the
slick lawyer Billy Flynn (sublimely played by James
Naughton), who has a  reputation for charming his opponents
and orchestrating sensational trials.  Together they  razzle
dazzle the media and win Roxie's freedom.  After a year of
watching the O.J. trial, the plot is not as far-fetched as it must
have seemed in 1926.

This production is jam-packed with glorious stars.  Bebe
Neuwirth sparkles as jailmate Velma Kelly.  She is a
charismatic dynamo, lighting up the stage with her saucy
presence.  Joel Gray is Amos, the  neglected husband of
Roxie.  His rendition of  Mr. Cellophane is adorable.  Marcia
Lewis is, as always, a cutie; as the  mama of the jail, some of
the best songs come from her, such as  Class with Neuwirth
and  When You're Good To Mama. 

Reinking has choreographed CHICAGO within millimeters of
perfection.  Dance numbers are slinky, sultry, and slick.  The
music is seductive, and the impressive cast utilizes each
sensuous beat to their advantage.  Inject all the essential
elements for success with lots of humor, and you come up with
a show that reminds us what Broadway is all about.  Welcome
back, CHICAGO!

         -Laurie Lawson-
RENT
Book, Music and Lyrics by JONATHAN LARSON

NEDERLANDER THEATRE
208 West 41st Street (between Broadway and Eighth Avenue)
(212)239-6200

Director: MICHAEL GREIF
Music Supervision and Additional Arrangements: TIM WEIL
Choreography: MARLIES YEARBY
Set Design: PAUL CLAY
Costume Design: ANGELA WENDT
Lighting Design: BLAKE BURBA
Sound Design: KURT FISCHER

                              THE CAST

                       (in order of appearance)

Roger Davis............................................ADAM PASCAL
Mark Cohen.............................................ANTHONY RAPP
Tom Collins............................................JESSE L.MARTIN
Benjamin Coffin III....................................TAYE DIGGS
Joanne Jefferson.......................................FREDI WALKER
Angel Schunard.........................................WILSON JERMAINE HEREDIA
Mimi Marquez...........................................DAPHNE RUBIN-VEGA
Maureen Johnson........................................IDINA MENZEL
Mark's mom, Alison, and others.........................KRISTEN LEE KELLY
Christmas caroler, Mr. Jefferson, a pastor/others......BRYON UTLEY
Mrs. Jefferson, woman with bags, and others............GWEN STEWART
Gordon, the man, Mr. Grey, and others..................TIMOTHY BRITTEN PARKER
Man with squeegee, a waiter, and others................GILES CHIASSON
Paul, a cop, and others................................RODNEY HICKS
Alexi Darling, Roger's mom, and others.................AIDO NAKASONE

RENT started out in the unpretentious New York Theater Workshop in the East
Village. Almost immediately, it caught the attention of the theatre world.
Rave reviews were received, performances were sold out, the musical's run was
extended, its creator won the Pulitzer Prize for drama, and it opened on Broadway
at the Nederlander Theatre April 29th. But what the heck is RENT? It is the
inspiration and genius of Jonathan Larson, made more poignant by the fact that he
never lived to witness his huge success.

After the final dress rehearsal, he died of an aortic aneurysm at the age of 35.
Inspired by Puccini's La Boheme, it deals with the lives of residents of the Lower
East Side. This includes drug dealers, drag queens, prostitutes, and artists, some
of whom are HIV+.

RENT is a rock opera for the 90's, with pulsating rhythms, gritty lyrics, and modern
concerns. The music is fresh and innovative; the cast of magnificent voices resound
with passion.

Without You is quite possibly the most intense love song ever written, and I would
purchase the soon-to-be-released CD just to be able to hear Seasons of Love
over and over again. Larson has given the world a musical celebration of life,
survival, and triumph over terrifying obstacles.

The first act peaks your interest, and the second act blows you away. It is an
experience that should not be missed. And as RENT extols appreciating every minute
of life, one can only hope that Larson followed his own advice. What a legacy he left! 


                   -Laurie Lawson-
---