The 92nd Street Y Announces

"SEVEN DAYS"

An App-Delivered Music Experience
Created by Acclaimed Composer GREGORY SPEARS

Composer: Gregory Spears
Pianist: Pedja Muzijevic
Artist: Gloria Maximo
Presented by the 92Y
Producer: Nicholas Russotto
Publisher: Schott Music

Available for review on mobile devices:

Apple App Store Link:
https://apps.apple.com/us/app/seven-days-gregory-spears/id1573004217

Google Play Link:
https://play.google.com/store/apps/details?id=xyz.echoes.sevendays

Okay, Music Lovers, listen up! And no matter how busy you are, that's exactly what you can do, thanks to composer Gregory Spears. His SEVEN DAYS is an app-delivered musical experience. And it's free. Beginning November 15th, to continue indefinitely, you can hear short piano compositions, ranging from 2 to 6 minutes, Morning, Afternoon, and Evening. From somber to uplifting, calming to exhilarating, meditative to thought-provoking – whatever response music generates in you is available three times a day. All you have to do is download the app above and begin your journey. What a gift!

How to Listen
"Seven Days" is a week-long listening experience that audiences are invited to live within. Begin the week on Monday by listening to Monday Morning. Return that afternoon to listen to Monday Afternoon and then again at night for Monday Evening. Repeat this schedule Tuesday through Sunday to experience a new Morning, Afternoon, and Evening movement for each day. The aim is to tune in to the passing of the week and, in the words of Thomas Merton, "the 'now' that cuts Time like a blade." If you miss or wish to revisit an installment, you can always scroll back to a movement from earlier in the schedule. The cycle repeats again each Monday morning indefinitely.

- Laurie Lawson -
China Arts and Entertainment Group Ltd.
EAST/WEST: A Symphonic Celebration
November 13, 2021, 7:30pm
Lincoln Center (Koch Theater)
==========================================================

It was a lovely Saturday evening at Lincoln Center with China Arts and Entertainment's EAST/WEST: A Symphonic Celebraton celebrating traditional and modern Chinese music to a full house. The NYC Ballet Orchestra was consistently excellent whether navigating the lush passages of Aaron Copland's Appalachian Spring Suite or the equally sonorous regional Chinese dance drama selections from Dragon Boat Racing and The Red Dress. The lyrical Cello, Violin and Erhu solos were beautifully played, and only somewhat hampered by amplification. Conductor Jindong Cai showed command of both East and West musical styles and artistry, and was able to make full use of the orchestra's familiarity with each other and happiness to be playing together again.

Two concerti were featured, one Violin and the other Ehru. Shenghua Hu, who also serves as Principal Second Violin of the Metropolitan Opera Orchestra, showed extraordinary virtuosity and emotion in Butterfly Lovers Violin Concerto, a Chinese folktale familiar to much of the audience. His dramatic storytelling expressed the lyrical, feisty, and tender pathos of the tale, while maintaining crystal clear articulation of the fastest runs.

The Great Wall Capriccio Erhu Concerto, composed for the traditional Chinese bowed two-stringed instrument, is an interesting mix of Chinese instrument, sound and expression, in a western harmonic and musical form. Jiebing Chen, who has brought the solo Erhu to worldwide classical and jazz audiences over her long career, demonstrated amazing technique while still evoking a mellow sound reminiscent of the human voice or the Theremin. Her emotional commitment to the piece and expressive bow work drew the audience in.

Three songs, ancient and modern, were presented to great audience appreciation by three young singers embarked upon opera careers. Esther Maureen Kelly sang Night By the Maple Bridge with a beautiful warm soprano, with graceful physical and vocal expression embodying the text. Holly Flack joined her with a remarkable bell-like extended-range coloratura, for the duet Singing of Goose and Song of Snow, which was not only musically beautiful but comedically clever and playful with the audience, with Chinese language quips that brought the house to peals of laughter. William Guanbo Su sang Eastward the River Rushes with a lustrous resplendent bass that he will be bringing to his Metropolitan Opera debut in 2022.

The passionate grande finale by all three singers and the Orchestra brought down the house. From Jasmine to Turandot arranged by Luo Maishuo, joined the folksong Jasmine Flower and parts of Puccini's Nessun dorma from Turandot, linking East and West, and reaching across the Lincoln Center Plaza to the Met's current performances of Turandot.

- Ellen Pearre Cason -
The South Street Seaport Museum
presents

OPERA IN DEPTH: EXPLORING WHAT LIES BENEATH

August17, 2021 7:30 p.m.

WHAT LIES BENEATH will be performed live on the deck of the tall ship Wavertree August 28 through September 2, 2021 at 6 p.m.

What Lies Beneath - On Site Opera (osopera.org)
osopera.org/productions/what-lies-beneath/

The South Street Seaport Museum and On Site Opera have taken these challenging times and made them crazy-challenging! First, create an opera. Then stage it on the main deck of a ship built in 1885.
Opera In Depth: Exploring What Lies Beneath gave voice to the creators and performers as they recalled what it took to organize such a venture. They had to choose the topics to cover, what songs to sing, and the complicated logistics of handling a live performance during a pandemic.

The result promises to be wonderful. What Lies Beneath highlights pieces from the opera Amistad, from Ahab, from 1619: A Song Cycle, from the opera Billy Budd, from Sea Fever, and from the opera Riders to the Sea. Attendees will walk from location to location to view this series of six vignettes.

Note: Vaccines and masks are required.

As one of the participants stated, this taught us to be prepared all the time, even now. Keep your voices strong, your movements graceful, and when opportunity knocks, go for it! Blue skies and smooth seas ahead.

-Karen D'Onofrio-
the little OPERA theatre of ny
presents
A Livestream Concert from St. John's in the Village

MONTEVERDI & OTHER TREASURES FROM THE SEICENTO

Featuring
RAÚL MELO, Tenor; SUMMER HASSAN, Soprano; MICHAEL KUHN, Tenor;
MANAMI MIZUMOTO, Violin; REBECCA NELSON, Violin; MAJKA DEMCAK, Violin;
PAUL HOLMES MORTON, Theorbist & Guitarist; DOUG BALLIET, Master of Bass Instruments

ELLIOT FIGG: Music Director & Harpsichordist
PHILIP SHNEIDMAN: Director
DALIA SEVILLA: Assistant Director

June 4, 2021 7:30 p.m.

lotny.org/2-livestreams or (646) 481-9890
Purchase includes the option to replay the concert at a later date.

This charming, melodious evening opens with Buonamente's "Second Sonata for 3 Violins" played to perfection. As smooth as silk, it fills the listener with a calm happiness.

SUMMER HASSAN follows with the powerful, touching "Lagrime mie, Lamento" by Barbara Strozzi. Strozzi was a wonder of 17th Century music: Not only a female composer, but a massively productive one. She also became a singer and composed books of songs. All this while being a single mother of four. HASSAN's rich voice is perfectly suited to this piece.

MICHAEL KUHN presented two works by Monteverdi. KUHN has an amazing voice and a dynamic presence.

A musical interlude opens the path to the highlight of the evening, "The Combat of Tancredi and Clorinda". First performed in a Venetian piazza in 1624, it is considered to be one of the very first operas. Written by Monteverdi, it reenacts a sword battle between a Crusader and a Saracen. The "narrator" (RAÚL MELO) sings the story with gusto while the combatants act out the tale. Under the armor, a surprise takes the story in a quite different direction.

Another highlight was the therbo, a sort of space-age 17th Century lute. Large-bodied, with at least 14 strings and an extended neck (a very extended neck) and a second pegbox. It is strummed or plucked and designed to play basso continuo. Its low range is perfect for accompanying singers, as its strong sound is not obscured by the vocalist.

St. John's in the Village provides the perfect setting for the little OPERA theatre of ny, which never disappoints and in fact amazes, with each production seeming to outshine the last.

-Karen D'Onofrio-
SCATTERSHOT SYMPHONY
The Music of Peter Link
Episode 5 - SACRED SUNDAY MORNING
Available on







Or Listen Here on Watchfire Music!
Sunday rituals are the consummate Me Time – bagels and cream cheese, brunch with Mimosas, sleeping in late, spiritual reflection, and whatever you do for personal fine tuning. Well, move over Traditions, and make room for another spirit booster – Episode 5 of Peter Link's Scattershot Symphony – SACRED SUNDAY MORNING.
Lyric-laden songs enhanced by the genius orchestration of Peter Link and executed by your favorite performers (Julia Wade, Jenny Burton, and Link himself) will overload your heart with joy and exultation. There's a special sweet treat of Mindy Jostyn's rollicking Child Of God complete with harmonica playing. This podcast is so great, why wait until Sunday? Every day can be a gift to yourself with SACRED SUNDAY MORNING.
- Laurie Lawson -
SANCTUARY: An Immersive Soundwalk
Written by RACHEL FALCONE, MICHAEL PREMO, and REBECCA MARTINEZ
Interviews and Sound Produced, Recorded and Edited by RACHEL FALCONE and MICHAEL PREMO
Directed by REBECCA MARTINEZ
Compositions by BROKEN CHORD
A commission of Working Theater's Five Boroughs/One City Initiative in collaboration with the community at the Cathedral of St. John the Divine
Featuring:
SONEELA NANKANI,
Narrator KATHERINE GEORGE and ROCKY VEGA,
Vocals JOANNA MATTREY,
Viola AARON MEICHT,
Piano/Trumpet
November 24– December 31, 2020
Free download through December 31: https://theworkingtheater.org/events/sanctuary-2020/
Where do you go to find sanctuary? Well, pop in your earbuds and take a journey with the community of the Cathedral of St. John the Divine as they seek and find SANCTUARY. Amidst soothing songs, hymns, and chants you will hear testimonies from survivors of 911, immigrants, gay men coming out, troubled women seeking answers, and all kinds of humanity finding peace in the unfinished structure known as the Cathedral of St. John the Divine and its diverse community. There are bells and horns and violins – oh my! as well as a tinge of the supernatural and spirituality. Doors close (or open depending on your viewpoint), helicopters hover, sirens pass by, and water and wind serve as a background in this immersive soundwalk.
Close your eyes and take the walk. Enjoy the generosity of these folks who share their SANCTUARY.
- Laurie Lawson -
Metropolitan Playhouse presents
The Virtual Playhouse Its First Virtual Chamber Music Concert
CONCERT FOR THE NEW MOON
Featuring AREA 9 SAXOPHONE QUARTET, MURAD ZINGER DUO, YIBIN LI, JULIE LAWRENCE, MANAMI MIZUMOTO, THE MURAD ZINGER DUO, & RED DOOR CHAMBER PLAYERS
November 19, 2020 8 p.m.
www.metropolitanplayhouse.org/virtualplayhouse
A lovely surprise from the Metropolitan Playhouse, famous for its turn-of-the-twentieth-century plays. This special performance puts the spotlight on musicians who have played at the theater's "Music at the Metropolitan" series.
The event opens with the Red Door Chamber Players (Lisa Casal-Galietta, violin 1; Kristin Nikaj, violin 2; Gregory K Williams, viola; and Diana Golden, cello). Their "Cristantemi" by Puccini is lovely.
The Area 9 Saxophone Quartet was a special treat. Playing in a friend's backyard, in a beautiful autumn setting. Who knew four saxophones could sound so awesome? Sean Mix (Soprano Saxophone), Kangyi Liu (Alto Saxophone), John Rabinowitz (Tenor Saxophone), and Seychelle Corbin (Baritone Saxophone) performed J.S. Bach's Fugue No. 17 in A-flat Major and "Second Suite for Military Band in F Major" by Gustav Holst, among other pieces. Holst's work is not some dry-as-dust march music. Far from it. He throws in bits of folk music, such as "Star of the County Down" and "Greensleeves", and a variation on "The Irish Washerwoman". Four saxophones equal absolute delight.
Solo violinist Yibin Li digs deep into J.S. Bach's 1720 "Partita No. 3 in E Major", playing movements II, V, and VI with energy and emotion. Solo violinist Julie Lawrence plays the modern piece "Giotto IV" by Michael Kosch. His composition is strong, with many surprises. Soloist Manami Mizumoto plays Telemann's classic "Fantasia No. 7 in E-flat". The Murad-Zinger Duo (Nicole Murad, vocalist, and Pablo Zinger, pianist/vocalist) sing and play multi-part harmonies with themselves in the tango-tinged "I Am Easily Assimilated" from Felicia and Leonard Bernstein's operetta "Candide". Not only different, but lots of fun.
CONCERT FOR THE NEW MOON is not to be missed, no matter what style of music you prefer.
-Karen D'Onofrio-
SCATTERSHOT SYMPHONY
The Music of Peter Link
Available on







Or Listen Here on Watchfire Music!
Well, here's a silver lining for 2020. The multi-talented composer/musician/singer/orchestrator/and amazingly prolific Peter Link has created a podcast of his music. So far there are three episodes of SCATTERSHOT SYMPHONY, with hopefully more to come in the near future. Link has an abundance of talent, and he is sharing it with us on these podcasts.
Episode 1 – Songs I Always Wanted to Sing is a combination of Pop, Rock, Reggae, Gospel, Broadway, and Inspirational selections, all sung by Link. With a promise of 90% music and 10% stories of a lifetime, Link tells you the back story of the songs which he created, and the sincerity of a man singing his own words is powerful and poignant.
Episode 2 – The World We Live In brings in other artists (any musical production that has songs from the Jenny Burton Experience automatically gets a gold star from me). If you've got a problem, Peter Link has a song to address it. Illness, racism, misogyny, immigration, bullying, politics, environment - bring it on! Link will put it to music and inspire you to become part of the solution.
Episode 3 – Just For Laughs will bring a smile to your face. From songs about getting to Heaven to renderings from the Other Side, time traveling with Goliath, Julia Wade's surprise secret girlfriend, and for the birds, your mood will lighten after listening. There are also a few songs For Kids Only.
Luckily, there seems to be no end to the gifts of Peter Link, and he generously shares them with us. Enjoy!
- Laurie Lawson -
Baruch Performing Arts Center & Opera Omaha
present
The Virtual Premiere
of
The Chamber Opera

dwb (driving while black)

Streaming On Demand
October 23-19, 2020

www.baruch.cuny.edu/bpac
customerservice@ovationtix.com>

Libretto by ROBERTA GUMBEL
Director: CHIP MILLER

Starring Soprano ROBERTA GUMBEL

Featuring NEW MORSE CODE:
HANNAH COLLINS, cello
MICHAEL COMPITELLO, percussion

This compelling chamber opera enacts one mother's love for her child and her fears that he will someday be targeted because of his race. ROBERTA GUMBEL is incredibly tender yet powerful as she sings the emotions of glowing over her newborn, then watching him grow from baby to teen to man. In alternating narratives she expresses her love and her worries. This performance is so deep and wide that it engulfs the listener with emotion.

Her son is learning to drive, getting his license. His smile melts her heart. Now he has his freedom, and she has terror. The words "wrong place, wrong time" haunt her. She tells him "You are not who they see." Her stellar voice matches her stellar libretto.

The musical accents of vibes, percussion, and cello by NEW MORSE CODE enhance the vocal perfectly, providing wonderful intensity and shifting of mood.

Brilliant work on the part of all. Not to be missed.

-Karen D'Onofrio-
Perspective Ensemble
presents
Wendy Sutter, Cellist

THE SIX BACH SOLO CELLO SUITES

Livestreamed from Judson Memorial Church
New York City

Sunday, August 23, 2020

https://www.youtube.com/watch?v=fRVr0ttLvx4
https://www.youtube.com/watch?v=whhZ8JhWoR0


The Wall Street Journal calls WENDY SUTTER "one of the great…cellists of the classical stage". She knocks this concert out of the park, to mix metaphors. The throaty notes of the cello combined with the amazing acoustics of Judson Memorial Church are a dream come true for Bach enthusiasts and anyone who loves music.

Two mics, two lights, multiple camera angles, no audience. Total silence but for the cello and its artistry at the hands of WENDY SUTTER. Gilded light through the stained-glass windows enhances what is truly a mystical experience. Listen and float away.

She begins with Suite No. 4 in E flat major, which is rich, deep, and has a tone of large-scale music. For example, E flat major is used in Beethoven's "Eroica" symphony because of its distinctive, powerful sound. After the stunning Prelude, the Allemande is spritely and melodic. The Gigue is a big challenge to the musician, and SUTTER plays it to perfection without breaking a sweat. The tonal range demands stunning athletics on the part of the cellist, delivering an exciting feel to the listener.

Next, SUTTER chose Suite No. 2 in D minor. The minor key takes us to more serious emotions. Outstanding in this suite is the Courante, a demanding spree of sixteenth notes that thrill. The ending Gigue is lively and upbeat, defying its minor key to leave us on a happy note.

Last in Part I of the performance was Suite No. 6 in D major, which is beautiful and melodic to the point of dreamy. The longest of the six suites, its history is a bit mysterious. Surviving writings indicate that it is meant to be played on a five-string cello christened "Viola Pomposa", which is slightly wider than a standard viola. The added fifth string is high E, usually a violin string, to add a more resonant sound. While it is lovely played on the modern four-string cello, one can't help but wonder what it would be like on the five-stringed instrument.

Part II of the concert takes us to Suite No. 1 in G major. The Sarabande is sweet and simple in its sound but demands work on the part of the cellist. Bach was a genius, and expected the same of anyone who dared to play his compositions. Hands and fingers jumping up, down, and all around. SUTTER has the musculature of an Olympic athlete. She was flawless.

Again we change to the feel of a minor key, Suite No. 5 in C minor. The Sarabande is unusually stark and minimalistic. Ingmar Bergman used it to great effect in his 1972 film "Cries and Whispers".

SUTTER concludes with Suite No. 3 in C major. The Allemande is playful in a dark way. The rest is, of course, a masterwork by both composer and cellist. At the end a few bow hairs made a break for it and flew back and forth playfully, as if they couldn't contain their enjoyment.

Anyone who hears her play will understand that feeling. She is brilliant.
-Karen D'Onofrio-
The Sheen Center for Thought and Culture
presents
The Streamed Event

A CONVERSATION WITH HARRY CONNICK, JR.

Hosted by DAVID DiCERTO, SHEEN CENTER INTERIM EXECUTIVE DIRECTOR

Available on Facebook and YouTube
https://www.sheencenter.org
https://www.youtube.com/watch?v=QKGhpzp1y90&live=1

July 29, 2020 7 p.m.

It is wonderful to hear Harry Connick, Jr., sing, but it is outrageously wonderful to hear him speak one-on-one about his life and career. His face, his smile, his talent, are out-shown (if that's possible) by his inner strength, faith, and the many charitable works he has done.

Born in New Orleans of a Catholic father and a Jewish mother, he grew up in a home full of old vinyl records. He loved that music. It was in his soul. Add his friendship with the Marsalis family (Wynton, Branford, and their father, Ellis) and you have an atomic explosion of musical talent and vitality. At age 18, basically penniless, he headed for New York City and got a job playing organ in a Catholic church. Hey, twenty bucks is twenty bucks.

The priest there, Father Richard Guastella, used to kindly take him out for a hamburger after Mass. They became life-long friends.

Three decades later, Connick has won Grammy and Emmy awards, acted on stage, in film, and in television, and has sold 28 million records worldwide. His success has not made him complacent. Far from it.

Connick credits New Orleans with making him into what he is. When Katrina struck in 2005, he burst into action. He helped to organize, and appeared in, the NBC live concert for Katrina relief. He, Branford Marsalis, and Habitat for Humanity joined forces to build the Musicians' Village in the hard-hit Ninth Ward.

Sadly, Marsalis family patriarch, Ellis, died of COVID. So did his dear, Monsignor Guastella. In dealing with these losses, he asserts that "love wins every time". He also has the beautiful philosophy that when you sing, you pray twice. He is more than a beautiful smile. He is a beautiful soul.

Listen to his COVID benefit song "Stars Still Shine" at https://www.youtube.com/watch?v=85pj4XCQ3z0

-Karen D'Onofrio-
the little OPERA theatre of ny
presents

Livestream Pop-Up Concert
at St. John's in the Village

MOZART & FRIENDS
Arias from Mozart's THE SHEPHERD KING

Song Translation: MARK HERMAN & RONNIE APTER
Based on the Libretto by PIETRO METASTASIO

Featuring
KAMERON GHANAVATI, RUFUS MULLER, & HEATHER JOHNSON

Instrumentalists: ELLIOT FIGG, CATHERINE MILLER, MANAMI MIZUMOTO, & SYDNEY ZUMMALLEN

Also music from Handel's oratorio JEPHTHA and his opera XERXES
Bonus Mozart aria and instrumental trios by JEAN-PHILIPPE RAMEAU & CHEVALIER de SAINT-GEORGES

www.lotny.org

July 9, 2020 7:30 p.m.

If life is a box of chocolates, this concert was a box of glittering jewels. Perfectly set at St. John's in the Village, the music was otherworldly in its energy and elegance.

The musicians played live on stage. The chemistry among them was like an electrical charge, empowering their enthusiasm for the pieces they performed. (Yes, they social-distanced.) MANAMI MIZUMOTO's incredible zeal seemed about to set her violin on fire. It was especially satisfying to see her athletic artistry blend with and echo HEATHER JOHNSON's divine rendition of Tamari's love aria from The Shepherd King. Her frolicsome vocal acrobatics highlighted her range and the sweetness of her voice.

The bonus music by Chevalier de Saint-Georges was lovely. Often referred to as the "Black Mozart", de Saint-Georges was a man of many talents and his being equated to Mozart is richly deserved, although he is not so well-known.

Kudos to the little OPERA theatre of ny for this shining moment.

-Karen D'Onofrio-
South Street Seaport Museum
Presents
The Virtual Return
of

CHANTEY SING

Moderated by BONNIE & DAN MILNER

www.seaportmuseum.org/ChantySing
The First Sunday of Each Month
2-4 p.m.

The Seaport's CHANTEY SING, formerly held on the ship Wavertree, has gone virtual and invites everyone to join in the fun. Wavertree, an iron-hulled sailing ship built in 1885, is now the largest wrought iron sailing vessel afloat. She commands a beautiful view of the Seaport area.

May 3 was the maiden cruise of the virtual sing via ZOOM. With 159 people signed-in, those who had registered in advance took their turns, one song each. Live shots from the Wavertree were interspersed from time to time, on what was a picture-perfect day.

The video and audio were excellent. Chanteys performed included classics like "Bully in the Alley" and "The Mermaid", plus new compositions by participants. Many of the singers had fun backdrops, clothing, and props to add to the enjoyment. The hosts kept it all organized to perfection.

And yes, for those of you who are familiar with chantey singers, there were many white-haired gentlemen with snowy beards. Haul away! A joy to watch and listen to this event.

-Karen D'Onofrio-
JULIA WADE AND FRIENDS
A Watchfire Music Release
www.watchfiremusic.com
Produced & Orchestrated by PETER LINK
Featuring
JULIA WADE, JENNY BURTON, REBECCA MINOR and PETER LINK
Is it too early to start talking Christmas? Not when you are celebrating with JULIA WADE AND FRIENDS. This album puts your Christmas favorites in the hands of genius composer, orchestrator, and producer Peter Link and gives them a fresh update. However and fortunately, most of the songs are original Link creations so sit back enjoy Christmas done in a most delightful and unique style.
Let's start with a waltz-like "Jingle Bells" that is an adventure of melodious sounds that will make you want to hunt down a sleigh and go for a ride. Then you can move on to "Heaven In His Eyes" executed by the crystal clear soprano of Julia Wade and "I Live The Joy" by the amazing Jenny Burton (when Jenny sings, you feel all is well with the world). And for variety there's Julia's Country/Western rendition of "The Night I Met St. Nick" and a jazzy "My Friend Gabriel" beautifully brought forth by Rebecca Minor. The songs that magically combine the voices of Julia Wade, Jenny Burton, Rebecca Minor and Peter Link are true treasures ("Jingle Bells," "Do You Hear What I Hear"). And when Link does what he does so well – put his memories into songs ("I Remember Christmas," "Christmas Eve") - the holiday spirit is upon you. Make friends with JULIA WADE AND FRIENDS – they will be great companions throughout the holidays and provide you with year-long inspiration.
- Laurie Lawson -
REMNANTS
A Watchfire Music Release
www.watchfiremusic.com
Produced & Orchestrated by PETER LINK
The lyrics in the title song define REMNANTS as "scraps of songs that never found a home, words that didn't quite make sense." So, of course, Artiste Supreme Peter Link decided to create an album of his many remnants. And with Link's huge talent, nothing is done in a small way. When he moves front and center onto the stage, it is a full-fledged leap. As the curtain is pulled aside, you expect a full orchestra complete with a group of backup singers. Instead there stands Peter Link who, in addition to arranging and performing all the songs, also plays all the instruments and provides the backup, harmony, and sound effects. He gets a little help with vocals from Jenny Burton on the title song and from Julia Wade on the Caribbean-flavored "Whitebird," but for the most part this is a one-man extravaganza.
The diversity of REMNANTS is astounding. "Lady In Waiting" consists of philosophical musings that turn into a gentle love song; "Shadows Away" uses an African beat merged with a bit of new age music to declare a jubilant coming into one's own (kind of like this album); the harmonica-infused ode to love, "The Only Dance There Is," reminds us to live in the moment; and the emotional swell of the beautiful "This Is All I Ask" will move you to tears. Link performs them all with a compassionate voice capable of an impressive range. Each song is polished to perfection, gently placed in an emotional wrapper, and presented as a treasured offering to anyone who appreciates music. Yet another debt of gratitude owed to Peter Link for sharing his genius.
- Laurie Lawson -
SUNDAY MORNING – JULIA WADE
Music & Lyrics by PETER LINK
Produced & Orchestrated by PETER LINK
A Watchfire Music Release
You know how you are always being encouraged to sing your praises to the Lord? Well, now thanks to the amazing composer/orchestrator Peter Link and the angel-voiced Julia Wade, mission easily accomplished. Adapting lyrics from the Psalms, Bible verses, and even a poem from Mary Baker Eddy, songs soar from SUNDAY MORNING. From a majestic "Peace Be Still" (adapted from Mark 4) and the echoing assurance of "I Am Here" (adapted from Isaiah 43) to a joyful beats of "To Carry On" (adapted from Psalms 30) and "This is My Commandment" (adapted from John 15), you will find at least one track that speaks directly to your soul. The orchestration on "The Daily Prayer" (adapted from Eddy's poem) alone is worth your listening time; it's the perfect accompaniment for Wade's ethereal voice. Beginning with "Beautiful" (adapted from Psalms 96, 90 & Eccl3) which is an indication of things to come and ending in the triumphant "Live In Peace" (adapted from Corinthians 13 & Ephesians 4), Julia Wade's SUNDAY MORNING is a spiritual musical journey you will want to take again and again.
<![if !supportLists]> - <![endif]>Laurie Lawson -
Metropolitan Playhouse presented
IRIS STRING QUARTET
with
YIBIN LI, Violin
MUNEYOSHI TAKAHASHI, Violin
ENTELA BARCI, Viola
SEAN KATSUYAMA, Cello

December 16, 2016
220 East 4th Street between Avenues A and B

Metropolitan Playhouse located in the East Village was pleased to present the IRIS STRING QUARTET in a concert of major works by Ravel and Shubert, along with the World Premiere of MICHAEL KOSCH'S Giotto (selections) for violin solo. The program included: Maurice Ravel's Sonata for Violin and Cello; Franz Schubert's String Quartet No. 14 in D Minor, D.810 "Death and the Maiden"; and, Kosch's world premiere.

The IRIS QUARTET has played in most of New York's finest venues like Carnegie Hall, Alice Tully, Steinway, Merkin, and Avery Fisher Hall at Lincoln Center so it was a pleasant surprise to listen to them in a small chamber; especially, for the classical chamber music lover. Apparently, the quartet is named after the Greek goddess of the rainbow. These young musicians come from different countries (Albania, China, and Japan) and some were educated at Juilliard and others at respective renowned schools in their country of origin as well as having trained with the masters in their field.

The Iris Quartet was excited to lead off a fifth season of concerts in this award-winning theater that is an integral part of the East Village theater scene. Metropolitan Playhouse was also delighted to present the Iris String Quartet as part of the MUSIC AT METROPOLITAN series in its intimate downtown home, whose acoustics and size are ideally suited to chamber concerts and solo artists' recitals.

The concert began with a lovely surprise Bach violin solo by Muneyoshi Takahashi.

Maurice Ravel's (1875-1937) Sonata followed and was a very interesting choice made by Yibin Li. It almost sounded as though it were composed for the 21st century and yet it was composed between 1920-24. It flirted with avant-garde approaches linked to Stravinsky and Schoenberg and its astringent harmonies sounded like what we regard as avant-garde jazz today. This was very different than the Classical Ravel that I'm accustomed to and which defined this Frenchman's work.

Kosch's (b. 1959) world premiere was next which was inspired by Giotto di Bondone (1267-1337), a Florentine painter and architect who was considered one of the first great artists of the Italian Renaissance. Kosch is known to compose his works inspired by great artists with the idea that art inspires musical composition.

After a short intermission, the quartet finished with another interesting choice—Franz Shubert's (1797-1828) "Death and the Maiden". Ms. Li explained that this string quartet was composed while Shubert was dying so it felt like the notes were between life and death, but more like celebrating the last moments of his life. Shubert's music influenced by the Romantic movement sounded poignant and rapturous.

After the intimate and romantic performance, there was a lovely reception whereby all the audience members could meet the musicians and the composer, Kosch, which led to interesting conversations.

By
Laura Thompson
www.laurathompsoncoaching.com
National Chorale presents
A GERSHWIN CELEBRATION
Artistic Director: EVERETT McCORVEY
Featuring
KAREN SLACK, JANINAH BURNETT, ROBERT MACK, and KENNETH OVERTON
Pianist: MICHAEL FENNELLY
The Profession Performing Arts High School Choir
Conductor: VAGARSHAK OHANYAN
Pianist: STEVE VAUGHAN
David Geffen Hall at Lincoln Center for the Performing Arts
10 Lincoln Center Plaza
October 21, 2016
The National Chorale began its 2016-2017 with a sure-fire winner – A GERSHWIN CELEBRATION. The warm-up was a medley by The Professional Performing Arts High School Choir of some of the prolific songwriter's classics, including "Let's Call The Whole Thing Off," "They Can't Take That Away From Me," and "Strike Up the Band." Worth the price of admission on its own was Michael Fennelly's arrangement of "Rhapsody In Blue." Exquisite and majestic, its interpretation of "a musical portrait of New York City" would make any city dweller swell with pride. And of course, "Porgy & Bess, A Celebration of Songs," arranged by Robert Russell Bennett and narrated by Ami Brabson, was an all-time favorite. A GERSHWIN CELEBRATION was a magnificent tribute to George Gershwin.
I don't usually critique audiences but this particular one deserves special attention. Picture taking, texting and talking, hats remaining on heads, people arriving late and leaving mid-performance, and general rudeness made one long for the good old days when respect was shown for the performers and fellow audience members. A GERSHWIN CELEBRATION was worthy of a two-hour pause, and if that doesn't seem possible, then perhaps you should stay home and allow others to enjoy music.
- Laurie Lawson -
Sheen Center for Thought and Culture presents
IS ANYBODY LISTENING?
Starring JENNY BURTON and JULIA WADE
With
FREEDOM BREMNER, BRIAN COLLAZO, TANESHA GARY, ELLE GREEN
SOLANGE PRAT, JONATHAN SINGLETARY, ANNE FRASER THOMAS
Director: PETER LINK
Choreographer: DELL HOWLETT
Associate Choreographer: HOLLIE E. WRIGHT
Set and Video Designer: WILLIAM BARCLAY
Lighting Designer: PHIL MONAT
Projections Designer: GIL SPERLING
Sound Designer/Engineer: STEFAN BENSAID
Production Stage Manager: JUSTYN WADE
Vocal Arrangements: CELISSE HENDERSON & MARGARET DORN
Loreto Theater
18 Bleecker Street
www.SheenCenter.org or (212) 925-2812
September 22, 23, 29, 2016 @ 7:30 PM; October 4, 2016 @ 8:00 PM
There is a perfect storm going on over at the Sheen Center, and you are going to want to be totally immersed in the experience. Two-time TONY nominee Peter Link (www.watchfiremusic.com) has long known the power and universality of music, and in IS ANYBODY LISTENING? his songs address the current and ongoing issues of racism, sexism, and water using a brilliant combination of pop and gospel. To deliver the message he employs powerhouse Jenny Burton of the unforgettable Jenny Burton Experience. Ms. Burton can sing the planets out of orbit, encouraging you to "Tear Down The House" and inspiring you to jump up and volunteer with "Who Will Heal The World." The heaven-sent voice of Julia Wade hauntingly asks "How Are We Raising Our Sons" and lifts "A Still Small Voice" up to dimensions beyond. The other singers on stage (you can't call them back-up because each one has a voice that can easily knock your socks off) are Freedom Bremner, Brian Collazo, Tanesha Gary, Elle Green, Solange Prat, Jonathan Singletary, and Anne Fraser Thomas. Collectively these forces have come together to remind us that there are issues that must be acknowledged. They do that with songs of celebration, hope, and cohesion. To call IS ANYBODY LISTENING? a concert is doing it a disservice. It's a bone-chilling soul-searching arousal of humanity and its ability to survive and thrive. EVERYBODY should be listening. One more show – go, go, go!
- Laurie Lawson -
Dell'Arte Opera Ensemble Presents:
Violetta and her Sisters
MANON
The Rose Nagelberg Theater
At the Baruch Performing Arts Center
55 Lexington Ave.
NY NY
13-28 August 2016

Composed by Jules Massenet
Libretto by Henri Meilhac and Philippe Gille after the novel Manon Lescaut by the Abbé Prevost
Directed by Victoria Crutchfield
Conducted by Cjros Fecteau
Featuring: Olivia Betzen, Sean Christensen, Stan Lacy, Nick Webb, Andrew Surrena, Nobuki Momma

A black box theater can be arranged in any number of possible ways. Upon entering the Nagelberg Theater for the performance of MANON, the set and orchestra were set up as a parallelogram, with the geometric stage on the left and the orchestra on the right, both extending back at an angle to the right. This created more intimacy between the audience and orchestra, but made an awkward stage for the performers. There were many uncomfortable glances as the singers snuck looks to their left to see the conductor, breaking their connection with the other singers.

The unusual arrangement of the set also made for some clumsy maneuvering for the performers as well. Many times, they seemed to be coming perilously close to the edge.

Awkward staging aside, this was a terrific performance of MANON. The voices were marvelous. Olivia Betzen made a lovely Manon, and Sean Christiansen's tenor was velvety rich as Des Grieux. Stan Lacy's Lescaut also stood out in the very fine cast. At three hours and ten minutes, one would expect it to feel long, but the performances were so wonderful, the time flew by.

Dell'Arte Opera Ensemble is to be commended for bringing young opera singers together and sharing their talent with us. It is a great opportunity for developing artists and a great theater-going experience for the audience.

- Jean Tait -
Metropolitan Playhouse presented
IRIS STRING QUARTET
with
YIBIN LI, Violin
MUNEYOSHI TAKAHASHI, Violin
ENTELA BARCI, Viola
SEAN KATSUYAMA, Cello

December 8, 2015
220 East 4th Street between Avenues A and B

Metropolitan Playhouse located in the East Village was pleased to present the IRIS STRING QUARTET in a concert of major works by Mendelssohn and Haydn, along with the World Premiere of MICHAEL KOSCH'S Strokes of Sky: Paris. The program included: Joseph Haydn, String Quartet in B Flat major, Op. 76, No. 4 "Sunrise," Felix Mendelssohn, String Quartet in D Major, Op. 44, No. 1 'The American," and Kosch's world premiere.

The Iris Quartet has played in most of New York's finest venues like Carnegie Hall, Alice Tully, Steinway, Merkin, and Avery Fisher Hall at Lincoln Center so it was a pleasant surprise to listen to them in a small chamber; especially, for the classical chamber music lover. Apparently, the quartet is named after the Greek goddess of the rainbow. These young musicians come from different countries and some were educated at Juilliard and others at respective renowned schools in their country of origin as well as having trained with the masters in their field.

Haydn's "Sunrise" was symbolic of the Age of Enlightenment and was played with utmost seriousness. Kosch's world premiere followed and is the first of a four-part quartet inspired by Vincent Van Gogh's latest works while in France with the idea that art inspires musical composition. If the intention was to portray bustling city streets and contemporary life, it succeeded. Actually, it looked difficult for the musicians to perform so was that the composer's intention or does it need to be improved?

After a short intermission, the quartet finished with a beautiful rendition of Mendelssohn that was music to the ears and played with confidence and expertise. This energetic string quartet unfolded in pleasing, sweet melodious patterns. It was my favorite piece. Mendelssohn was an icon of Romanticism and died at the age of 38. This energetic string quartet unfolded in pleasing, sweet melodious patterns.

For more information about the Metropolitan Playhouse, visit www.metropolitanplayhouse.org.
For more information about the Iris String Quartet, visit www.irisquartet.com.

By
Laura Thompson
www.loralia.com
Art of Time Ensemble
presents

SGT. PEPPER'S LONELY HEARTS CLUB BAND

Artistic Director: Andrew Borashko

Vocalists: Andy Maize, Craig Northey, Steven Page, Glen Phillips

The Ensemble: Andrew Burashko, Carolyn Blackwell, Bryan Holt, John Johnson, Larry Larson, Douglas Perry, Joseph Phillips, Rob Piltch, Rachel Pomedli, Rick Sacks

Press Representative: Michelle Tabnick Communications

Brooklyn Center for the Performing Arts at Brooklyn College
Whitman Theatre, 2900 Avenue H, Brooklyn, New York
November 21, 2015


This one night only performance by Toronto's Art of Time Ensemble is a reimagining of Sgt. Pepper's Lonely Hearts Club Band, including a few bonus Beatle's tunes (Strawberry Fields, Penny Lane, Here Comes the Sun, All You Need is Love). The Ensemble's, led by Russian born Andrew Burashko, interprets this critically praised album by blending jazz, rock, pop and classical music.

The lead vocalist, Steven Page, began by asking the audience to imagine we are back at our parent's home sitting on the shag carpet with large Radio Shack headphones, listening to the music of the Beatles. Three other vocalists join him on harmonies, and take some of the lead vocals, but Mr. Page stood out. The harmonies on Lovely Rita, A Day in the Life, Oh Darling, and Here Comes the Sun were outstanding. The orchestra did wonders for these vocalists, and could stand well even without the vocals. This 13-piece Ensemble takes Beatle's music to another level. They experiment with jazz rhythms, medleys, Dixieland and vaudeville sounds, with a terrific horn section, especially on Penny Lane. Fittingly, they ended with a sing-a-long of All You Need is Love.

Mr. Burashko was first turned on to the Beatles en route to America from Russia as a young boy. He has devoted much of his career to interpreting the songs of the Beatles, and has done so admirably. Most recently the Ensemble performed their rendition of Abbey Road. We look forward to hearing more about them and their future experimental interpretations.

- Gloria Talamas -
Brooklyn Center for the Performing Arts at Brooklyn College
Opened is 2015-16 season with
MICHAEL FEINSTEIN
Sinatra Centennial Celebration
October 25, 2015
with
TEDD FIRTH, Piano
and
SEAN SMITH, Bass
and
MARK McLEAN, Drums


MICHAEL FEINSTEIN is a two-time Emmy and five-time Grammy Award-nominated singer/pianist known as "The Ambassador of the Great American Songbook". This multi-platinum-selling entertainer opened Brooklyn Center's 61st season with a tribute to Ol' Blue Eyes in celebration of what would have been Frank Sinatra's upcoming 100th birthday on December 12th.

Feinstein's impeccable interpretive skills were brought to the greatest tunes sung by Sinatra in the 20th century. TED FIRTH did an outstanding job playing the piano accompanied by SEAN SMITH on Bass and MARK McLEAN on Drums. Feinstein having once met Sinatra sang some of the family's favorite songs as well as songs from Sinatra's preferred composers and lyricists, along with a commentary about the back story of many of the songwriters who wrote for Sinatra which proved very interesting.

Mid-way through, Feinstein spoke about the Great American Songbook Foundation that he founded dedicated to celebrating the art form and preserving it through educational programs, Master Classes, and the annual High School Songbook Academy. As a delightful surprise, he introduced the winner of the 2010 Great American Songbook Academy, ANNIE YOKOM who sang and performed brilliantly by herself with the trio of musicians and earned laudable applause.

Feinstein returned to the stage and finished with a swinging Sinatra medley, a real crowd pleaser, including "I've Got You Under My Skin," "Witchcraft," and ending with "New York, New York" but of course, a grand tribute to a great city!

Overall, it was a wonderful rendition to Sinatra and Feinstein put together a great song selection that turned out to be a nice ode to Ol' Blues Eyes' career with some video footage as a backdrop.

For more information about the Brooklyn Center for the Performing Arts at Brooklyn College
2015-16 season, please visit www.BrooklynCenter.org.

By
Laura Thompson
www.loralia.com
TURKEN FOUNDATION
presents
YPHIL – International Youth Philharmonic Orchestra
Concert for Global Peace
at Isaac Stern Auditorium/Ronald O. Perelman Stage, CARNEGIE HALL
September 27, 2015
with
JOSE LUIS GOMEZ, Conductor
and
ALEXANDER MARKOV, Violin
and
DANNY GLOVER, Host

YPHIL brought together 100 young talented musicians aged 18 to 26 from 74 countries to express peace through the common language of music at Carnegie Hall, September 27, 2015, during the United Nations General Assembly week. SERHAT KAAN, Founder and Chair of YPHIL Orchestra and Director of Turken Foundation, is committed to raising awareness for global youth issues and human rights.

The evening was hosted by DANNY GLOVER, an award winning actor, producer, former Goodwill Ambassador for the United Nations Development Program and currently, serves as UNICEF Ambassador. Opening remarks were given by Mr. Kaan concerning the United Nation's development goals for the next 15 years. He focused on the goal to end world poverty. Mr. Glover, thereafter, introduced the YPHIL who performed the program with classical instruments, along with traditional instruments from some of the musicians respective countries.

The young musicians performed beautifully J. SIBELIUS, Finlandia, Op. 26, F. MENDELSSOHN, Violin Concerto in E minor, Op. 64 featuring ALEXANDER MARKOV, Soloist who has been hailed as one of the most captivating, brilliant and musical violinists, according to Lord Yehudi Menuhin. Markov was a delight to listen to and full of energy and even played a bit of Paganini as an encore for which he's an acclaimed virtuoso.

The evening continued with C. Debussy, Clair de lune (arr. Clapet), followed by an almost avant-garde composition by SEAN J. KENNEDY, Kaku, Kupula, Fear in Neutral Buoyancy dedicated to 2015 YPHIL International Philharmonic Orchestra and all young musicians around the world, continued with an excerpt from MICHAEL VONGOVA'S Piano Concerto for the United Nations, in celebration of the 70th anniversary of the United Nations sung stupendously by choral soprano, BRENDA VONGOVA, to end with F. KANCA, Turken Foundation Symphonic Suite of Voices of the World—featuring traditional instruments from around the world.

The aim of the concert was to show the world how musicians of different countries can work together regardless of their nationality, race, beliefs, language barriers and perform brilliantly. It truly was a celebration of the collaboration of diverse cultures. The dynamic performance exemplified that when people collaborate from all over the world, they can create a better world to promote peace, and, in this case, raise awareness for universal youth issues. What a magnificent message brought through music! For more information about YPHIL, visit www.yphil.org.

By
Laura Thompson
www.loralia.com
BOPPER POPPIN' ONE MORE TIME
KENNY BOPPER GIBSON
Produced and Recorded by ERIN KNUDSEN & GARY CAFFREY
At PRO MUSICA 21 STUDIOS
Along the shores of the Chesapeake Bay in the quaint town of Oxford, MD, Sandaway Waterfront Lodging offers a peaceful retreat from the hustle and bustle of everyday life. You can revel in doing absolutely nothing, but that certainly doesn't mean there isn't fun to be had. One of the most unexpected delights comes from Innkeeper Kenny Gibson. In the small gift shop at Sandaway you'll find a CD entitled BOPPER POPPIN' ONE MORE TIME that Gibson recorded in 1999. And on this CD there is a fantastic selection of 1950's music that includes Oldies But Goodies like "Chantilly Lace," "Great Balls Of Fire," "Finger Poppin' Time," "He Will Break Your Heart (which I can't stop singing),"and "Earth Angel" to name a few. Remaining mostly true to the original styling, Gibson's mellow bass voice will take you back to a time when music was music. Do I sound like my Grandmother? Maybe, but this CD makes me glad that I am old enough to appreciate the songs on it. You can visit this lovely locale, pick up a CD, and sing along with the Bopper all the way home. Or you can call (888) 726-3292, and for a mere $15 including shipping, the CD will be mailed to you. Long live the Bopper!
- Laurie Lawson -
The Collegiate Chorale
Ted Sperling, Artistic Director, 73rd Concert Season Presents
NOT THE MESSIAH (He's a Very Naughty Boy)
Inspired by Monty Python's The Life of Brian
By ERIC IDLE and JOHN Du PREZ
Featuring
LAUREN WORSHAM, Soprano
VICTORIA CLARK, Mezzo-soprano
WILLIAM FERGUSON, Tenor
ERIC IDLE, Baritone-ish and Narrator
MARC KUDISCH, Bass
LYNNE MARIE ROSENBERG, Sheep Lady
THE COLLEGIATE CHORALE
ORCHESTRA OF ST. LUKE'S
MEMBERS OF THE NEW YORK METRO PIPE BAND (Brendan Gomez, James M. Feeney, Donal Morrisey, Scott M. Gajdos)
TED SPERLING, Conductor and Director
Lighting Designer: FRANCES ARONSON
Sound Designer: SCOTT LEHRER
Stage Manager: LINDSEY TURTELTAUB
Wardrobe Supervisor: RACHEL TOWNSEND
Carnegie Hall
57th Street & Seventh Avenue
212-247-7800 or www.carnegiehall.org
December 15 & 16, 2014

Your first clue should be in the title – NOT THE MESSIAH (He's a Very Naughty Boy). Your second is the Monty Python model, and third is Eric Idle as Creator, Narrator, "Baratone-ish Singer, and Instigator. This is a night full of sacrilegious irreverent innuendos, sarcasm, and just out-and-out fun. Idle and John Du Prez are responsible for this convoluted version of one of the oldest stories around. In this comic oratoria the mixed musical styles include pop, country, Broadway, doo-wop, hip hop and Greek chorus. You can throw in the New York Metro Pipe Band for good measure. Idle defines it as "Baroque-N-Roll."

Based on the movie The Life of Brian, William Ferguson is the reluctant Messiah conceived by Mother Mandy (Victoria Clark) as the result of a financial transaction that involved the display of her ample bosom. Lovely Lauren Worsham is Brian's love interest, and Marc Kudisch's deep bass voice provides a variety of male characters. The Sheep Lady (Lynne Marie Rosenberg) occasionally joins in the madness. And make no mistake, the Orchestra of St. Luke's directed by Tony and Drama Desk Award Winner Ted Sperling is in on the plot. Not only providing impressive music but also creative choreography, they are worthy of quite a few chuckles themselves.
Orgasms, prostitution, shoe worship, Bob Dylan impressions, transgender dreams, and Romans running amok – this ain't your momma's Messiah but it sure is fun.
- Laurie Lawson -
Gotham Chamber Opera and Tectonic Theater Project present

EL GATO CON BOTAS (PUSS IN BOOTS)

Music by Xavier Montsalvatge
Libretto by Nestor Lujan
Conducted by Neal Goren
Directed by Moises Kaufman
Puppet Director: Mark Down
Scenic Design: Andromache Chalfant
Puppet Design: Nick Barnes
Costume Design: Clint Ramos
Lighting Design: David Lander
Choreographer: Sean Curran

Singers: Ginger Costa-Jackson, Karin Mushegain, Andrea Carroll, Craig Verm, Kevin Burdette, Stefanos Koroneos
Puppeteers: Stefano Brancato, Jonothon Lyons, Aaron Schroeder, Joseph Gallina, Ben Liebert, Marta Mozelle MacRostie, Jessica Scott, Teddy Yudain

Press Representative: Michelle Tabnick Communications

El Teatro at El Museo del Barrio
1230 Fifth Avenue
Through December 14, 2014
212.279.4200: www.ticketcentral.com

This show is special, especially during the holidays. It is teeming with skillful puppeteers, talented singers, fabulous puppets, with a spirited score and a nifty tale.

Puss first appears fumbling through the not-yet-drawn curtains to audience laughter. He is a scrawny, mangy cat with delightful movements. Miller, his new owner, is not pleased that his one inheritance is this unpleasant creature, and is ready to skin him for a hat.
Puss is hungry to live. He convinces Miller that fortune and love will be his if he makes certain provisions. Puss will need a hat, a cape, boots and a sword–transforming himself into royalty–to convince the village King and his daughter to buy into his scheme, and get the princess to wed Miller.

He presents the King with rabbits he trapped, much to the King's delight, and presents the princess with a love letter from the "Marquis" (actually Miller). She is smitten. Puss must now find a clever way for them to meet the Marquis, which he does by fabricating Miller's drowning and rescue. To find a proper home for the Marquis, Puss goes to the town Ogre, who consists of flowing parts, deftly put together and settling into one large, frightful creature. The Ogre shows off his abilities to transform into any form. Puss cajoles the Ogre to change into smaller and smaller creatures until he becomes a rat, which Puss preys on. The lovely palace now belongs to the Marquis and his new bride. And everyone lives happily ever after.

The musical orchestration, story and puppets were masterfully created. The puppeteers were not hidden, though sometimes had thin veils on their faces. Yet, their ability to disappear into the background was astounding. Some puppets had the faces of their puppeteers with the bodies of their midget selves, which was hilarious. All were a sight to see.

The opera, staged by the Gotham Chamber Opera four years ago, works for young and old alike, though unfortunately few children were present at last evening's performance. Perhaps it is because the evening shows are in Spanish with English supertitles. However, matinees are in English. El Teatro is a terrific venue for this show. The auditorium walls are painted in murals of children's stories like Jack and the Beanstalk, Hansel and Gretel, Little Red Riding Hood, Cinderella and Puss in Boots.

Hurry and see this before it ends!

Gloria Talamas
Watchfire Music
(www.watchfiremusic.com)
Presents
THE BEST OF JENNY BURTON
Produced and Orchestrated by PETER LINK
Members of "The Jenny Burton Experience"
Steve Abrams, Jenny Burton, Margaret Dorn, Chrissy Faith, Andricka Hall, Keith Fluitt, John James, Stephanie James, Branice McKenzie, Don Corey Washington, Keith Hart.
As if there wasn't enough to celebrate during November and December, JENNY BURTON and PETER LINK have come up with yet another reason for jubilation – THE BEST OF JENNY BURTON. All of your favorites in one place – songs of inspiration ("Who Will Heal The World," "Tear Down The House"), ballads of wisdom ("I Think On These Things," "Love Runs Deeper Than Pride"), tributes to the human spirit ("I Want My Life Back," "You Bring Me Joy"), and pure joyousness ("You Knock Me Off My Feet," "You Got It w/Peter Link") – 16 in total, combining R&B, gospel, rock, blues, and standards ("Turn Turn Turn" reworked by Link). And Burton with her smooth sultry voice takes command of each one and infuses the message with passion and an underlying conviction of hope. After creating brilliant orchestrations and writing lyrics, you'll find Link in the background playing instruments. The talent of the Burton/Link team is both astounding and undeniable. Throw in the members of The Jenny Burton Experience on some of the releases, and your cup runneth over. THE BEST OF JENNY BURTON – all we can say is "Thank You!"
To sample and download songs, go here: http://www.watchfiremusic.com/album.php?dcid=238 , You can also download a fantastic Digi-Book that chronicles the amazing career of Burton with inside stories and plenty of photos.
Happy Holidays made a bit happier by this release.
- Laurie Lawson -
State Opera and Ballet Theater "Astana Opera"
present

VOICE OF ASIA

Press Representative: Audrey Ross

Carnegie Hall/Perelman Stage
October 27, 2014

The Astana Opera, named after the capital of Kazakhstan, was founded in 2013 by the President of the Republic. This is an impressive company especially given its youth and diversity. However, concert music and the arts are not new to Kazakhstan, which is evident in the various performance pieces last evening. In 2013, the company staged Verdi's Attila and Kazakh composer, Tolebaev's Birzhan-Sara in the newly built, modern Astana Opera house.

Carnegie Hall is the first stop on their 2014 world tour of Voice of Asia with pieces that run the gamut from traditional Kazakh music to western and Russian operas (Rossini, Verdi, Borodin and Bernstein). The ambitious program began with Rakhmadiev's Qudasha Duman, a lively, galloping, symphonic scherzo piece which brought to mind horses thundering over the steppes of central Asia. This piece was followed by an emotional rendition of Tchaikovsky's Violin Concerto in D major, Op. 35, with Erzhan Kulibaev on violin, giving a rich and powerful sound to this difficult piece.

We were then treated to Tolebaev's Aitys from Birzhan & Sara, with the performers in traditional, colorful costumes and evocative voices. The remainder of the program included: Zhubanov-Khamidi's Aittym salem Kalamkas from Abai with tenor Medet Chotabayev; Verdi's Santo di Patria from Attila, sung by Zhupar Gabdullina with a powerful and sonorous chest voice; Rossini's Largo al factotum from the Barber of Seville with a forceful and lusty performance by Sundet Baygozhin; Offenbach's Belle Nuit Barcarolle from the Tales of Hoffman was haunting and expertly sung by Aigul Niyazova and Dina Khamzina; Bernstein's Glitter and Be Gay from Candide was a bit shrill, though lively and theatrical. Elijah Rock was an a cappella rendition of traditional American spiritual music alternating men and women in line, decked in black and white giving a balanced, melodic sound.

The traditional Kazhak pieces were marvelous and illuminating for this western reviewer. The Kazakh Folk Songs medley was terrific and the Tugan zher Motherland Folk duo was beautiful and memorable, played on the dombyra and kobyz - two-stringed, ancient instruments of Kazakhstan - and accompanied by the orchestra. The closing number, Polovstsian Dances from Borodin's Prince Igor, was big, lively and robust. The 110-plus member orchestra was expansive, energetic and precise.

The evening was a learning experience that left us feeling enlightened and interested in the Kazakh culture and anxious to hear more from Kazakhstan. To learn more about this new and promising opera company, visit their website at http://astanaopera.kz/en/

- Gloria Talamas -
PLAY ME by SHARON HUNTER
www.sharonhuntervoice.com
Produced by Sharon Hunter Productions
Vocals: SHARON HUNTER
Background Voices: LaTANYA HALL and DARRYL TOOKES
Piano: BARRY LEVITT
Guitar: IRA SIEGEL
Bass: JEFF GANZ
Drums: HOWIE GORDON

In Sharon Hunter's debut album, PLAY ME, she takes some (all?) of the much-loved songs from the 1970's and gives them a feminine twist. Her voice perfectly matched to the music, she relays the message without sacrificing the tune and the power of the original song that made it such a favorite. With a touch of husky and a sense of playfulness, she holds her own with masters like Neil Diamond (title song), Paul Simon ("Still Crazy After All These Years"), The Eagles ("Hotel California"), Bruce Springsteen ("Fire"), Kris Kristofferson ("Help Me Make It Through The Night"), John Denver ("Take Me Home Country Roads"), Billy Joel ("Only The Good Die Young"), and many more. Pop, Rock, Country/Western, R & B – no problem. Hunter's clear voice and enthusiasm bring in home in style.
PLAY ME has a wide variety of 15 well-executed songs that are guaranteed to bring back a memory or two. Sharon Hunter makes it so much fun that this could become one of your favorite albums. PLAY ME is available at cdbaby.com, iTunes, and Amazon. Treat yourself.
- Laurie Lawson -
MIRACLE OF FAITH
A Trilogy

Concept by DORA REDMAN
Lyrics by DORA REDMAN and PETER LINK
Music by PETER LINK
CD and Digi-Book Graphic Design by CRAIG WAGNER
Mastered by PHILIP KLUM MASTERING, New York City
An Instrumentation Performed and Programmed by PETER LINK

MIRACLE OF FAITH A Trilogy is a musical adaptation of the miracle of the loaves and fishes where Jesus fed 5000 with five loaves of bread and two fishes. Conceived by Dora Redman, she and Peter Link have created lyrics that tell the story from three different perspectives. Link threw in his musical genius and managed to produce musical theatre on a CD, or as Link likes to call it "Music of the Imagination."
In God Made It So, the clear refreshing voice of Noah Marlowe tells the story from the viewpoint of a child who does not have to be taught to believe in miracles. In Through The Eyes Of A Child Disciple Doubting Thomas, who has trouble accepting as truth what he cannot see, recounts the event. Link takes on the role of Thomas. The Evidence Of Things Unseen has the heavenly voice of Julia Wade as Mary Magdalene sharing the occurrence as one of many that she has seen in her lifetime. With each artist doing an impressive job, it is fascinating to hear three distinctive interpretations of the same event. And there is always a bonus with a Peter Link production. This time it is the orchestrations between the three performances – The Opening, The Sermon, and Celebration. These three musical bridges take you to soaring heights and bring you down to a peaceful states of reflection – rarely is music put to such a majestic purpose.
MIRACLE OF FAITH was a miracle of faith in its creation. You can learn all sorts of behind-the-scenes facts and anecdotes by downloading the picture-rich Digi-Book at www.watchfiremusic.com/digi-books. The CD can be purchased at www.WatchFireMusic.com.

- Laurie Lawson -
The Collegiate Chorale
presents
the New York Premiere
of

battle hymns

By DAVID LANG
Conducted by JAMES BAGWELL
Directed by TED SPERLING

The Intrepid Sea, Air & Space Museum
Pier 86
12th Avenue & 46th Street
New York, NY 10036
(646) 202-9623 or www.collegiatechorale.org
May 15, 2014

One drum, 200 voices, at the Intrepid. It can't get more inspiring than that.

The Collegiate Chorale, the Manhattan Girls Chorus, and the Veteran Artist Program joined forces to perform this contemporary musical interpretation of Civil War era material. Using the words of Abraham Lincoln, Stephen Foster, and others, Pulitzer Prize winner DAVID LANG has created a haunting and evocative exploration of human feelings during some of the most brutal years of United States history.

The singers are on the stage, walking down the aisles, or singing from a balcony facing the rest of the choir. The audience, surrounded by the Hangar Deck of the Intrepid and the voices, cannot help but feel the authenticity and palpable emotion of anyone who has been touched by war. The combined choir includes all ages and races. The young voices, innocent, want to be soldiers. The older voices feel a deeper, mightier force. One selection deals strongly, directly, and effectively with being a master and being a slave. Another uses the words of a devoted soldier's letter to his beloved wife back home.

The 200 voices alternately sing in unison, counterpoint, and multi-layered polyphony, a sort of vocal Jackson Pollock painting. Complicated and inventive, LANG's portrait of war compels the audience to experience the hurt, fear, and bravery on a subliminal level. Hypnotic and unsettling, it is not understood in a linear fashion, but rather felt through all the senses and multiple levels of the listener's being. Eerily disturbing, in constant motion, it is a tsunami of words and tones that washes over the beholder.

DAVID LANG is committed to music that resists classification. This production is no exception. Using his own special outlook, he has created a unique, challenging, and touching vocal tribute to everyone who has suffered during war.

-Karen D'Onofrio-
Watchfire Music Presents
www.watchfiremusic.com

JENNY BURTON: Reaching Out from the Inside

Award-winning Producer/Composer Peter Link and Songstress Supreme Jenny Burton have released 3 "appetizer" songs from her upcoming album REACHING OUT FROM THE INSIDE. I use the term appetizer because they will definitely leave you wanting more. Burton's husky voice reaches the heights of a joyous celebration in a reworking of The Winans' "Uphold Me," and the simplicity of the poignant "A Pile of Tears," composed by Link from a title suggested by Burton, will have you amazed at the ability of both artists to evoke so much emotion from four little words. By far the masterpiece (there's always at least one with these two) is the complex and rich "In Your Eyes," from the movie Say Anything. Here you witness the genius of Link's styling with African beats and chanting while Burton does what she does best – rocks it! And as a bonus a free Digi-Book is available full of inside information about the project and great pictures. REACHING OUT FROM THE INSIDE will fill you up until the complete album gets here in Spring 2013.

- Laurie Lawson -
Watchfire Music Presents
www.watchfiremusic.com

GOIN' HOME
On Heaven and Beyond

Starring

JENNY BURTON
ANGELA CLEMMONS, MARGARET DORN, KEITH FLUITT
JOHN JAMES, KEVIN OSBORNE, CATHERINE RUSSELL
VANEESE THOMAS AND DARRYL TOOKES

With

Special Guest Artists
BARRY DANIELIAN, TOM TIPTON, JULIA WADE

Vocal Arrangements by MARGARET DORN
Composed with Additional Music and Lyrics by PETER LINK
Produced and Orchestrated by PETER LINK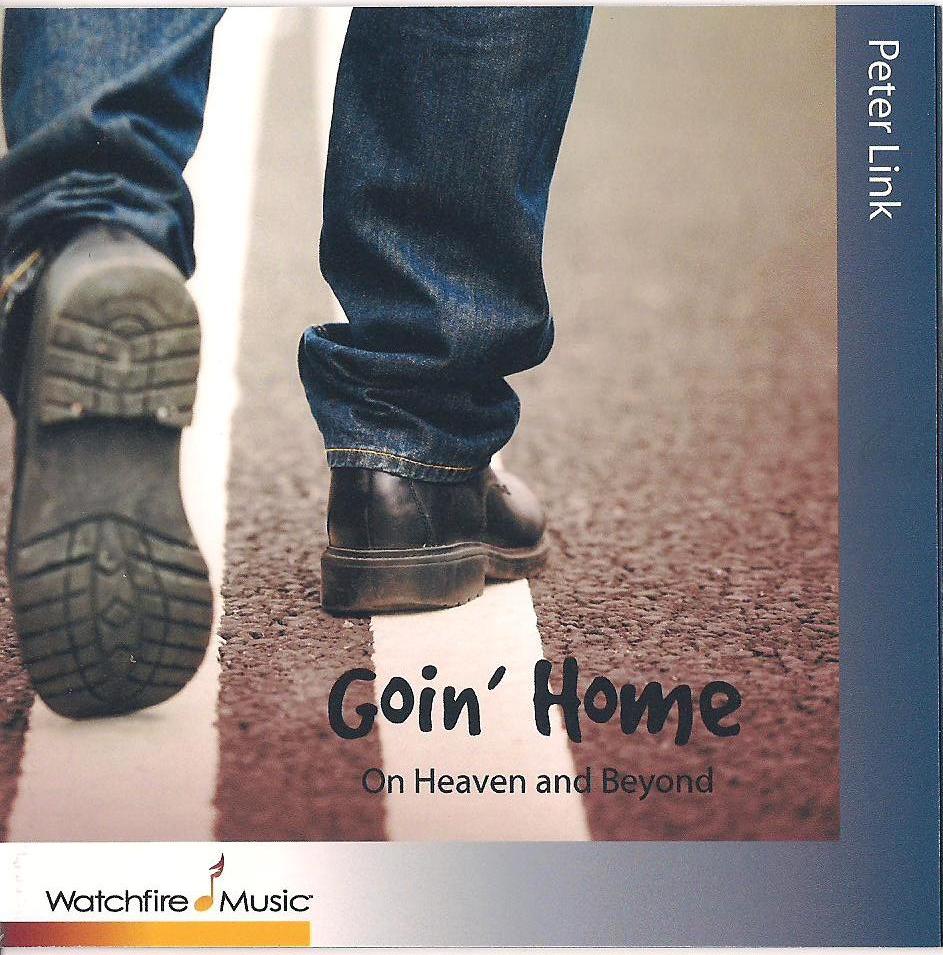 If there's another album like Peter Link's GOIN' HOME: On Heaven and Beyond out there, I certainly haven't heard it. A heavenly compilation of songs about life, death, and everything in between, you are inspired to sing, dance, cry, laugh, and take a deep breath.

Using influences of pop, rock, gospel, and jazz, original songs and rearranged traditional songs lead the way to a truly divine musical journey. From a rollicking "To My Father's House" and the old-time spiritual "In Dat Great Gettin' Up Mornin'," where you want to grab a spoon and play along with the music, to the most beautiful love song of all time (Link's "What Could Have Been") and Tom Tipton's rendition of the title song that reaches down to your bones and vibrates your soul, it is difficult not to celebrate life and all its transitions. For pure delight the always amazing voice of Jenny Burton and some soulful trumpet playing can be heard throughout this album. And there is just no such thing as getting enough of "When The Saints Go Marchin' In" where Julia Wade sings Link's additional lyrics.

Fantastic and heavenly! I'm not sure exactly where "home" is, but I know I want to be there if it's anything like
GOIN' HOME. Click here to download the free Digi-book full of insider comments, quotes, and lyrics. A treasure!

- Laurie Lawson -
Watchfire Music Presents
www.watchfiremusic.com

EVERY DAY: Julia Wade

All Instrumentation arranged, orchestrated, performed and programmed by
PETER LINK
Produced by PETER LINK in NYC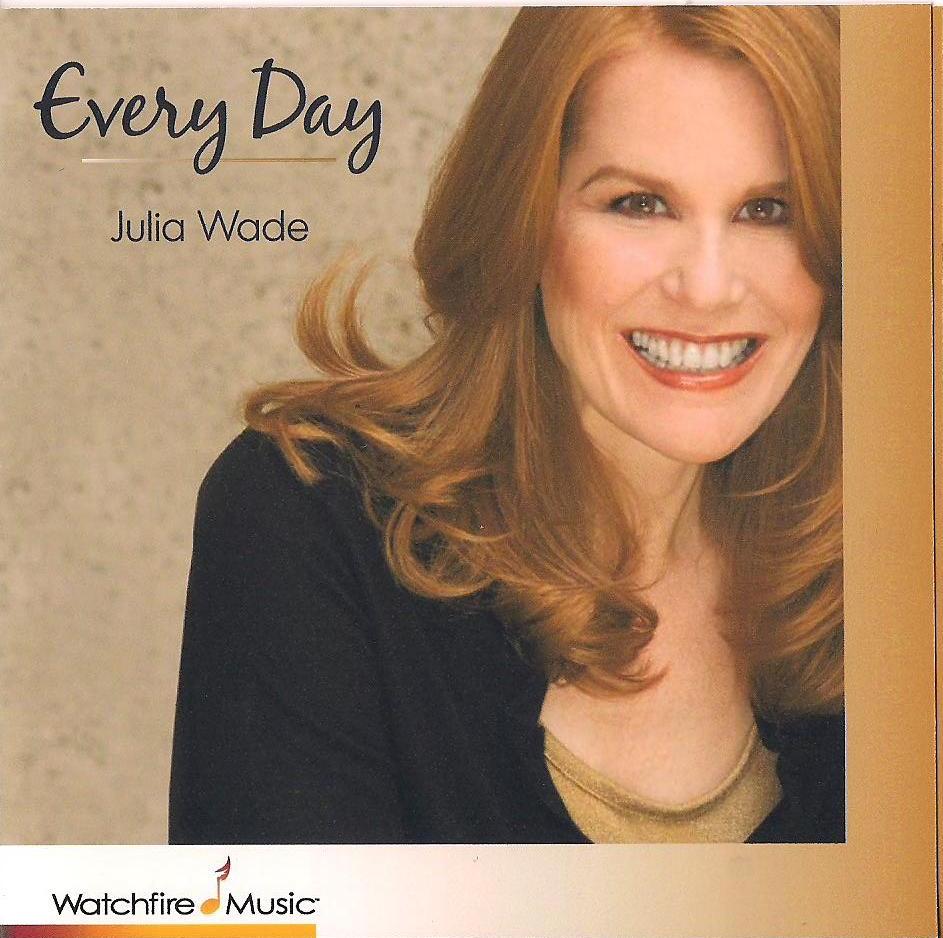 I fell in love with this album within seconds of hearing the tinkling music and the angel voice of Julia Wade in the glowing tribute to God of the title song. Cleverly arranged and aptly titled, EVERY DAY has a song for each day of the week and a bonus song ("Satisfied") called Your Day. Choose your day – Tuesday will give you a bright and hopeful "From A Distance," Thursday begins with chants and unites Indian, Arabic and Balkan voices in the background to create a powerful "I Hear The Prophet Callin'," Saturday's "Woman On A Train" is based on a true story that celebrates the honesty between two chance-encounter strangers, and Sunday offers you "The 23rd Psalm" in heavenly musical form.

I get tired of calling Peter Link a genius, and as soon as they come up with a word that means Beyond Genius, I'll use it. For now, genius will have to do. He has a hand in every song – sometimes just doing the whole thing himself from creation to production to performance and sometimes creating awesome new offerings of traditional favorites. Wade with her undeniable inspirational devotion is the perfect executioner. This is definitely an album you will want to hear EVERY DAY.

And you can download a free Digi-Book here with liner notes full of quotes, lyrics, and inside stories behind this musical venture. Enjoy!

- Laurie Lawson -
LINDA LAVIN: Possibilities
www.lindalavin.com
A Ghostlight Records Release
www.ghostlightrecords.com

Musical Director/Arrangements/Piano: BILLY STRITCH
Inspired by JIM CARUSO
Produced by JOHN BROWN
Bass: JOHN BROWN
Drums: STEVE BAKUNAS
Trumpet: RAY CODRINGTON
Guitar: BARON TYMAS

Available Digitally Now
In Stores November 29th

Tony and Golden Globe Award-winning Linda Lavin's POSSIBILITIES' debut is sure to please any bona-fide lover of music. The even-paced album is full of Broadway standards and cabaret songs directed and arranged by Billy Stritch. In a sweet voice full of playfulness, she offers up a jazzy "It Might As Well Be Spring," a gutsy "Hey, Look Me Over," a vulnerable yet inspirational "In Love Again," and a triumphant "Walk Between The Raindrops." What's not to love? One of our favorite stars singing 12 of our favorite songs. Long overdue.

Ms. Lavin will celebrate the release of POSSIBILITIES with a December 5th Concert at New York City's Birdland (www.birdlandjazz.com). There's much to celebrate.

- Laurie Lawson -
FINE BEING HERE
Hannah & Maggie
www.hannahandmaggie.com


If there were ever two voices that belonged together, it is those of Hannah & Maggie. Their CD FINE BEING HERE is a gentle album full of beautiful harmony, lovely guitar music, and powerful words.

Each song they have written is full of sentiment and universally-understood conditions expressed in a unique way. They run the gamut of emotions – confusion ("The Scary Part"), contentment ("Fine Being Here"), unity ("The Land & The Sea"), wistfulness ("Not The One"), finality ("Lessons in Gravity") – and they take you with them on their poignant musical journey. FINE BEING HERE is exactly how you're going to feel when you listen to this dynamic duo. Do yourself a favor and check out Hannah & Maggie – it's an experience to be treasured. You can purchase the CD on the website above.

- Laurie Lawson -
LADY BIRD - LODI CARR

With D.U.E.S., the Stan Free Sextet, and the Jerry Segal Trio

LODI CARR starts her Lady Bird album with the perfect song – "I'm Old Fashioned" (Jerome Kern, Johnny Mercer). Her voice has an "old-timey" quality reminiscent of when jazz was jazz and could easily touch a wide array of emotions in one musical rendering. With heart-felt lyrics and a styling that rivals classics like Billie Holiday and Ella Fitzgerald, she tackles an impressive range of music. From a wistful "I'm Lost" to a bright and bouncy "Deed I Do" and a jubilant "Lady Bird," Carr never loses sight of the song and its message. She has a manner of her own and brings it home on every cut. Listening to Lady Bird with standards like "More Than You Know," "When I Fall In Love," and "There Will Never Be Another You," one remembers why they like jazz in the first place.

- Laurie Lawson -
ERIC WOOLFSON'S
POE

A Limelight Records DVD and CD Release
Release Date: April 06, 2010
Available at www.ericwoolfsonmusic.com and various online retail outlets

In 1974 a fortuitous meeting took place between songwriter and keyboardist Eric Woolfson and engineer and producer Alan Parsons at the now-famous Abbey Road Studios in London. Two years later a collaboration produced "Tales of Mystery and Imagination," an album based on the stories of Edgar Allen Poe. The album was a success and the forerunner of several other albums known as the Alan Parsons Projects. And now Woolfson's musical POE is being introduced to the United States via a DVD and a CD of the same name, fulfilling the dreams of Eric Woolfson who died four months ago.

POE is a history of the author's life interspersed between subjects and themes of his writings. This is a rich story that has the makings of a masterpiece. The music is refreshingly composed with a bit of darkness and light blended by haunting cords and unexpectedly upbeat rhythms. The songs manage to captivate us, as did Poe with his stories, appealing to our fascination with the macabre. Andrew Lloyd Webber protégé Steve Balsamo portrays Poe in the DVD and sings seven of the songs on the CD.

POE is an impressive musical tribute to a literary genius that captured the attention and stimulated the imaginations of readers everywhere. It is creative entertainment that demands a stage in the midst of cultural history. Let's hope it gets one in New York City.

- Laurie Lawson -
JENNY BURTON: RELEASED
A Watchfire Music Album
www.watchfiremusic.com

Produced by Peter Link


If my car CD player could speak, it would be saying "Hallelujah!" For a decade I have been playing The Jenny Burton Experience. Five-hour rides to Maryland, short jaunts to Jersey, trips to the carwash – me and Jenny and the gang can be found singing. Well, we are still going to be harmonizing but I have a whole bunch of new songs to learn. RELEASED is Jenny Burton's newest musical venture, and it adds up to all expectations of this versatile and compelling singer. And the icing on this melodious cake would be that all music and lyrics are by the masterful Peter Link.

Compiled of songs sung throughout her career but never released, as usual Burton and Link take you through the gamut of emotions. You'll be dancing in your seat with the rollicking "Just Like Katherine Hepburn," shouting "Amen" at "You Knock Me Off My Feet," wiping away tears through the haunting "So It Begins," and looking for a country that needs an anthem with "Time And Time Again." The bonus song (there's always one that totally defies explanation) is "South Africa," an exquisite blend of rhythms, chants, and the multi-octave expression of Burton. Rich of voice, spirit, and emotion, a Jenny Burton album is a holy experience. So powerful it was ready to explode, thank heavens this one was RELEASED.

- Laurie Lawson -
New York Philharmonic
www.nyphil.org
Lorin Maazel, Music Director
And
Credit Suisse, Global Sponsor
Present

SUMMERTIME CLASSICS
BORN ON THE FOURTH OF JULY

BRAMWELL TOVEY, Conductor and Host
MARC-ANDRE HAMELIN, Piano

Avery Fisher Hall at Lincoln Center
63rd Street and Broadway
(212) 875-5656 or www.nyphil.org
July 3rd @ 8 PM, July 4th @ 3 PM


A recently-acquired friend offered me a free ticket to a part of Lincoln Center's Summertime Classics series, BORN ON THE FOURTH OF JULY, with the promise that it would be both "patriotic and happy, happy, happy." She was telling the truth. As hokey as it may sound, Gershwin's "Strike Up The Band" was an introduction to the quality of the music to come. A fantastic variation of "I've Got Rhythm" and an impressive arrangement of "Rhapsody In Blue" enhanced by the piano mastery of Marc-Andre Hamelin sublimely completed the first set. "Appalachian Spring" by Aaron Copland was a quiet warm-up for the rousing marches by Sousa, "Hands Across The Sea" and "The Washington Post." What would a Fourth of July by without a few fervent marches? And to complete the evening's entertainment was Conductor/Host Bramwell Tovey, both personable and musically gifted.

The event did turn out to be a delightful combination of patriotism and fun. You can get a schedule of upcoming New York Philharmonic concerts by visiting the website or calling the number above.

- Laurie Lawson -
TIMELESSNESS FROZEN IN TIME
BARBARA SFRAGA and CENTER SEARCH QUEST
www.soundvisions.com

Vocalist: BARBARA SFRAGA
Keyboardist/Pianist/Vocalist: MALA WALDRON
Multi-Reedist: ALLEN WON
Bass Artisan: CHRISTOPHER DEAN SULLIVAN
Soundrhythium: MICHAEL T.A. THOMPSON

Also featuring the artwork of Barbara Sfraga
And photos of Barbara Sfraga and Michael T.A. Thompson
www.myspace.com/barbarasfragaandcentersearchquest

The concept of TIMELESSNESS FROZEN IN TIME seems to be "let the music flow and use any means possible to keep it going." And oddly enough it works. This CD has rich textures of sounds, enhanced with echoes and whispers, aural visuals, and music that glides effortlessly over and under the vocals. At times it's almost- otherworldly ("Hang On, Fly Home"), light and breezy ("Cool Water"), reflective (the title song), and jubilant ("All Night Long"). And that doesn't account for the mean horn work and rapping in "Tell Me Something Good/One Thang."

Billing themselves as The Timelessness Project, Barbara Sfraga and the Center Search Quest seemingly pull this off with the greatest of ease. The interplay between the artists is just as delightful as the vocals and music on TIMELESSNESS FROZEN IN TIME. You can get this album at the website above. And for those who like pictures with their music, there's THE SUBWAY SERIES: A Book of Drawings Sprinkled with Words. The artwork of Sfraga and lyrics to some of the songs are in this one-of-a-kind little book. You can read our review of the book by clicking here and check it out at http://openshoppe.net. Guaranteed you don't have an album or book like these two in your collections.

-Laurie Lawson-
HALLWAYS
The Songs of Carol Hall
www.CarolHall.net
www.LMLMusic.com

Performed by

FARAH ALVIN, TOM ANDERSEN, HUBERT "TEX" ARNOLD
SUSANNAH BLINKOFF, SCOTT COULTER, TIM DI PASQUA
LESLEY GORE, BOBBY GOSH, CAROL HALL, RICK JENSEN
STEVEN LUTVAK, LAUREL MASSE, SALLY MAYES
AMANDA McBROOM, JOHNNY RODGERS, CAROL WOODS
And the Broadway Inspirational Voices

Produced by CAROL HALL and HUBERT "TEX" ARNOLD
Musical Director and Arranger: HUBERT "TEX" ARNOLD
Executive Producer for LML Music: LEE LESSACK

Release Date: Tuesday, March 11, 2008
Available in stores nationally and
Online at LML Music, iTunes & Amazon.com


For anyone who likes their music with lyrics sure to pluck their heartstrings or tickle their funny bone, or in some cases do both in the same song, HALLWAYS: The Songs of Carol Hall could easily become their all-time favorite album. This prolific lady's gems are performed by yesterday's and today's shining stars; see the awe-inspiring list of performers above. And each work is laced with a sophisticated prose guaranteed to leave a delightful phrase dancing around in your brain or a poignant emotion tugging at your heart.

There doesn't seem to be a musical style Hall can't handle. A bright and breezy "Change In Me," a lamenting "Hungry For You," a cha-cha "This Is My Birthday" that beautifully blends the voices of Hall and Rick Jensen, a gospel "Do You Know What I Mean?," or a haunting "Tattooed Boy In Memphis" – no problem. And with the same courage and verve, she tackles all subjects with what appears to be elegant ease. From birth ("Jenny Rebecca") to aging ("Nana") and dying ("I'll Imagine You A Song") and everything in between, the journey of life unfolds with a little humor, lots of love, blind faith, and memories to get us through. Or as Hall would say "like a ribbon we unwind."

Don't just pick up one copy of HALLWAYS. Pick up several for friends and family. "Diamonds and rubies and a box of Jujubes" – it's all that and more! Guess whose phrase that was.

- Laurie Lawson -
ALEXANDER KARIOTIS
and the ROCK OPERA ORCHESTRA
www.AlexanderKariotis.com

The Orchestra
ALEXANDER KARIOTIS (lead singer/composer/lyricist/arranger)
DIANA CHAROS REILLY (flute)
JOHN CONTE (keyboards)
JULIA FISAHN (background singer)
JEUTG BECJ (rhythm guitar)
PETER SECKEL (lead guitar)
RUTH ZUMSTEIN (violin)
DANA BLASÉ FORTUNATO (background singer)
AIMEE WILLIS (background singer)
NATE WHITE (double bass)
PAUL DAVIS (drums)
DAVID SNYDER (musical director)

The Composers
Alexander Kariotis
Giacomo Puccini
Jules Massenet
Francesco Paolo Tosti
Alessandro Stradella
Vincenzo de Crescenzo
Ruggero Leoncavallo

Laurie Beechman Theater
West Bank Café
www.westbankcafe.com
407 West 42nd Street (off Ninth Avenue)
(212) 695-6909
September 22nd & 28th, October 5th & 19th, All Shows at 8 PM

Triad Theater
158 West 72nd Street (between Amsterdam & Columbus Avenues)
(212) 362-2590
November 8th & 27th @ 7:30 PM


If you like your opera with flutes, cellos, violins, guitars, and even tambourines juiced with lots of electricity, ALEXANDER KARIOTIS and the Rock Opera Orchestra has one heck of a concert for you. Kariotis has taken compositions by the masters, added a pulsating beat, injected folk/rock arrangements, and stirred it all up with high energy and spirited execution. In most instances he starts out in the traditional operatic form and mid-song blows it all to smithereens ending with a full-out crescendo.

Alexander Kariotis has an amazing operatic voice, and when he and the Rock Opera Orchestra are in sync, they are a force to be reckoned with. It's a big sound and the Rock Opera Orchestra needs a big venue. There's a great deal of innovation, creativity and talent here. And at times they all seem to be competing with one another rather than enhancing and highlighting the collective effort. Occasionally the audience is left to their own devices to put it all together. Luckily there's enough happening on stage to amuse and distract anyone that may get lost.

- Laurie Lawson -
MARIANNE CHALLIS
Confessions of a Middle Age Party Girl Live!
www.mariannechallis.com

Musical Director and Piano: CHRISTOPHER MARLOWE
Bass: DICK SARPOLA
Drums: JOHN REDSECKER
Guitar: KEN SEBESKY
Cello: PETER SANDERS


One of the most delightful cabaret shows that I ever saw was that of veteran performer/singing teacher MARIANNE CHALLIS. Luckily she translates well to CD because her debut album, "Confessions of a Middle Aged Party Girl Live!," captures both her effervescent personality and her admirable singing abilities. Diversity is the name of this lady's game. She's smart and sassy with her renditions of "You're Making Me Crazy" and "Something In Red." "It's Been A Long, Long Time" and "I Got The Sun In The Mornin'" are downright perky. And just when you think she's got the comic thing down, Challis will rip your heart out with a poignant offering like "It Never Entered My Mind/Round Midnight." Add a little country/western ("God Will") and Caribbean flavor ("Shame and Scandal" ), a couple of all-time favorites ("Desperado" and "Downtown"), and a song about penguins, and you've got the makings of an all-out celebration. Just for good measure throw in "Adult Cabaret Patter" and "Confessions of a Middle Aged Party Girl Live!" becomes your own personal party in a CD case.

- Laurie Lawson -
JULIA WADE: Story For The Ages
www.juliawade.com
www.watchfiremusic.com

Produced, Arranged and Orchestrated by PETER LINK


"Story For The Ages" is a musical rendition of the teachings of Christ from "The Coming" through the Resurrection. Soprano JULIA WADE takes you on that inspirational journey with a voice so clear and pure there's no room for doubt about her belief in the message and its source. You will go from the traditional "Were You There" and the quiet African-American spiritual "There's A Balm In Gilead" which builds to a resounding celebration to the Irish lilt of "Be Thou My Vision" and the Spanish drama of "Tenemos Esperanza/We Have Hope" made even more dramatic with lyrics by musical genius Peter Link. There are songs for all seasons and beliefs, and Wade's amazing voice deftly handles the diverse styles. The Appalachian carol "Jesus, Jesus Rest Your Head" is haunting in its simplicity while "The Palms" (words and lyrics by Link) is simultaneously heart-wrenching and hopeful. But by far the masterpieces of the album are Link's "Lazarus" and "Song Of Easter," two powerful songs that will elevate your spirit and confirm the wonders of the universe. So if you like your traditional religious music set to creative arrangements and enhanced with international cultural flair, JULIA WADE's "Story For The Ages" is just what you've been looking for. You can purchase and download the CD at www.watchfiremusic.com.

- Laurie Lawson -
JENNY BURTON
I think on these things…
www.watchfiremusic.com

Recorded and mixed at Link Recording Studio, NYC
All instrumentation performed & programmed by
PETER LINK (unless otherwise noted)
Background vocals produced & arranged by
MARGARET DORN & JOHN DANNY MADDEN


Christmas came early this year. Award-winning JENNY BURTON has released a long-awaited solo album. "I Think On These Things…" is a delightful combination of gospel, blues, and rock infused with "Jenny Burtonisms" and touched by the musical genius of composer/producer Peter Link. The new music, mostly penned by Link, is smart, sassy and soul-stirring while traditional hymns magically interlace generations of musical celebration. You'll hear Nigerian chants in the background of "You Bring Me Joy," and the chorus of "Faith" should become a national anthem. And wait until you hear what Link has done with Peter Seegar's music in Burton's rendition of "Turn, Turn, Turn!" Additional music and lyrics by Link and guest solos by John James and Billy Cliff easily make "He's Got The Whole World In His Hands" worth the price of the album. Truly magical!

Fans of Jenny Burton are already on their way to pick up this musical treasure. If you haven't had the pleasure of experiencing Ms. Burton, "I Think Of These Things…" is a perfect introduction. It's an album of jubilation and an ideal gift for anyone who needs a little uplifting. Pick up one (or several) at www.watchfiremusic.com.

- Laurie Lawson -
Watchfire Music and Faith & Values Media
present

JOY RIDE
An Inspirational Concert
Hosted and Directed by PETER LINK

Launching the Inspirational Internet Record Company & Online Store
WATCHFIRE MUSIC
www.WatchfireMusic.com

Starring

THE ACCIDENTALS SHELTON BECTON JENNY BURTON
JOHN JAMES LAUREN REDPATH BOBBY STANTON JULIA WADE
and
THE CHOIR
under the direction of JOHN DANNY MADDEN
Branice McKenzie, Margaret Dorn, Tameeka Benson, LaJuan Carter, Stacey Stargeant, Yvain Reid, Bobby Douglas, Karl Dixon, Darryl Tookes

The DiCapo Opera Theater
184 E. 76th Street @ Lexington Avenue
(212) 868-4444
June 19th & 20th at 7:30 PM


Musical genius Peter Link threw a party the other night which was appropriately named JOY RIDE, an inspirational concert. If you didn't leave this concert at least 10 notches higher on the good-mood emotional scale than when you came in, check for a heart beat. The reason for the party/concert/whatever you call a good time was the launching of Watchfire Music, an Inspirational Internet Record Company and Online Store (for more information about Watchfire Music, click here). If this was an accurate sampling of the music that will be made available at Watchfire, music lovers of all denominations have cause to celebrate. Take a look at the talent listed above - Jenny Burton who lights up a stage like no other, The Accidentals a capella group who makes you look for the hidden band, guitarist supreme Bobby Stanton, and others with voices that send chills up your spine (Shelton Becton, John James, Lauren Redpath and Julia Wade). Throw in lots of music and lyrics by Link, and you have a heavenly evening indeed!
The Watchfire Music website should be up and fully operational by August. Until then you can get a sampling of what's in store by catching Naomi Judd's New Morning on the Hallmark Channel Sundays at 10 AM.

- Laurie Lawson -
KAREN BLIXT: Spin This
www.karenblixt.com

A HiFli Records Release
with
JOEY DeFRANCESCO: Hammond B-3, Vocals
BUDDY MONTGOMERY: Vibes
RUSSELL FERRANTE: Piano
ALEX ACUNA: Percussion, Drums

Available at www.CDBaby.com and www.amazon.com


KAREN BLIXT has a rich, creamy voice perfect for the free-range jazz on her debut album "Spin This." This musical offering is full of fun and commentary. "Carefully Taught" from South Pacific is haunting and soulful while a duet with Joey DeFrancesco on "When You're Smiling" is bright and breezy fun. The Sound Of Music's "My Favorite Things" becomes a sensual ballad under Blixt's sultry execution. And if coming up with funky arrangements for some of our favorite classics isn't enough for you, Blixt and album-collaborator Frank Martin have written three new songs including the politically passionate title song (as well as "Kitchen Blue" and "Something So True"). "Spin This" is impressive for a debut album and leaves you with the hope that it is only the first of many more for Karen Blixt.

- Laurie Lawson -
TOXIC AUDIO
www.toxicaudio.com

Featuring
JEREMY JAMES
SHALISA JAMES
MICHELLE VALINES
RENE RUIZ
PAUL SPERRAZZA
JOHN VALINES III

Celebrating their new CD "Word of Mouth" at

BIRDLAND
www.birdlandjazz.com
315 West 44th Street (between Eighth & Ninth Avenues)
(212) 581-3080
Monday, May 30 @ 7 PM


It's a comedy act, it's an improv performance, it's a musical extravaganza - it's all of the above! TOXIC AUDIO, winners of the 2005 Contemporary A cappella Artists of the Year Award along with many others, will have you looking for the hidden band all night because you just can't believe that human voices are providing the musical accompaniment for their delightful songs. A percussion-laden "Turn The Beat Around," an eerily haunting "Stand By Me," a multi-lingual "Autumn Leaves" - no problem. And just in case you think this might be pulled off with an ungodly amount of practice, this fearless group allows the audience to come up with catch phrases and then they create songs around the lyrics. A wide array of impressive voices enhanced by a full dose of wacky comedy and undeniable talent make TOXIC AUDIO a one-of-a- kind experience. Kudos to Jeremy James, Shalisa James, Michelle Valines, Rene Ruiz, Paul Sperrazza, and John Valines III (the sound man) - may they remain together forever. Check out their performance schedule and how you can get their CD's at the website above.

- Laurie Lawson -
                TOM MICHAEL: Written In The Stars

                        www.tommichael.net
                         www.LMLmusic.com
                          www.amazon.com

             Produced by TOM MICHAEL & SCOTT STEINMAN
                 Musical Director: BECKIE MENZIE

Vocals: TOM MICHAEL & BECKIE MENZIE/Piano: BECKIE MENZIE/Bass: SCOTT MASON
Drums/Percussion: JEFF THOMAS/Cello: JILL KAEDING/Guitar: FAREED HAQUE & TOM VITACCO
Saxophone: JIM GAILLORETO/Arrangements: BECKIE MENZIE & KEVIN FINN
                   Cello Arrangement: PHIL OREM


TOM MICHAEL has come up with a CD for all seasons with
"Written In The Stars."  A balmy breeze on the patio or lightly
falling snow outside your window - both would be perfectly
complemented by these songs.  And perhaps this is because the voice
of Michael is one that you will want to hear over and over again
regardless of the circumstances.  His oh-so-mellow sound is capable
of great passion and a quiet certainty that allows the messages of
songs like "How Deep Is The Ocean," "This Nearly Was Mine,"
"Two For The Road," and "How Can I Be Sure"  to go directly to
your heart.  Particularly delightful are those when Musical
Director/Pianist Beckie Menzie joins in with vocals ("Written In The
Stars" is truly beautiful!). A sultry sax, a plucky cello, and the
tinkling of a keyboard enhance the soul-stirring quality of this CD. 
You can pick up this Guaranteed-To-Be-A-Favorite album at the
websites above or in music stores everywhere.
          
                         - Laurie Lawson - 
	      GEORGA OSBORNE: Now Available In Stores
              Album Produced by CHRISTOPHER McGOVERN

                        www.glosong.com
                                
                           Musicians
JOE BRADY: Drums/Percussion/JENNIFER GRAVENSTINE: Cello/SEAN HARKNESS: Guitars
ERIK JEKABSON: Trumpet/PETER KIDIDAKIS: Reeds/JESSICA WRIGHT: Violin
              CHRISTOPHER McGOVERN: Piano/Keyboards


You always leave a GEORGA OSBORNE show wanting more, and
now you can have it!  Finally her CD, "Now Available In Stores"
(originally titled "NOT Available In Stores") can indeed be purchased
at Footlights, The Dress Circle (London), and directly from the lady
herself ($20 including shipping and handling at the website above).
       
Osborne is a unique and splendid compilation of talent - an
astounding soprano voice, a raucous humor, a biting wit, and a sense
of the absurd, all delightfully flavored by her Kentucky heritage. 
There's nothing like seeing her on stage (she's appearing at don't tell
mama in January and February - www.donttellmama.com) but her
performance translates well on CD.  Whether an introduction to a
gifted singer/performer/comedienne or an extension of her show's
impression, "Now Available In Stores" should become a part of
your music collection.
          
To read our review of Georga's show "Summer In The Attic
(Some're Not)" click here.
          
                       - Laurie Lawson -
                ALEX LEONARD: Merry Cool Christmas

                       www.alexleonard.com
                          www.cdbaby.com
                          www.amazon.com

                   ALEX LEONARD - piano, vocal
                   EDWARD BROWN - guitar, lute
                       STEVE LaSPINA - bass
                      DANNY VENDITTI - drums
                        RIJOU - percussion


Alex Leonard's newest CD, "Merry Cool Christmas," says it all in
the title.  This Piano Master has taken traditional holiday songs like
"Silent Night," "Little Drummer Boy," "Away In A Manger," and
"Auld Lang Syne" and infused them with his own special brand of
jazz.  The result is music with a playful spirit, a clarity of Christmas
celebration, and some of the most amazing arrangements you'll ever
hear.  Each song is a delightful combination of familiarity and soaring
heights of ingenuity, making this an album you'll want to play year-round.  
Just in time for the season, buy one for everybody on your
Christmas list.  Available in select stores and on the Internet.  Cool,
definitely cool!
          
                        - Laurie Lawson -
                           ALEX LEONARD
        DOWN TO THE DEPTHS: Interpretations of Cole Porter
                       www.alexleonard.com


 ALEX LEONARD's CD, Down To The Depths: Interpretations of
 Cole Porter, is a perfect blend of old and new.  The timeless
 compositions of legendary Cole Porter and music with a Manhattan
 sophistication become rich, full offerings flavored with the unique
 jazzy stylings of Leonard.  From the bright, breezy "What Is This
 Thing Called Love?" and "Anything Goes" to the mournful
 flugelhorn in "Begin The Beguine" and the smooth, mellow voice
 (Leonard's) backed by music of the same ilk in "Miss Otis Regrets,"
 the renditions are comfortingly familiar as well as wildly innovative. 
 The emotion jumps off the CD in "Every Time We Say Goodbye,"
 and his "Too Darn Hot" may very well be the steamiest version ever. 
 Leonard superbly masters the piano and is occasionally accompanied
 by guitar (Al Gafa), acoustic bass (Paul Rostock), drums (Vito
 Lesczak), congas/bongos (Ed Jackson), trumpet/flugelhorn (Don
 Hahn), tenor sax/flute (Ralph Lalama), baritone sax (Gary
 Smulyan), and trombone (John Mosca/Jimmy Knepper) evoking
 the Big Band era.  Mr. Porter would be quite pleased with Alex
 Leonard's Down To The Depths; so will you.  Available in select
 music stores, the album can also be purchased online at
 www.amazon.com and www.cdbaby.com
         
                           -Laurie Lawson-
                     JON PETERSON: "SKIDOO!"
               A BUMPTY-BUMP RECORDS MUSIC RELEASE
                       www. bumpty-bump.com
                      www.jonnypeterson.com

           Produced by KEITH THOMPSON and JOSEPH BAKER
      All Arrangements and Orchestrations by KEITH THOMPSON


When you listen to Jon Peterson's new CD "Skidoo!," it becomes
a personal experience.  Surely no one could reveal this much emotion
and honesty to the world; he must be speaking directly to you.  Rarely
does this much passion and energy translate undiluted to CD format. 
That fact that it does attests to the talents of Peterson.
          
Standards like "One" and "If It's Magic" easily mix with uncommon
songs, such as "Angels, Punks And Raging Queens," "I Could Have
Told You," and the title song.  Comedy and pathos, a hint of country-
western with a British accent, whatever!  This gentleman can handle
it all.  Each song rings true, so true that you are sure the composers
are clapping with glee because their songs have been interpreted
perfectly.  "Skidoo!" will quickly become one of your favorite CD's. 
Pick up one at www.Amazon.com
          
                         -Laurie Lawson-
                          SCOTT COULTER

                Debut CD Available on the Internet
               www.LMLMusic.com and www.amazon.com
                              and at
   Tower Records, Virgin Megastore, HMV, and Footlight Records


   The glorious voice of SCOTT COULTER is finally available on
   CD!  With an ethereal quality laced with intensity and passion, he
   executes songs long favorites to his cabaret fans - a heartbreaking
   "Maybe You Didn't Hear Me," a sultry "Cry Me A River," an
   inspirational duet with Debbie Gravitte ("In Whatever Time We
   Have"), and a poignant "Cry Without A Reason."  Each song stands
   alone and evokes a multitude of emotions.  It's a CD full of talent -
   the songwriting/musical skills of Stephen Schwartz and Tim
   DiPasqua, the piano playing of Bobby Peaco and Richard
   Oberacker, and the back up vocals of Jessica Hendy and Jason
   Reiff.  Each element comes together to make "Scott Coulter" a CD
   to be treasured.
          
                             -Laurie Lawson-
                          THE JENNY BURTON EXPERIENCE

                       Produced and Arranged by PETER LINK
                         Music and Lyrics by PETER LINK


          With the reappearance of THE JENNY BURTON EXPERIENCE
          on the cabaret stage during the holiday season and the resultant
          inevitable feeling that you need to have more of this good thing, one
          is reminded just how great Peter Link's  music and Burton's
          execution are.  Click here to read our latest review.  The good news
          is that the musical album, "The Jenny Burton Experience," is still
          available.  Inspirational favorites like "Who Will Heal The World?,"
          "Tear The House Down," "On Broken Pieces," and "Don't It Feel
          Good" translate well to CD.  The talent and enthusiasm of Burton
          and her glorious group are evident on every song.  And just like at
          one of the group's rare appearances, you will find it hard not to sing
          along, tap your feet, clap your hands, and maybe even dance a step or
          two.  It's a fabulous way to extend the "experience" until they hit the
          stage again.  To order, call 212-947-0533.
          
                                  -Laurie Lawson-
                FRANK DAIN: "I Thought About You"

             Produced by JEFF WAXMAN and RICK JENSEN
              Co-Produced and Directed by LISA ASHER
        Arrangements and Musical Direction by RICK JENSEN

  
 The master of the ballad, FRANK DAIN, has finally released his first
 CD.  "I Thought About You" showcases Dain's breathless, throaty
 voice with songs like "The Way You Look Tonight," "Night And
 Day," "All The Things You Are/The Nearness Of You," and "I Cover
 The Waterfront."  A delightful blend of Johnny Mathis and Frank
 Sinatra, he mesmerizes with his heartfelt renderings of love songs. 
 Just what the doctor ordered in these times of chaos and confusion -
 a smooth voice that will melt away your tensions.  "I Thought About
 You" is available in New York at Tower Records and Footlight
 Records and on the Internet at CDBaby.com/frankdain and
 Amazon.com.  For further information you can write to
 ithoughtaboutucd@aol.com or call (212) 662-1390.
          
                  - Laurie Lawson -
             SAMMY GOLDSTEIN: "So Far It's Wonderful"

          Produced by SAMMY GOLDSTEIN and DAVID BRUNETTI
               Creative Consultant: BARRY KLEINBORT
            Piano: DAVID BRUNETTI and SAMMY GOLDSTEIN
                         Bass: JERED EGAN


 In celebration of his new CD release, "So Far It's Wonderful," the
 always-entertaining SAMMY GOLDSTEIN brought his cabaret
 show of the same title to don't tell mama for two days in September,
 October, and November (you'll find a review of his show under
 Cabaret).  Taking a song, infusing it with
 passion, sprinkling it with his unique brand of humor,  and handing
 it back to you as a special gift is Goldstein's forte.  The songs
 translate well to CD.  You'll find amusing favorites such as "Pink
 Fish," "That's What I Like  Bout The South," and "Coffee In A
 Cardboard Cup," as well as standards like "You've Changed" and
 "On The Sunny Side Of The Street."  Just in time for gift giving, "So
 Far It's Wonderful" is bound to put a smile on every listener's face. 
 To find out how to get this album, visit his website at
 www.sammygoldstein.com
          
                        -Laurie Lawson-
                    SECONDHAND HEART FOR SALE

                    The Songs of JOE McMAHON, JR.


           
          Memorable melodies and cleverly simple lyrics bring you back to a
          time when songs relayed emotion-packed messages of love and loss,
          the kind that are sure to unearth at least a few hidden memories.  This
          is what you are going to find in SECONDHAND HEART FOR
          SALE, The Songs of Joe McMahon, Jr.  Gathered together are
          veteran singers, such as Arnette Sanders and Paul Evans, under the
          production of legendary Jimmy Wisner, to bring about a 60-year-old
          dream. 
          
          Joe McMahon, Jr. realized in his teens that he wanted to be a
          songwriter.  He got sidetracked by college, family, and a corporate
          career.  Now at age 83, he has released his first CD, SECONDHAND
          HEART FOR SALE, and it's definitely worth the wait.  From the
          beautiful ballad title song and the playfully sultry "I Ain't Got Love"
          to the comedy of songs like "The Very First Thing In The Morning"
          and "I'm In Love With An Eskimo," each song is a consummate
          anecdote of universal emotions.  Lyrics like "How do you face the
          music/What do you tell your heart/How do you spend your
          evenings/Now that we drifted apart" make you realize that
          McMahon is a songwriter for every man and woman.  
          
          Pick up Secondhand Heart For Sale (Sharla Records); you're bound
          to hear at least one of these songs being performed in the future. 
          Here's hoping that this is just the beginning of Joe McMahon's
          songwriting career.
          
               -Laurie Lawson-
MARK RAISCH: TOTALLY SUAVE!

     
    You'd better have plenty of confidence if you're going to title your
    CD "Totally Suave!," which is exactly what MARK RAISCH did. 
    In this case, the CD lives up to its title.  In a totally suave voice,
    Raisch offers an eclectic group of songs from the 1930's through the
    1990's.  His renditions are smooth and his voice capable of handling
    a variety of styles.  From a bright and breezy "Carry On Karianne"
    and a jazzy "She's Funny That Way" to the ethnic comedy of
    "Josephine" and a torchy "Half As Lovely," Raisch delivers the
    goods.  Your only complaint, if you can get your hands on the CD,
    may be that there aren't more songs.  "Totally Suave!" is easy on the
    ears and has enough diversity to make you want to hear it over and
    over again.
          
    Right now the CD is part of ABC Syndicated Radio's programming
    (1390 WEOK/1260 WBNR/920 WGHQ/1450 WKIP/Q92 [FM] &
    91.3 WVKR [FM]).  You may also be able to catch Mark Raisch at
    the REDEYE Bar and Grill during December.
          
               -Laurie Lawson-
©1996 ELJ,Inc.